"For I am not ashamed of the gospel of Christ, for it is the power of God to salvation for everyone who believes, for the Jew first and also for the Greek. For in it the righteousness of God is revealed from faith to faith; as it is written, "The just shall live by faith." Romans 1:16, 17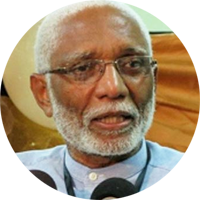 The Lord Jesus Christ, whose resurrection was recently celebrated, will give the greatest prize of all when He says to His people, "well done, good and faithful servant." This prize is awarded for obedient faith in all the Bible teaches about Jesus, the Son of God. It is a reward that banishes forever our too many sins, that secures eternal life, that ushers faithful believers into the New Heavens and New Earth, where Christ is Lord. There the disciple of Christ receives "an inheritance incorruptible and undefiled and that does not fade away, reserved in heaven for you." (1 Peter 1:4).
World honours have their place and value. But the words of Jesus should disturb us: "What good will it be for a man if he gains the whole world, and loses his own soul? Or what can a man give in exchange for his soul?" (Matthew 16:26). And immediately following, Jesus promises, "For the Son of Man shall come in the glory of His Father with His angels and then He shall reward every man according to his works." (Matthew 16:27). Do we believe and accept these sober pronouncements, in a life-changing, self-correcting way?
What are the works that God will reward? Jesus was asked, "What must we do to do the works God requires?" Jesus answered, "The work of God is this: to believe in the One He has sent." (John 6:28, 29). He calls here for a life-changing faith in Him.
Faith in Christ is the only indestructible foundation we can prepare to face the certain judgement of God. The Apostle Paul taught, "Each one should be careful how he builds. For no one can lay any foundation other than the one already laid, which is Jesus Christ. If any man builds on this foundation using gold, silver, costly stones, wood, hay or straw, his work will be shown for what it is, because the Day will bring it to light. It will be revealed with fire, and the fire will test the quality of each man's work." (1 Corinthians 3:10-13).
It is God who has given us our gifts, abilities, talents. They must be used to the glory of God and the good of mankind. In Jesus' parable, the man who buried his talent was severely punished. Talents that are developed and used, without gratitude to God, without obeying His commandments, without faith in Christ, have no real or lasting value. "For it is by grace you have been saved, through faith – and this is not from yourselves, it is the gift of God – not by works, so that no one can boast. For we are God's workmanship, created in Christ Jesus to do good works which God prepared in advance for us to do." (Ephesians 2:8-10).
Paul the Apostle is an example of one who put worldly honours and achievements in correct perspective. He could boast about his accomplishments as a Pharisaic scholar who had studied with the great Gamaliel. Yet he considered "everything a loss compared to the surpassing greatness of knowing Christ Jesus my Lord for whose sake I have lost all things. I consider them rubbish, that I may gain Christ, and be found in Him not having a righteousness of my own that comes from the law, but that which is through faith in Christ – the righteousness that comes from God and is by faith." (Philippians 3:7-9).
The Church of Jesus Christ needs to find again the single-mindedness and clarity of faith and vision expressed by Paul. It must always be examining its priorities. Total faith in Christ must measure everything else, guided by Scripture. Making every thought obedient to Christ, "we fix our eyes not on what is seen, but on what is unseen. For what is seen is temporary, but what is unseen is eternal. (2 Corinthians 4:18).
The world today is full of much that takes our attention away from Christ and heaven: horrendous crimes, political partisanships, internet seductions, entertainments galore, trivial pursuits as well as personal challenges that affect us deeply. So many things become idols, including jobs, ambitions and even families. Anything or anyone that stands between us and God, demanding worship and full, undivided attention, is an idol. The awards and prizes of the world, as valuable as they are, can become idols. We are exhorted to "set your hearts on things above, where Christ is seated at the right hand of God. Set your minds on things above, not on earthly things." (Colossians 3:1,2).
Paul allowed no idolatry. He pressed on "to take hold of that for which Christ Jesus took hold of me…one thing I do: forgetting what is behind and straining toward what is ahead, I press on toward the goal to win the prize for which God has called me heavenward in Christ Jesus. All of us who are mature should take such a view of things." (Philippians 3:12-16).
The Christian who is guided by Biblical principles keeps a right perspective by measuring everything according to God's revealed word. The greatest commandments are to "Love the Lord your God with all your heart and with all your soul and with all your mind and with all your strength. The second: Love your neighbor as yourself. There is no commandment greater than these" (Mark 12:30, 31). Our lives and works will be ultimately measured by these essential and fundamental precepts. Divine examination is certain. "For we must all appear before the judgement seat of Christ, that each one may receive what is due him for the things done while in the body, whether good or bad," (2 Corinthians 5:10).
Are our lives and works a blessing or a curse? Do the honours of the world speak truly about the eternal value of our achievements? How false so many eulogies sound to those who knew the famous old scamp of a corpse stiffening before the altar. The young criminal with blood on his dead hands. The society woman and her unkind, cruel gossip. Works guided and corrected by repentance and reverence for God and faith in Christ as supreme Lord and only Saviour, will be blessings rewarded. Though the world may not honour these. But the works of repentant, faithful believers will be blessed by God and secure for us the greatest prize of all, the acclamation of the Lord Jesus Christ: "Well done! Good and faithful servant. Blessed of My Father, inherit the Kingdom prepared for you from the foundation of the world." (Matthew 25:34).
This article is dedicated to Elder Kenty Pamphile of Calvary Baptist Church and Pastor Marcellus Henry of Deliverance Baptist Church who both passed away recently.