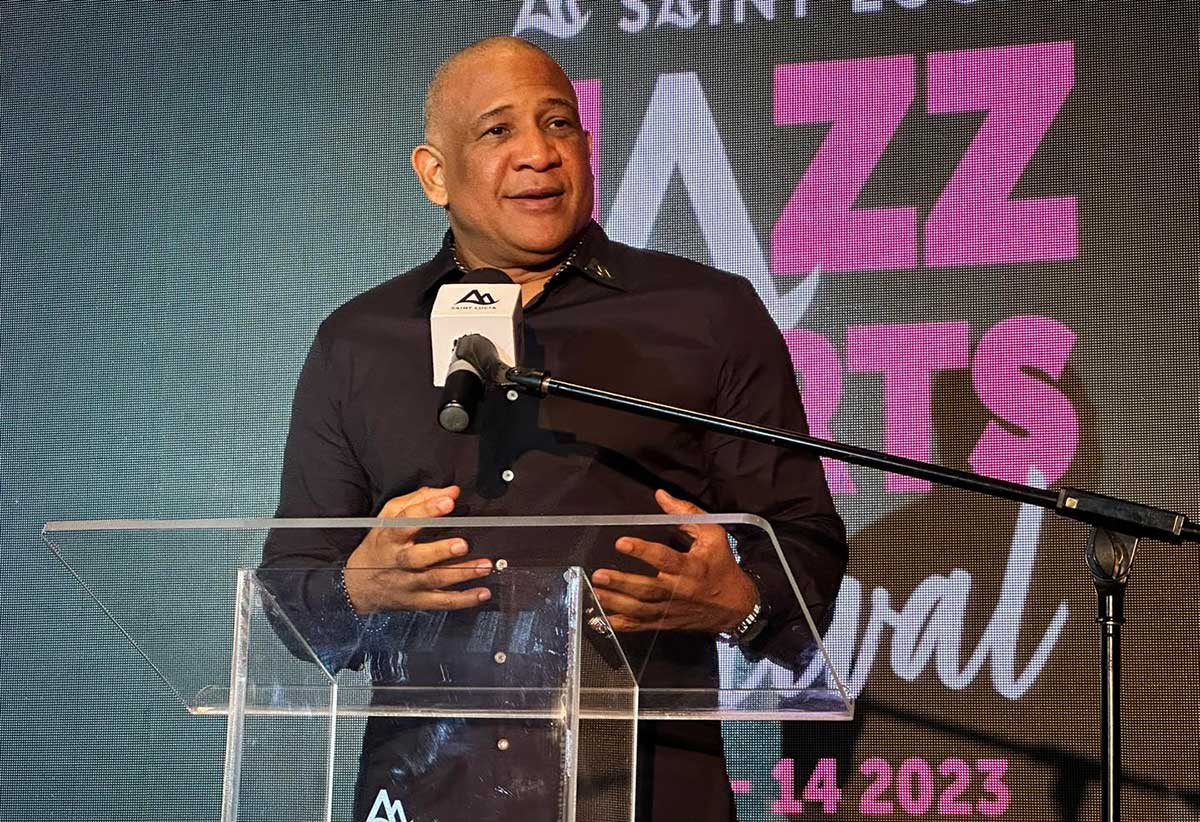 Expectations for this year's Jazz and Arts Festival are high after the stellar lineup was released weeks ago, and according to Tourism Minister Dr. Ernest Hilaire, already, ticket sales are "going very well."
Hilaire noted this much at a press conference on Monday.
Cece Winans, Kizz Daniel, Buju Banton, Sting, Shaggy and more, are all set to take the stage at this year's event. Rema, however, won't be performing as initially stated. The Afrobeats singer was initially scheduled as the 'World Beats' headliner which also features other impressive acts like Ayra Starr, CKay and Joeboy.
Rema, however, was noticeably absent from an official Jazz and Arts flyer shared on Hilaire's Facebook page on Monday.
Hilaire explained the reason for the omission saying "it is not unusual to have artistes who would have confirmed to no longer be available."
"What I was briefed on is that some artistes have multiple management teams and the arrangements for his (Rema) appearance was done through his American management team. Of course it was announced and the deposit was paid and everything was in order, then his other management team indicated that there's a booking in Europe that would prevent the artiste from being able to perform at both (events) because of the logistics," Hilaire said.
He added that "we had the option of deciding to buy out the other commitments which did not make sense in terms of what was involved. We've decided that there are many more years of jazz to come God willing and we will have the artiste performing here, but this year we had enough substance already in terms of the persons appearing. I'm hoping the artiste will be available next year."
According to him, more artistes might be added later.
"There are some artistes we're still hoping we can get once they can clear their calendars and their recording schedules, because some artistes are in (the) recording phase right now…  they may be available so you can expect that there probably will be a couple additions to what we've announced. It's also likely that an artiste may have his own challenges and may not be available again but we'll always keep the public updated. Sometimes we cannot always give all the details because you have to respect professional reputations," the minister explained.
"There (are a) couple artistes I would like to see included, to be honest. I don't want to say any names now but there are a couple of artistes I still wish the team can secure but those artistes already have other commitments. Hopefully they can get out of those commitments. I think we can finesse the lineup a little more still. I would love to see for example, for some of the fringe events, a very good country singer… I think (that) can really add to the lineup," he said, noting that "a few people have made suggestions to us on names we can consider but persons are not really available now… but they're looking into it."
Whilst the festival would be enhanced if certain singers are added, cost must also be taken into consideration, he said. And though Saint Lucia has an impressive lineup for the Jazz and Arts Festival, neighbouring islands have also secured big names for their festivals, Hilaire noted.
"There are some really outstanding performers that if we get them will really enhance (the festival but) again you have to balance it with costs because we really don't want to be spending too much. Yesterday St Kitts announced their line up for their music festival… Tobago has theirs, I think they have Air Supply as their feature act so there's a lot of competition from other destinations… let's see how it progresses," he said.
"I have explained the rationale for doing the festival. The last government was of the view that it was a waste of money to spend on the Jazz Festival, and of course you saw Saint Lucians reaction when the festival was stopped. We always had a concept that was broader than just a jazz festival—we wanted an arts and jazz festival and we've gone back to that concept. Like I have said sometimes, what is required is an investment; you do not necessarily make back the exact amount that you've put in…  but ticket sales are going very well especially the Sunday show so that's good news for us," Hilaire added