Saint Lucia is poised to implement a vibrant "growth strategy and event driven" approach in promoting itself across the globe.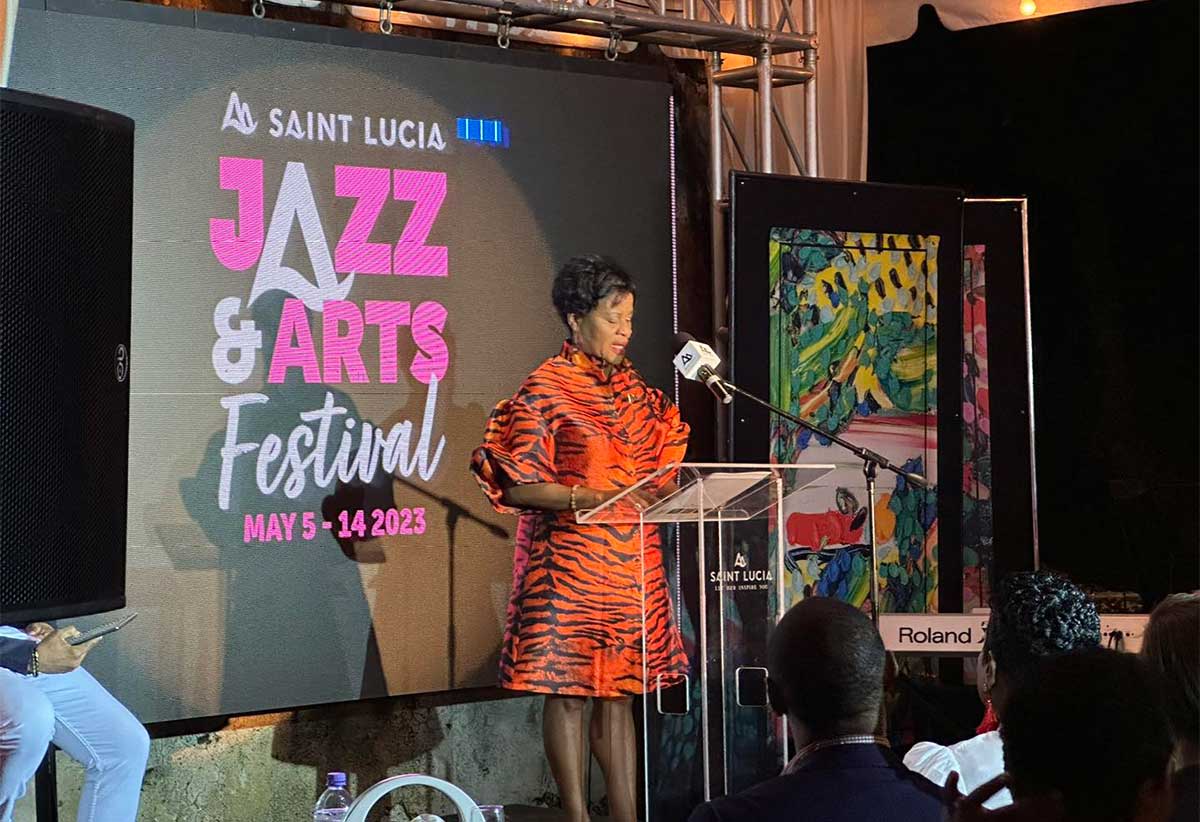 Chief Executive Officer (CEO) of the Saint Lucia Tourism Association [SLTA] Lorine Charles – St Jules stated this much Thursday at a media briefing to highlight gains in the tourism industry.
As the excitement builds up for what is dubbed 'the biggest music event in the Caribbean', namely the30th edition of the Saint Lucia Jazz & Arts Festival, organizers anticipate a bumper event due to run from May 5 to14, after a three-year hiatus. Ticket sales are on from March, 1.
Referring to latest developments in the tourism industry, Charles- St Jules said there has been an increase in flights to the destination. From March 27 British Airways will employ a non-stop service from Guyana to Saint Lucia with two daily flights (Mondays and Thursdays); and from March 28 British Airways will inaugurate a new service from Tobago.
"These two flights will assist in having the Caribbean secure increased flights and service," declared the SLTA's CEO.
In addition, she said, American Airlines will be running a daily non-stop service from Charlotte (USA) into Saint Lucia. Air Canada disclosed that there will be a three-time weekly service from Toronto into Saint Lucia.
"We are quite encouraged by the new service (s) that we have," stated Charles- St Jules.
On the cruise industry, she said, the sector returned better figures than it did over the last two years "bringing in roughly 350,000 visitors from January to December 2022…and there has been a remarkable recovery of 24% over the 2019 numbers."
The SLTA official also spoke of the inaugural visit of Arvia "the largest vessel to berthed in Saint Lucia's shores" with a capacity to accommodate more than 6,000 passengers. "We believe that this represents recovery for Saint Lucia, growth for Saint Lucia and this also compares to what Saint Lucia offers against our competitors in the competitive sector," she said.
Charles – St Jules said while there was growth of about 9% in the US and UK markets, nevertheless "we expect the Caribbean to show some signs of growth".
For this year, she said, many activities have been launched and the SLTA has assisted with other programs. The agency provided assistance to Saint Lucian soca artiste Teddyson John in the "cross- marketing" initiative.
The SLTA official said there has also been lots of "cross-marketing" programmes aimed at increasing the visibility of the destination.
Charles – St Jules notes that with the easing of the Covid-19 protocols "our hope is that Saint Lucia remains top of mind for potential customers".
"We will continue to promote Saint Lucia as a unique destination for romance, for adventure and also for choice accommodations, as well as, immersive experiences for potential customers," she added. "We do believe that if we go with this strategy we will see growth in various markets."
Despite challenges in major international markets, due to economic constraints, the SLTA official said: "Our hope is, as we continue to go to market, to push Saint Lucia in the competitive space that we operate in (and) that Saint Lucia will become a choice destination."
Charles-St Jules asserted: "So our growth strategy will always be event driven, including our major Saint Lucia Jazz & Arts Festival, mainly activities limited to showcasing the market for the rest of the year."
The 2023 Jazz Festival will include headline performances from Sting and Shaggy, as well as many globally recognized performers.
Renowned for three decades, the 2023 Saint Lucia Jazz & Arts Festival spans classic jazz to world beats and will again attract visitors from around the world. The lineup includes international, local and Caribbean music.
Genres include Afro beats, jazz, gospel, Soca, reggae, Zouk, pop and an array of cultural beats and exciting rhythms. The iconic and historic Pigeon Island National Park is the waterside backdrop for the open-air performances.
According to the SLTA, the Updated Lineup as of February 23 is as follows:
· Friday, May 5 – Kick-Off: Caribbean genres with some of the biggest names from the region headlined by reggae superstar Shenseea and Kes the Band
· May 6-9 – Entertainment & Community Jazz: Explore authentic Saint Lucian culture and people through an eclectic mix of local events
· Wednesday, May 10 – Kingdom Gospel Night: A riveting, inspiring showcase of praise and worship Headlined by 15 time Grammy Award winner, Cece Winans & Nigerian Contemporary Gospel Artist, Sinach.
Saint Lucian artists to be featured at Kingdom Night are,  Special Blend, Emrand Henry, Shirley Ann Cyril-Mayers, Shem Meluis, Michelle John-Theobalds, and Total Praise Gospel Singers. The performances will be directed by Saint Lucian Dwayne Etienne.
· Thursday, May 11 – Pure Jazz: Grammy winner, pianist, and composer Gustavo Casenave. There will also be a special tribute to Saint Lucia's Luther François, the godfather of Saint Lucia jazz.
· Friday, May 12 – Caribbean Fusion: Featuring Buju Banton, Bunji Garlin, Fay Ann Lyons, and more.
· Saturday, May 13 – World Beats: Journey the globe with the best of Afro beats Kizz Daniel, CKay, Ayra Starr, Joeboy and Oxlade; plus performances from the best in Zouk, Kassav and Saint Lucian artists Kayo and the Southern medley of musicians, Kalbas.
· Sunday, May 14 – The Ultimate Celebration and Culmination on Mother's Day: The most distinctive and influential musician of the century, 17-time Grammy Award winner Sting will headline the evening with Shaggy; Internationally acclaimed Saint Lucian talent will include Ronald Boo Hinkson, Barbara Cadet, Teddyson John and Ace Loctor.