A record-breaking goal spree in the Saint Lucia Football Association's (SLFA) Senior Women's competition has set the momentum for heated action in that category of football on the island.
The National U-20 team turned up the tempo with a thumping 20-nil demolition over Dennery, at the Desruisseaux Playing Field last Sunday.
The east-coast team could salvage no rewards from the game as the U-20s ran rampant on a devastating goal-spree. Goal scorers for the U-20 Nationals included conversions from Annicka Louis in the 16th, 30th, 33rd, 35th, 42nd, 45th, 46th, 70th minutes; Merrissa Duncan 61st, 71st and 82nd minutes; Makhaya Smith 38th, 58th, and  86th minutes; Asa Alexander 41st and 83rd minutes; Freegeanne Joseph 6th minute, Harmanie Jones 11th and 88th minutes and Naisa John in the 60th minute.
Meanwhile, the Soufriere Women's team continues to dominate the contest proving to be tougher than their opponents.
Last Saturday, the west-coast based team defeated Vieux Fort South 3-1, a convincing victory at the Soufriere Mini Stadium.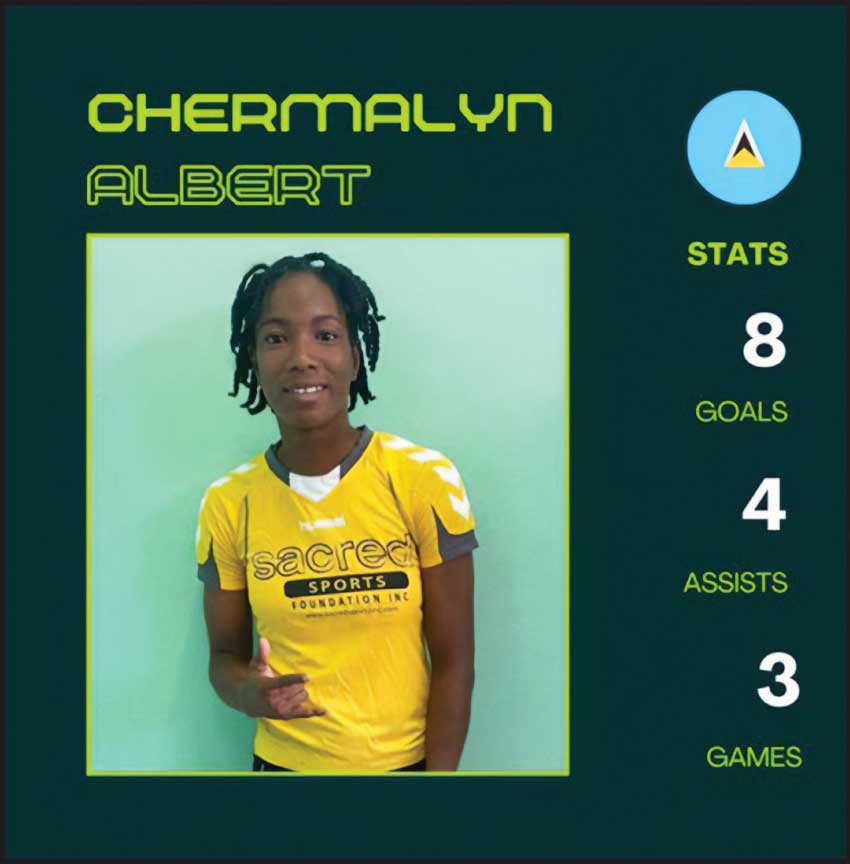 Chermalyn Albert on her comeback trail has been a 'thorn in the defense' of her competitors and continues to churn out goals consistently, to top the list as the most prolific striker in the contest, so far. In this latter encounter, Chermalyn scored a brace with goals in the 22nd and 34th minutes after Sasha Nicholas gave her team an 18th minute lead.
Gianna Hilton pulled one back for Vieux Fort South in the 40th minute.
Commenting on her resurgence into competitive football, Albert declared: "I really thought my sports career had ended in 2017, due to injuries. In 2021, I delivered a beautiful baby girl and figured, I had to quit to give her all the attention she require.
"Well, six years after my last official football game, I'm back fitter, stronger and more focused than I have ever been. Eight goals in three games. Thanks to the technical team and my teammates for their trust in me," added.
Anse La Raye earned a hard fought 1 – 0 victory over Desruisseaux with Trenice St. Croix scoring from the penalty spot in the 64th minute.
In the Boys Zonal Club U-17 competition, Uptown Rebels defeated Black Eagles 4 – 0 with goals from D'Yani Bellas 22nd and 61st minutes, Kervon Aldonza 41st and Lindel Augustin.
GMC United defeated Lancers 3 – 1. For GMC United, Josh George scored in the 44th and 58th minutes and Jaden Etienne in the 10th minute, while Noah Ermay scored for Lancers in the 54th minute.
City Foundation, with a goal from Ethan Laurent in the 9th min edged out Monchy 1 – 0.
Knights had a comfortable 5 – 0 victory over Platinum, with goals from Adison Kisna 17th and 30th minutes, Nydell Winter 24th minute, Lowkey Fontellio 40th minute and Obima Amarch in the 41st minute.