On November 16 the St Lucia Chamber of Commerce, Industry and Agriculture hosted its 138th Annual General Meeting (AGM) powered by BOSL Investment Services-under the theme, "The Driving Force for Sustainable Business and Community Prosperity for St. Lucia".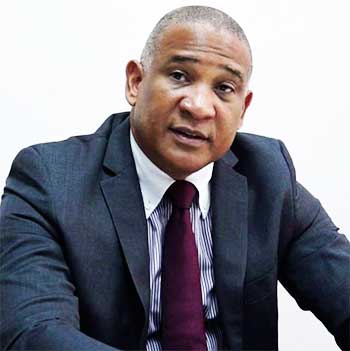 Deputy Prime Minister and Minister for Tourism, Investment, Creative Industries, Culture, and Information Dr. Ernest Hilaire delivered the feature address at the AGM, where he provided an  insightful presentation to the Business Community on 'How Government Policy and Legislative Agenda seeks to empower the Local Investor Business Community.'
The Deputy Prime Minister highlighted several projects and initiatives that are currently being undertaken, as well as, other imminent projects aimed at stimulating sustainable economic activity for Saint Lucia.
Dr. Hilaire outlined government's plans for increased local participation, ownership of accommodation and to derive benefits from the hospitality sector.
Describing tourism as a "very vibrant sector", the minister said, it was also heartening to recognize the Chamber for its longevity in observance of the agency's 138th anniversary year.
"The centrality of the chamber in the life of our nation…and the chamber has lived so long, because it is critical and important for our country, and our development," said Dr. Hilaire.
With focus on the tourism sector, he shed light on data and the status of the hospitality industry and "its importance to Saint Lucia".
Hilaire noted: "This industry is critically important, and because it is so important we have to make an assessment of the 'state of health' …of the tourism industry."
The minister said the government's philosophical approach of  "putting people first' mantra translates to greater gains for locals in the tourism industry. He added that a two-pronged approach is used to address these fundamental points.
Firstly, it would entail increasing the participation of locals in the tourism industry; and secondly, seek to increase ownership within the industry through local business interests and local entrepreneurs.
According to Hilaire, following the July 2021 general elections and taking into account the after effects of the pandemic, a complete assessment of the hospitality sector was undertaken, whereby 'transformational activities' were put in place.
"We have a tourism product that is quite premiere and certainly an attraction, so over the years many people have contributed to building that product and making it what it is," said Hilaire.
The tourism minister further stated that while some factors were kept in place, there was also need to revisit some aspects and to implement new strategies "to ensure that we reposition our place in the market in some respects, and improve it in other respects."
Said Hilaire: "The first thing for us is to create a sustainable tourism industry and this is what we feel is needed to achieve our goals.
"It has to be sustainable economically, socially and politically."
Stressing the need for inclusivity among locals to earn a stake in the hospitality sector, he said, "We have to ensure that the tourist dollar that comes to Saint Lucia … that more of it stays in Saint Lucia."
The minister informed that statistics from Jamaica indicates that "for every dollar that comes to Jamaica, 15 cents stays and 85 cents leave, and Saint Lucia is probably worst off than that."
He added, "So, we have to find a way economically to make it sustainable that our people can see the tourism industry as something that has the opportunities to create sustainable lives."
Chamber President Trevor Louisy said the chamber has remained steadfast and have "toiled relentlessly" to help its members "survive, adapt, operate and position themselves to thrive post Covid-19."
Louisy noted that the membership is a diverse business community that consist of "entrepreneurs, logistic experts, distributors, financial and professional service providers, producers, builders, and proprietors who are the economic backbone of our country.
"As such in a period where agility and innovation remain paramount, we continued working to advocate, benefit, connect and serve our members and the wider business community in more ways than one."
The chamber's mission is directed to engender business growth and development among its members, added Louisy, "through strong leadership, strategic advocacy, and innovative services, while enabling them to positively impact their communities the chamber continues to seek to develop genuine relationships with businesses and with government."
Speaking on the prospects for local investment, he said, "One should not doubt the significance of consistent small incremental investment that is spent within the economy and not directly exported.
He also underlined the impact on the social and economic fabric of citizens and their community.
Louisy noted that, "Too often local investors feel ignored, unimportant and outside the information network and investment facilitation apparatus available to foreign investors."
He asserted that while the chamber does not disparage against development, "all the chamber is insisting is that local investors be facilitated and get the opportunities that they require to ensure that their investment succeeds and takes place , similar to the external investors."
Summarily, three new directors were elected, namely:  Gordon Julien of Republic Bank, Tameeka Jn Baptiste of Lewis Industries and Rishi Ramkissoon of Ernest & Young; while the majority of Chamber board members were returned unopposed.