Chloe Dantes is one of a unique group of young professionals making waves in the sports journalism field regionally and beyond.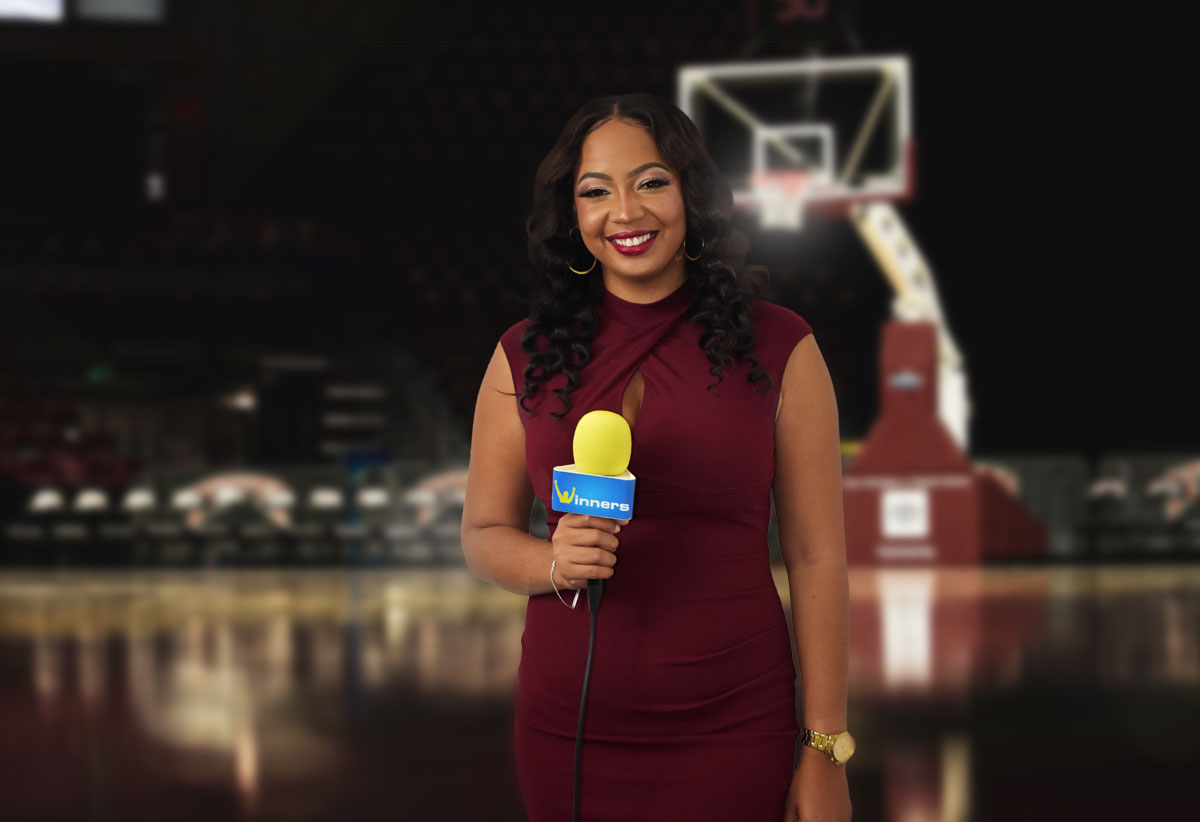 Sports journalism incorporates a wide and varied field that requires determination and perseverance, and the passion to excel in a highly competitive sports environment.
And this Saint Lucian female sportscaster has not only defined herself with a dazzling personality but also with her penchant for reporting on the biggest sports stories taking place nationally.
Chloe grew up within the Castries community and like other young girls her age, had a keen interest in sports, dabbling in different fields. However, she readily admits that she was not a stand out performer at any one sport.
But from early on, Chloe wanted to pursue a professional career path – and interestingly, she says, her first choice was aspiring for the legal profession.
Currently employed with Winners TV, for the past five years as a journalist and sports anchor, Dantes holds the distinction as the lone female sports journalist on the island, with a nightly sports news show – Winners Sports Beat.
Her career path to acquiring a passion for this ever-evolving profession has been no roller-coaster ride. She admits that it takes a lot of study time, research work, and gaining knowledge of the different fields of sport that continues to spark her interest in the wider sports media arena.
The Question of the Day
But what was Chloe's upbringing like and what sort of interests did she harbour as a young girl?
Chloe is the youngest child with two brothers and one sister. She attended the Entrepot Secondary School, before going on to further her studies at the Sir Arthur Lewis Community College.
Unfortunately, her studies at SALCC were derailed.
In her quest to continue schooling and broaden her academic scope, Dantes took a stride to pursue studies overseas and later resided in Tampa, Florida with the intention to become a corporate lawyer.
She returned to Saint Lucia in the mid-2010s but did not return to the United States to complete her planned career pursuits.
Speaking on the path that led to her sports journalism career, Chloe declares: "I would say that the media choose me…as I had given up on the law career, though my mom wanted me to go back."
At the time, the Facebook phenomenon gained ground and became a trendy, popular social media outlet. Chloe took on a post 'The question of the Day' on her Facebook page and got to connect with some local radio stations "where I use to come there and ask my questions and people would react with me."
After three months, Chloe said, she began a project with one of the local emerging radio stations.
The management of a local television station noticed Dantes shooting one of her presentations and contacted her. And subsequently, she got through the job interview.
Initially, she partnered with three other media colleagues to host a 'Jazz Show' on the station, and they were the first regular presenters on the radio station.
Becoming Grounded in Sports Journalism
What was it like for Chloe, making the decision to pick up the challenge of an alternate profession in contrast to pursuing a law career?
"Despite some operational challenges, it was not so challenging, because at the time most of us were completely green …and my experience working there for about four to five years had nothing to do with normal reporting, nowadays," she says.
Dantes was drawn into the sports journalism field, and despite some challenges, she became grounded in the that field.
Initially, says Dantes, though at first, she had reservations about working as an on-air personality at Winners TV, the network's owner, Brian Bartlette convincingly swayed her to take on the challenge.
On her hesitancy to appear live on TV, Dantes explains: "My experience working at the previous station for about three to four years or so … where I was looked upon as just another pretty face, but I'm not just a pretty face. I have talent and this had me harbouring reservations about appearing on TV."
She continued, "Winners TV was looking for another female newscaster, but due to my previous experience, I told them that I didn't want to be on TV, but I would rather work as a writer and have someone else present the news."
Breaking out into the role of a sportscaster appeared to be definitely on the cards and the Winners TV management persisted. "They encouraged me…and since I was the only one there at the time, I had to step up to it," Chloe chuckles.
Once Chloe decided that she would make a go for it, there was no turning back. And with persistent support from Bartlett, she was encouraged to look up the global sports reporting trends "and look at a lot of ESPN presentations, and the female announcers there, because he wanted me to portray more of that sort of high energy."
Dantes shares the passion that she has managed to create for the craft and reach out to her sports fans and viewers, generally.
"When I came in with my news experience, I quickly realized that sports and news are two different things; sports are more entertaining and you have to keep people's energy up," declares Chloe, "It was different from when I would be reading a normal report and monotone …but with sports, you have to be more hype and engaging."
Added Dantes: "I would always tell the manager that I have to work on my confidence and my energy for the camera to capture my energy because it's a lot different.
"Now people say: I like watching you because you are so different from everyone else."
What is the biggest thrill that Dantes gets in compiling and presenting sports-news stories?
"With this station that I work with now, I am allowed to express myself and say what is happening and I enjoy that. I enjoy meeting with people, I enjoy meeting professional athletes, and I enjoy getting advice from people who have years of experience over me," she added. "I can say that I was a 'baby in sports' …the most I knew was Michael Jordan and Serena Williams."
A New World of Adventure
Dantes agrees that the sports journalism field has opened up a new world of adventure, knowledge gathering, and interaction with sports personalities and fans.
Chloe has been making the rounds with the Winners TV crew "going to watch local cricket and football games", as she gets acclimatized to the local sports scene.
The young sports anchor is not shy of admitting that her favourite sport is Basketball but covering the sporting territory has allowed her to equally maintain an interest in other sports as well. She also has an interest in competing at ESports and says that the video-games have grown into a global phenomenon.
You have covered some breaking news stories, some sensational, controversial and otherwise, and also success stories, how do you maintain that interaction with players and officials?
"You must have this rapport with the players and the different associations because if people are not comfortable with you, they literally will not speak to you …but I appreciate the fact that I have a connection with certain people who will be honest with me and will allow me to tell their story because they are too afraid to tell their story," declared Dantes.
Chloe mentions the SLFA's non-participation at the World Cup Qualifiers (WCQs) as some of her best work, and going behind the scenes to accumulate information on that controversial issue.
"That was one of the biggest stories that we ever had …we had an extended interview with a group of former national players, explaining their plights about what's happening in the SLFA. And now the matter with referees and so on, so these controversial stories really do open my eyes about what's happening," she explained.
Dantes regularly accompanies the Winners TV crew to cover local matches and has taken in some of the 'big events'. She refers to the likes of the CPL- Caribbean Premier League and the DJ Dunga Football Knockout competition, held in the Mabouya Valley as some of the most memorable and entertaining sports events that she has attended.
Saint Lucia's Lone Female Sports Presenter
How does Dantes feel about being recognised as the lone female sports presenter on the island and what are her aspirations for the future?
Bartlette describes Dantes as "a sports blazer" and says that: "She is changing the perception of women in sports broadcasting by being the only sports news anchor with a full nightly sports news programme."
He adds: "By doing this, she is really creating opportunities and opening minds as to what females can be in the world of sport broadcasting.
"She's normalizing the idea of a woman as a leading sportscaster by her being there every night. The expectation from the work that she does is that she is changing perceptions of women in sports broadcasting.
"She is opening doors so that the ladies sitting down at home can believe that this is something they can do, because they've seen Chloe Dantes do it …and it allows them to strive to become something which had not been seen in St Lucia, a nightly sports anchor," Barlette said.
With the heightened focus now on gender equality, what sort of benchmark would Dantes like to establish and make an input as a young female professional?
"I do not plan on staying in the media field for the rest of my entire life …I do have plans to start up my own business," she says.
Chloe stays abreast in the race and has undertaken several "professional development courses online to continue to improve and sharpen my skills as I go along."
Being a nightly face on local sports TV, has allowed Dantes to gain feedback from fans and officials alike, as she continues to underline the importance of providing timely and informative news to sports fans and viewers.
Having created an identity as a regular face on a major nightly TV sports production, Dantes' signature phrase to end her nightly programmes is: "Do join us again for the best in sport!"