As part of activities to highlight Women's Football Month – the St Lucia Football Association [SLFA] Inc.  put on a dazzling display of events to help create a greater awareness for getting females into the 'beautiful game'.
Let Them Play – was the resounding expression conveyed by key speakers at a recent Women Football Conference as the SLFA Inc. continued with its celebration of this occasion.
Ms. Examine Philbert, Chairperson of the SLFA Women's Football Task Force delivered a sound motivational speech to the young participants, urging them to take a holistic view of the 'beautiful game' of football as it can provide far reaching opportunities for them in life.
Philbert implored the females to be motivated to become players, administrators and officials in the sport, and underlined the character-building components of passion, drive and enthusiasm. She told them to be great, passion must come from deep within.
This latest Women's Football Conference was the second such session, since the SLFA designated November as Women's Football Month in 2021.
"Women have always had and will continue having a prominent place in the SLFA family. SLFA has afforded our girls and women opportunities to be true ambassadors," declared Philbert.
She listed several young women that have benefited from the SLFA's scholarship fund, including Krysan St Louis and Raquel John; while acknowledging the input of national players such as Eliza Marquis, Arnicka Louis, Shaniya Scott, and other young players in attendance. The women's task force chairperson also recognized the professionalism of CONCACAF Match commissioner Karassa Bellas and Mary Liz Campbell, Vice President & SLFA Women's Coordinator, and referees, like Shantel John.
"These women have kept our football dreams alive. They remind us that nothing is impossible, however we must strive consistently for it," added Philbert. "They face the same challenges as we all do, self-doubt, fear, limited resources etc. What makes the difference is their determination to excel, passion for football and the heart of a lion. They are still working on achieving that football dream."
She said that in the continued pursuit "to get to the top" and aspire for representation at a FIFA World Cup "we must keep climbing. We must plan the climb."
"The Women's conference is one strategy to reach the mountain top …the pinnacle of a football dream," Philbert said.
According to Philbert, "The Women's Conference is an assembly of football policy makers, administrators, players, technical personnel, league representatives, students and enthusiasts to chart the agenda of women's football. It also creates a platform to inspire, re-energise, motivate and retool and ignite the passion for football."
With strong emphasis on the promotion of women football in the wider communities, schools and clubs, she noted that "igniting   the passion for football, is for both genders, as males and females must work together for the effective functioning of society."
Philbert stressed that the conference was focused on five key objectives, which included, Strengthening women's leadership, administrative, professional skills and performance, and build capacity; Educate, enlighten and empower women and girls in football; Inspire players so that they can nurture and grow their personal attributes which will rebound to a better display of their football skills and prowess on the field of play; Raise the profile of players so they can better serve as football ambassadors at their schools, clubs, Leagues and national level and create a forum where football lovers can dialogue and plan."
In the continued efforts to spur more interest in the game, she told the gathering that it was important to: "Score the winning goal to embrace the ideals of football (since) football is a universal language, which fosters a spirit of togetherness, fair play, respect, and collaboration."
Philbert asserted: "Let's ensure that we afford girls and women (an opportunity) to play. Let Them Play!"
She said it was imperative to "continue working strategically and consistently in order to achieve our goal of taking football to higher heights."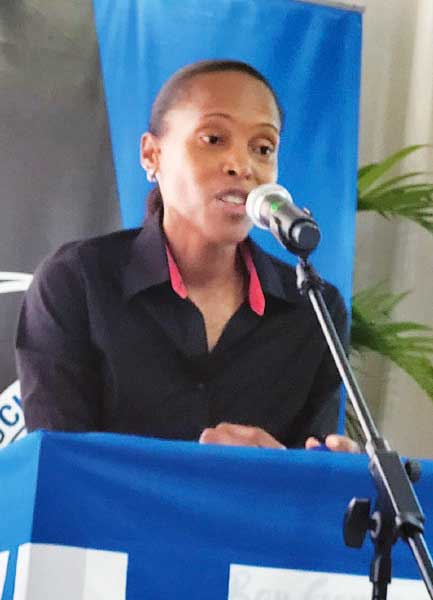 Other inspirational personations came from Dr. Vernetta Lesporis, Education Officer in the Ministry of Education, who also served as Conference Chairman, SLFA Vice –President Emmanuel Bellas and Dr. Natasha Innocent, Medical Doctor, from Vieux Fort.
Bellas provided a very colourful and insightful presentation on the Game of Football and involved the young participants in some interactive discourse and quizzes on the rules and regulations.
He noted the recognition given to women in global football, such as Fatma Samoura – FIFA general secretary and Salima Mukansanga from Rwanda, the first female officiating referee at a FIFA World Cup.
Dr. Lesporis spoke on the topic of self-esteem, communication and sport among other relevant character-building factors.
To sum up a very engaging, informative and enlightening session, Dr. Innocent highlighted the need for preparation in sport and to be focused on achieving one's goal.