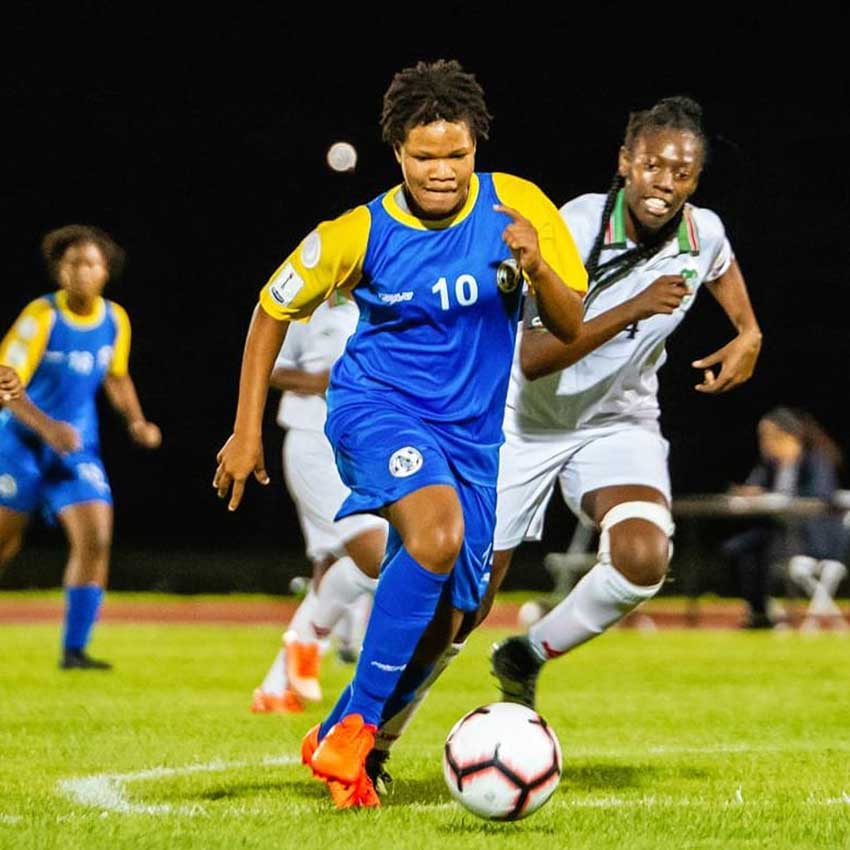 With November having been observed as Women's Football Month – the St Lucia Football Association [SLFA]Inc. is stepping up the momentum to highlight its programme of activities.
Under the theme 'Let Them Play', Chair of the Women's Task Force Examin Philbert and other SLFA management personnel outlined a detailed agenda for the event.
Consequently, in celebration of International Day for the Elimination of Violence Against Women, Messages were presented on Friday (November, 25) by the following individuals;
SLFA President SLFA Inc. – Lyndon Cooper, Ms. Caroline Eugene – P.S. Min. Of Youth Development and Sports, Ms. Mary Liz Campbell – SLFA Inc. Vice President – Responsibility for Women Football Development, Ms. Karassa Bellas – On Behalf of the Task Force, Alexia Alcindor – Pres. Soufriere Football League, Krysan St. Louis – National Player and Raquel John – National Player.
The colour code for the Day – Orange.
Last Saturday activities continued to be highlighted, with a National Football Girls Festival at the Soufriere Mini Stadium.
The festival was supportive of Universal Children's Day with 14 Leagues represented.
The programme of activities will continue to unfold today with a presentation to the Dunnottar School.
A National Womens' Conference is scheduled for Saturday 3rd December at the Bay Garden Hotel. There will be presentations by Dr. Vernetta Lesporis – Self Esteem and communication skills; and Dr. Natasha Innocent – Life Planning, Perseverance and Success.
The Conference also includes a Panel Discussion on the topic "A Winning Culture" moderated by Ms. Mary Campbell. And the panelists will include, Examin Philbert, Ellaissia Marquis, Racquel John and Shenelle Joseph.
On December, 7 the action moves to the Secondary Schools Female 7-a-side football extravaganza at the Soufriere Mini Stadium. A total of 15 female school teams are scheduled to participate, with each side allowed a maximum of 10 players.
On December 10 the SLFA's Inc. Women's Football Championship will kick off with a double header at the Phillip Marcellin Grounds. Prior to each match, the respective captains will issue a statement in recognition of Women's' Football Month.
The National Women Under -17 team is down to participate in the championships.