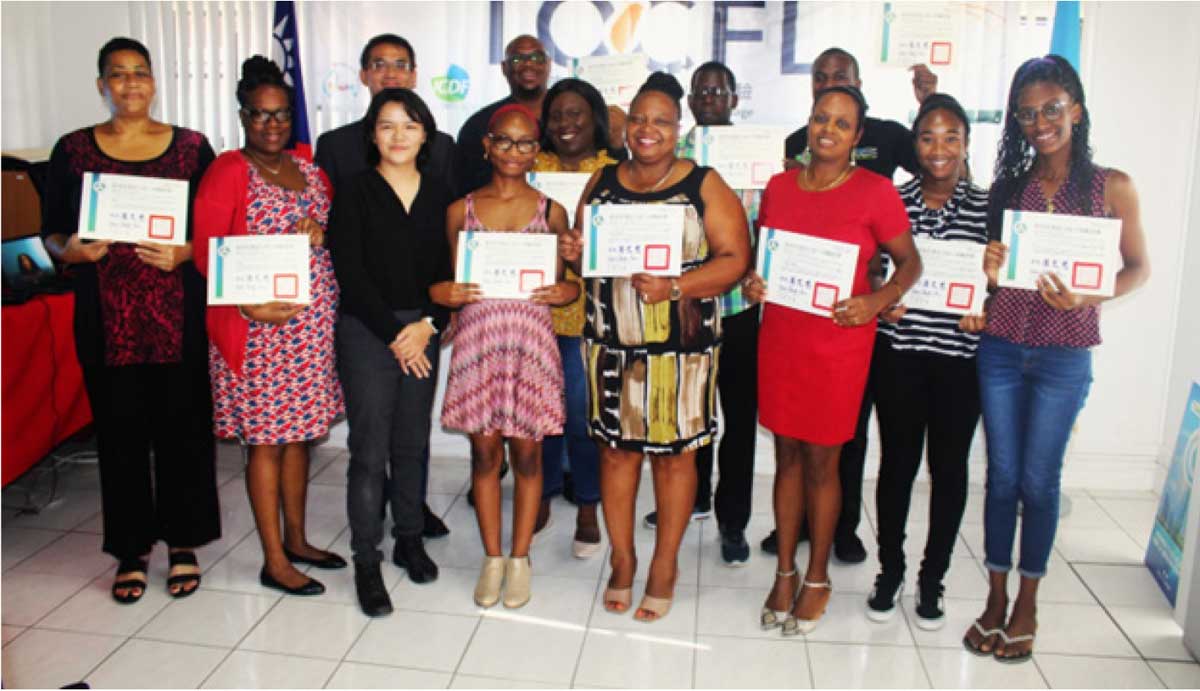 Eleven Saint Lucians received their certificates on Friday, September 9, 2022, after taking the Test of Chinese as a Foreign Language (TOCFL).
They are:
• Nillan Samuel
• Joycelyn Nelson
•  Leonard Arthur Jamal Robinson
• Arlene Jacil Danirla Boodha
• Jeelan Nakiba Alfred
• Chrisa Maximin
• Eybhee Busetle
• Leah David
• Germa Inglis-Alfred
• Vilette Gisela Benjamin
• Bryson Hilaire
Another three participants who took the TOCFL received their certificates prior to Friday's ceremony held at the Taiwanese Embassy in Rodney Bay before travelling to Taiwan to take up studies.
Some of the participants work in the public service while others attend Sir Arthur Lewis Community College (SALCC).
The test was managed by Taiwan's Steering Committee for the Test of Proficiency Huayu, and was held at Sir Arthur Lewis Community College on March 23, 2022.
One of the certificate recipients, Eybhee Busetle, attended the first round of the ICDF Mandarin Reading Competition, which was held on August 31, 2022, with 107 competitors from 11 countries, including three from Saint Lucia, attending the competition. Busetle, the champion from Saint Lucia, will represent the island in the final round.
In the first round, Nataki Florentville of Saint Lucia received the Best Popularity Award.
The final round will take place on September 22, 2022, from 8:30 p.m. (Saint Lucia Time) on "YouTube-TaiwanICDFSchool" and NTN channel. All champions from each country will compete online.
His Excellency Peter Chia-yen Chen, Taiwan's Ambassador to Saint Lucia, congratulated the participants, noting that they had embarked on the challenging path of learning Mandarin while working full-time. He told the participants that language is a door to another culture and world, and that Taiwan provides dozens of training opportunities for Saint Lucian government officials to visit Taiwan.
"This certificate is just a beginning for your further cultural experiences to Taiwan and to the big Chinese-speaking world," Ambassador Chen said. "I understand how difficult it is to learn a new language, especially Mandarin. But as an Ambassador from Taiwan who knows the importance of language in appreciating another country and culture, I encourage you all to continue your Mandarin study to the next level and enjoy the amazing journey along the way."
Mandarin Teacher, Ting-Ting Lu, said the participants created history by becoming the first to take the test in the Caribbean.
"Saint Lucia is the first country in the Caribbean to host the official TOCFL Exam, which means you are the first group of people in the whole Caribbean to get certificates," she said. "I'm so proud of you and you must be proud of yourselves, too."
She added: "I'd like to thank you for your continuous support to me, to learning Mandarin, and to Taiwan."
The TOCFL is a proof of Mandarin language abilities, and is accepted by universities, academic institutions, foreign and government organizations in Taiwan. Also, hundreds of educational and business organizations in the United States, Australia and Switzerland, to name a few, accept the scores and use it to check students or employees' competence.