It was a mini-carnival-like atmosphere with much jubilation at the Daren Sammy Cricket Ground [DSCG], Sunday, as Saint Lucia defeated Anguilla 2-nil in a hotly contested encounter to top the table in Group C – League C of the ongoing CONCACAF Nations League Tournament.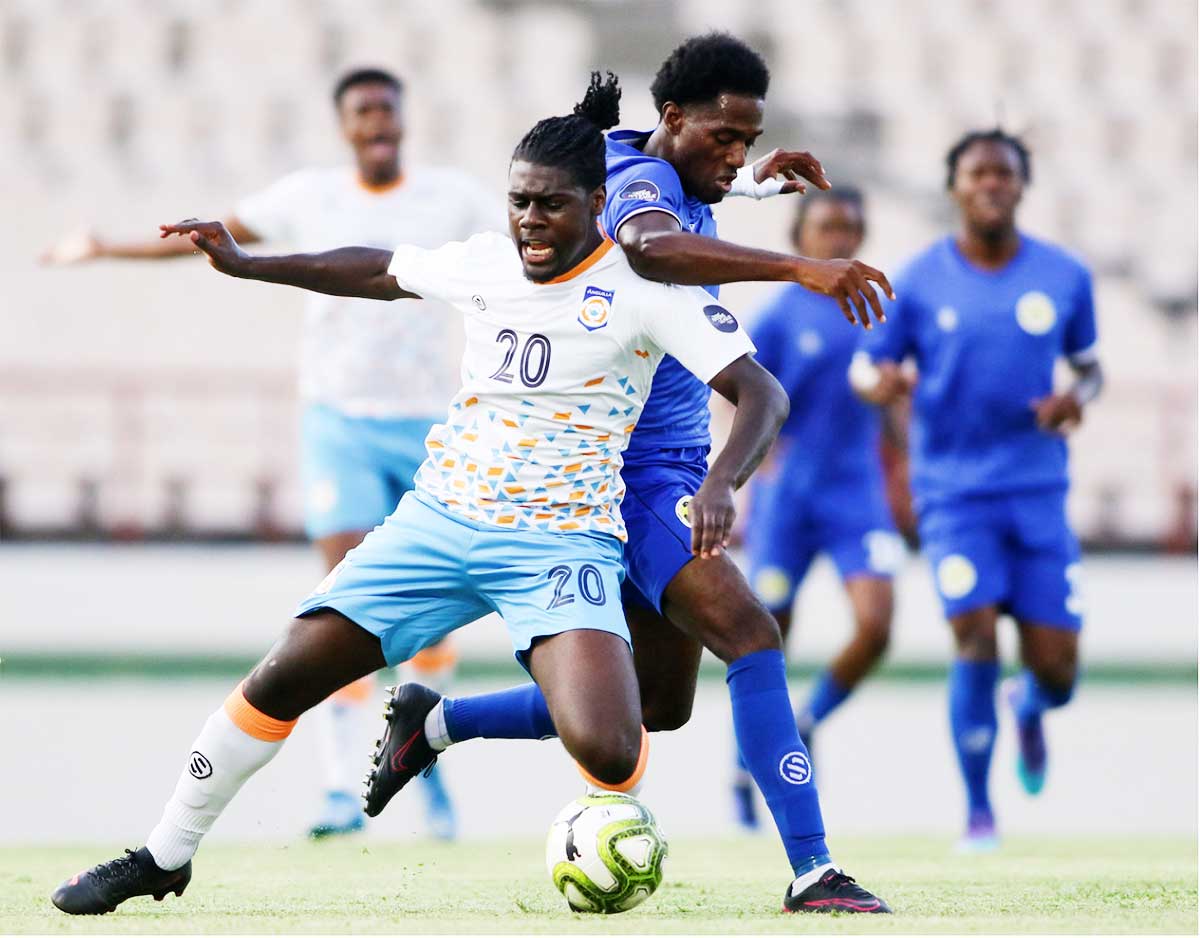 The win secured Saint Lucia's promotion back up to CONCACAF Nations League B and a place in the 2023 Gold Cup Prelims.
Goals on either side of the half from Andrus Remy and skipper Kurt Frederick secured victory for the Piton Boyz- in their first home game of the competition, following up on their away game victory versus Dominica.
On Sunday, the home team piled on the pressure from early, and a cross from the left flank in the 3rd minute was steered wide off the target. Though Saint Lucia missed out on a few more goal-scoring chances, however, it was no easy walk over for the home side as the visitors stood stubbornly in defense to try to ward off the attacks.
Centre forward Jevick Mac Farlane had a bothersome night as he missed the target on a few attempts – in contrast to his match-winning performance against Dominica, last week. In that session, he flicked a header wide off the bars, before missing out again to put the ball into the far post from a close angle.
However, Frederick kicked dangerously from some set plays and corner kicks to provide his strikers with an opportunity for a goal.
Saint Lucia's defense line kept the Anguillans at bay for most of that session and goalkeeper Vino Barclett was rarely tested.
Then as the Piton Boyz stepped up the pace heading into the interval, Remy latched on to a long throw-in from central defender Melvin Doxilly in the 44th minute to neatly tap a left footer into the goal – as the Anguillan goalkeeper Danniell Bailey failed to punch away a high ball.  Remy quickly received the failed clearance and coolly finished to put Saint Lucia up 1-0 and kick off a party in the crowd.
The Piton Boyz continued to press on and in the 60th minute, Frederick kicked a splendid left foot shot off a free kick from the corner of the 18-yard box that curled around Bailey to double the lead.
From there, Saint Lucia held firm to secure the victory and all the rewards that come with it- as the home fans erupted with sheer joy and delight to cheer on the players.
Anguilla, in desperation,  attempted a few late runs towards goal but their efforts were thwarted by a burly defense featuring the back three of Terell Thomas, Josh Solomon, and Doxilly- and with Barclett keeping a clean slate.
While head coach Stern John commended Team St Lucia for winning a hard-fought game, he was however disappointed with the finishing touches in the final layup. He stressed that this is an area where the team will have to work earnestly to improve as they prepare to take on better opponents.
"I think it was a well-organized game and we played well…but if I had to be critical of the performance it would have to be the finishing in front of the goal," he said.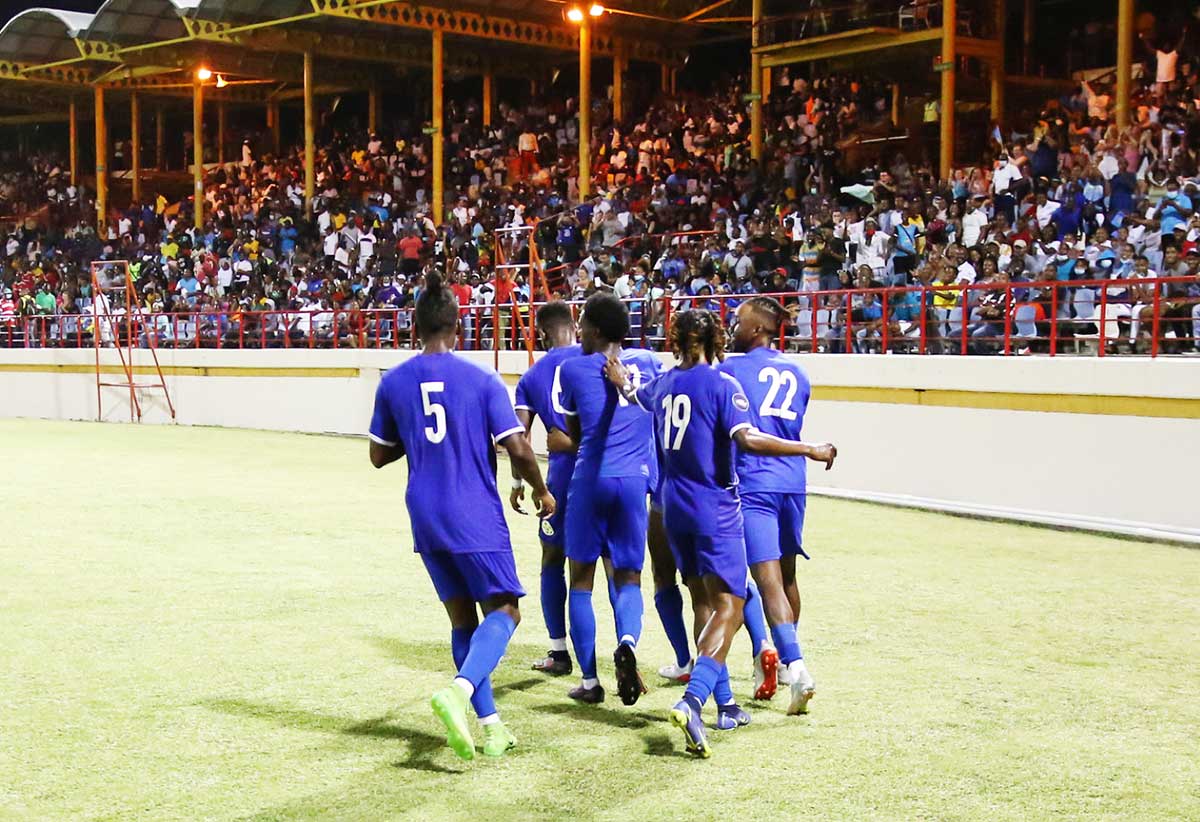 John adds, "I feel we could have done better, in terms of finishing in the final tier. But, I think our overall performance was a lot better than we did before and we intend on building on every game."
The head coach also spoke about the versatility of the players and the depth of talent coming off the bench.
John asserted: "We have a very versatile team …and a lot of talented players. But we need to see our local players be in that environment…to be a lot fitter, a lot stronger, and the nutrition aspect of it is part of the game too. But, talent is here in abundance in St Lucia, so we have to tap into it."
He added, "Also there are a lot of regional players, since I got here, willing to play for St Lucia as well, and that is even better for us. So the competition is always there …and once the guys are coming out and giving a 100% and they want to play for their country, they will get a chance to play."
Anguilla's head coach Nigel Connor said it was a very competitive match; his team lost out on two set pieces.
He noted that the Anguillan team is in transition and a rebuilding mode and is better placed than they were a few years ago.
"We have made a lot of strides in terms of our competitiveness and playing an entire game," stated Connor. "The guys stood up playing against a team that is ranked much higher than us and we came here to compete. We are trying to do things differently, but the game was good. St Lucia has a good team, but our guys held their heads up and continued to press the effort for the entire game."