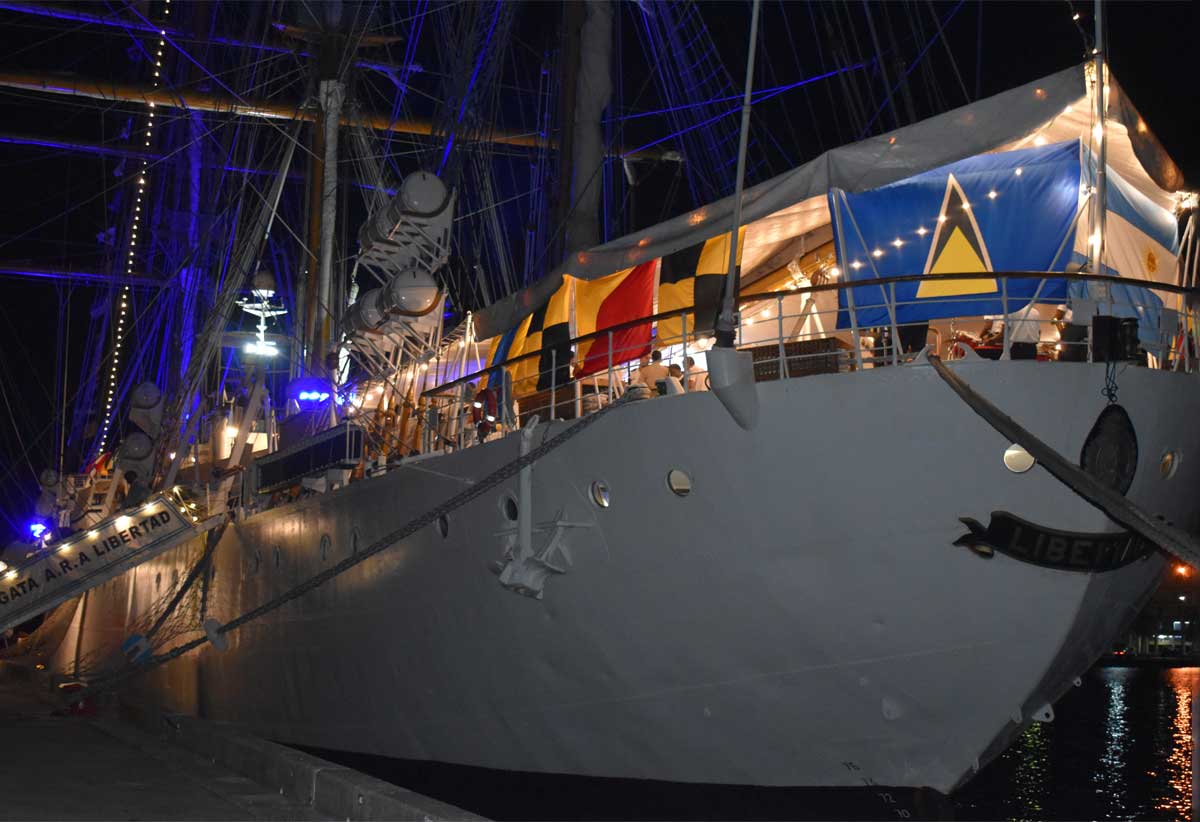 Argentine Navy's training ship, Frigate ARA Libertad, Thursday, visited Saint Lucia for the first time ever, as part of its 50th Training Voyage and will leave port sometime today.
At a private ceremony on Thursday evening, Captain Carlos Pedro Schavinsky Trinchero intimated that it was the perfect opportunity for Argentina and Saint Lucia to forge friendship and create bonds of goodwill.
One of the largest and fastest tall ships in the world, holder of several speed records, the Frigate is a steel-hulled, full-rigged, class "A" sailing ship that serves as a school vessel in the Argentine Navy. It was designed and built in the 1950s by the Río Santiago Shipyard in Ensenada, Argentina.
"It's a great joy to visit this beautiful country for the first time and share with you all our culture and traditions, not only of the Argentinean navy, but also of my entire country. (There are) a total of 92 midshipmen that are in the final stage to complete their professional practices (and there are) 326 sailors on board this tall ship," Trinchero said.
"Yesterday we celebrated our national day in commemoration of the revolution (which) occurred in May 25 of 1810. In that ceremony we were pleased (to share) it with authorities of the foreign service of Saint Lucia and the main authorities of the Royal Saint Lucia Police Force. My crew is enjoying your wonderful beaches, the richness of your culture, and the warm welcome of your country. It is really a pleasure being here," he added.
Trinchero had much praise for the Royal Saint Lucia Police Force, particularly the Marine Division of the Force, whose members assisted his crew in making them feel at home in Saint Lucia. The two sides exchanged tokens of appreciation on board the ship during Thursday evening's ceremony.
The crew's journey began in February of this year; team members visited Rio De Janeiro. Frigate left Buenos Aires on April 30, 2022, visited the port of Fortaleza in Brazil, and after Saint Lucia is scheduled to visit the Dominican Republic, Cuba, Mexico, United States of America, Ireland, France, Spain, Salvador, and Brazil, and will be returning to Buenos Aires in September.
Frigate's visit to Saint Lucia ended on May 28, however, citizens and tourists were invited to come on board on May 27 between 2:00 p.m. and 5:00 p.m., to learn about the ship's history and crew life.
The ship follows the archetypal windjammer design, with a clipper bow and a wood-carved figurehead representing Liberty in a long flowing robe and a cruiser stern bearing the Argentine coat of arms in cast bronze.
Frigate made its maiden voyage in 1961 and continues to be a training ship with yearly instruction trips for the graduating naval cadets as well as a travelling goodwill ambassador, having covered more than 800,000 nautical miles (1,500,000 km) across all seas. Frigate has visited about 500 ports in more than 60 countries and has trained more than 11,000 navy graduates.