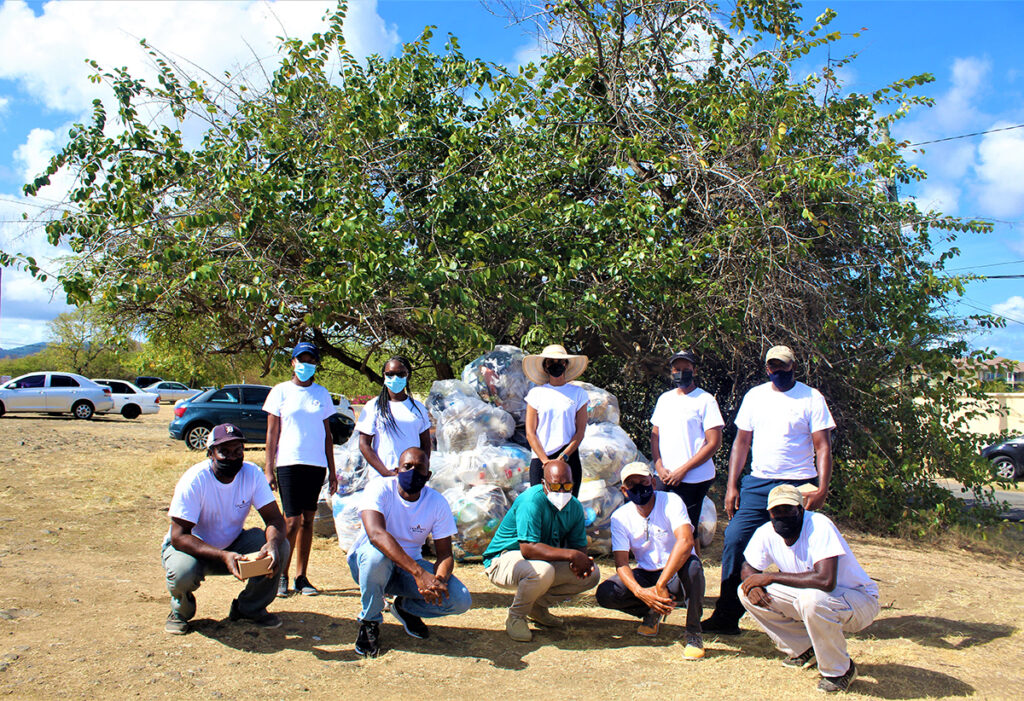 The management and staff of The Landings Resort & Spa observed this year's Earth Day by investing their time and resources in a big way.
Last week Friday, when Earth Day was observed globally, a team of staffers from the resort undertook a clean-up exercise that included the general area outside the property. Staffers collected plastic and glass bottles and other discarded items within a half-mile radius of the property.
Forty large garbage bags of trash were collected and later taken to the Deglos landfill.
This year marked the 52nd anniversary of Earth Day, which is observed globally on April 22 to demonstrate support for environmental protection. The theme for this year's observance was "Invest in the Planet".
Sannicia Sammy, Assistant General Manager, who joined The Landings Resort & Spa team less than three months ago, said the clean-up drive proved that when an excellent team comes together, anything is possible.
"We actually began this year's Earth Day activities on Wednesday, April 20, partnering with Grow Well Centre, a charity with which The Landings Resort & Spa has worked for many years," she explained. "Many of our guests support these children in the form of clothing, educational books, and so on. It's an ongoing and close-knit relationship that we hope to continue."
On that Wednesday, nearly 10 junior golfers from the Grow Well Centre planted four fruit trees on The Landings Resort & Spa property, namely mango, tamarind and lime. The children later named each tree after golf terms: Eagle, Hole in One, Par, and Birdie.
"Protecting the environment is very close to our hearts," Sammy said. "Our General Manager, Paul Collymore, will definitely attest to these activities being tied into our sustainable programme at the resort."
Sammy said efforts to promote sustainability at The Landings Resort & Spa started years ago, including through putting signs in the rooms promoting reusing towels, using eco-friendly light bulbs and cleaning chemicals, and discontinuing the use of single-use plastics such as drinking straws, food containers, forks, knives and spoons.
"We're really trying to be a company that holds itself accountable by remaining eco-friendly," she said. "We do regular clean-ups within and outside of the property. Community is important to us and we're all team players here at The Landings Resort & Spa. We do whatever we can when it comes to protecting the environment."
Sammy stated the foundational aspect of protecting the environment is by not littering. She cited documentaries and research by National Geographic and other organizations that speak to the negative effects of pollution.
Through wanton discarding of plastics and other wastes that find their way into the waterways, Sammy said humans are destroying the very planet that they expect to sustain them. Households and communities, she added, need to dispose garbage responsibly, thereby protecting our planet.
"We want to create a clean and serene environment not only for visitors to the island, but also for those of us who live here," Sammy said. "We need to hold ourselves accountable."
Last Friday's clean-up crew included staff from the following departments: Security, Maintenance and Engineering, Accounting and Finance, Human Resource, Executive Office, Sales and Marketing/Reservations.
Human Resource Manager, Natasha Jouavel, said she was pleased with the staff members' support for the activity.
"For us, it's about preserving the environment," she said. "This is where we live and work, so let's make it look good. Let's keep it to a standard that others can come in and love what we have."
Timothy Mangal, Security Manager, who came in on his day-off to be part of Friday's clean-up exercise, says The Landings Resort & Spa is very conscious about preserving the natural environment.
"It's a hotel, so we always ensure that the property and its environs are clean," said Mangal. "I believe that with Saint Lucia being a tourism destination, the island has to speak for itself. Seeing garbage lining the sides of the roads doesn't look good on our part. So I think we all need to do our part to keep our environment clean."
On the night of Earth Day, The Landings Resort & Spa hosted a candlelight dinner at The Palms Restaurant as another measure to protect the resources of the Earth and work towards a more sustainable way of doing business.