Saint Lucia's Independence Anniversary Committee has disclosed plans for the celebration of the island's 43rd independence anniversary with an array of exciting activities set for display.
The activities will highlight Saint Lucia's arts and culture through 'creative expressions' with a range of presentations to be complemented with virtual productions and programming.
The theme for this year's celebrations is entitled – 'Douvan Asanm: Celebrating Our People'.
While acknowledging that the island is overflowing with unlimited talent, co-chair of the Independence Committee Darrel Montrope, at a virtual launch on Monday, noted that there is a rich source of untapped skills still waiting to be discovered.
"Our first Nobel Laureate – Sir Arthur Lewis pointed to the fact that 'a society without the creative sector is a cultural desert'," he declared.
Montrope said in keeping with the theme for this year's celebrations, the calendar of activities "celebrates a lot of that creative sector in its many forms."
"This is an exciting phenomenon where all the creatives sector …all forms of that art will be on display," he said, adding that "we want people to live it, and experience it …"
Another feature of the celebrations will be an expo at Expo Dubai – with a showcase, dubbed 'My Island Home', slated to be held from February 20 to 22.
Tourism Minister Dr Ernest Hilaire explained that the presentation will start with a conference on Saint Lucia's tourism, where invitations have been extended to tour agencies and tourism-related personnel from the Middle East and North Africa (MENA) "to come to Dubai…or us to interact and to present St Lucia to them."
He said a meeting with potential investors and developers to discuss prospective projects, will follow, "for them to come and tell the world why they chose St Lucia, and what it is like to invest in St Lucia."
Hilaire indicated that since the MENA area is a popular region on the issue of economic citizenship the investors will be thoroughly updated on St Lucia's Citizen Investment Programme.
On February 20, the activities will highlight Helen's Daughters programme entitled: Nourishing Helen; as the entity seeks to promote the empowerment of rural women in agriculture as they strive to maintain sustainable livelihoods.
Keithlin Caroo, Executive Director and founder of Helen's Daughters, youth ambassador and member of the Independence Committee spoke on the input of the group in these presentations.
Expressing strong views on the role of agriculture in the community that has been downplayed for far too long, Caroo says, "people have looked at agriculture in the traditional sense for the longest time and this is why it is pivotal for our relationship with Hotel Chocolat."
She added, "St Lucia has pioneered agriculture for many years, but it is now time for us to innovate and reclaim our position as agriculture pioneers. But also to show (that) we can be models for the agro-tourism sector."
Caroo feels that with programmes in place, such as the Apprenticeship plan and also, "opening up opportunities for women that can showcase their farms and create 'agro-tourism' models as case studies for our region."
The official logo for Saint Lucia's 43rd Independence anniversary was also revealed at the event and Raul Joseph, who designed the logo, stated that it was a privilege to do so. Joseph said that he worked on the project diligently and believes it is fitting.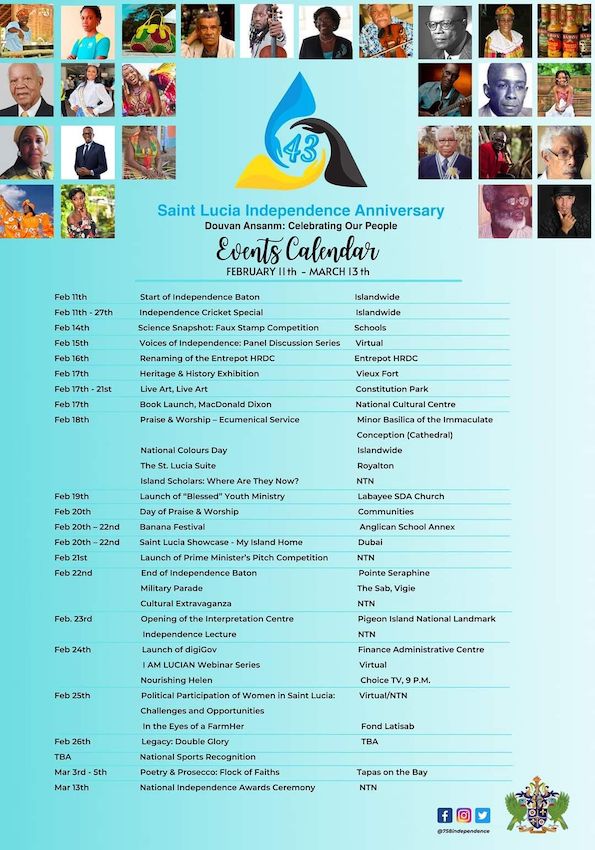 "I did (the logo for Independence) 40 (and) this year I was commissioned to do (the) Independence 43 (logo) and I was glad to say yes. Getting the opportunity to do 43 was big for me," Joseph said in an interview.
"Within the logo you have the hands which pretty much come together. We used various colours from the flag to create that piece to show the diversity (and) to show different persons of different backgrounds coming together to achieve one goal," he added.
Other activities to be highlighted in the celebrations, will include: the renaming of the Enterepot Resource Centre on February, 16; on February, 18 – National Colours Day ; February 20 to 22- the Plis  Belle Commin; a Military Parade and the virtual Cultural Extravaganza rounds off the activities on February,22 – Independence Day.