"I have fought the good fight, I have finished the race, I have kept the faith. Finally, there is laid up for me the crown of righteousness, which the Lord, the righteous Judge, will give to me on that Day, and not to me only but also to all who have loved His appearing." 2 Timothy 4:7,8.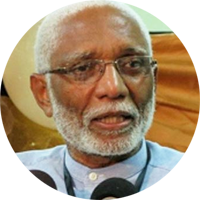 In Saint Lucia and the whole world, the Covid pandemic has made illness and death a painful, present reality. Victims are young and old. Covid in every corner of the globe has stopped humanity in its "normal" tracks and forced it to take stock of all expectations. It has also exposed the vulnerabilities of our social and economic systems. For the thoughtful, it has helped to remind that life is not interminable and wisdom calls us to make preparation for that traumatic, transitional, final experience.
From the Biblical Christian view, death is an abnormality, result of sin. "The wages of sin is death." (Romans 6:23), and "all have sinned and fall short of the glory of God" (Romans 3:23). The coming of death into a perfect creation is traced back to Genesis 3 and the events recorded there. Man is judged for his disobedience: "…dust you are, and to dust you shall return." (Genesis 3:19). This orthodox Biblical proposition of original sin is largely rejected by modern man, but held by churches and theologians who believe in the inerrancy of Bible Scripture as revelation from God.
But the Bible and orthodox Christianity also teach that death has an appointed end. It holds to the amazing Biblical teaching that "our Saviour Jesus Christ has abolished death and brought life and immortality to light through the gospel" (2 Timothy 1:10). In powerful words, the writer of the New Testament book of Hebrews says of Jesus' crucifixion and resurrection that "through death He might destroy him who had the power of death, that is, the devil, and release those who through fear of death were all their lifetime subject to bondage." (Hebrews 2:14,15). John the Apostle would write in a pastoral letter: "For this purpose the Son of God was manifested, that He might destroy the works of the devil." (1 John 3:8).
For those who have died and still die, the Bible presents the promise of resurrection at the return of Christ: God "has appointed a day on which He will judge the world in righteousness by the Man whom He has ordained. He has given assurance of this to all by raising Him from the dead." (Acts 17:31). Daniel had prophesied: "…many of those who sleep in the dust of the earth shall awake, Some to everlasting life, Some to shame and everlasting contempt." (Daniel 12:2). The Resurrection of Christ changes everything for the world, not only for believers but also for unbelievers. 1 Corinthians 15 has been called the great resurrection chapter of the Bible for its exposition of the rising from the dead of Christ and all humanity. There Paul asserts with confidence, that at Christ's coming and the universal resurrection, "The last enemy that will be destroyed is death." (1 Corinthians 15:26). The Christian hope is that not only will death be destroyed, but the whole creation will be renewed: "we, according to His promise, look for new heavens and a new earth in which righteousness dwells." (2 Peter 3:13). The Gospel of God's grace is indeed "good news."
So then, acknowledging the reality of human endings, proclaiming the Lordship of Christ, the certainty of His return and ensuing judgement, the Church founded on the authority of the revelation of Scripture, calls everyone to make preparation for the inevitable. The world is largely ignorant of these things, either through unbelief or because of many diverse philosophies that present contrary world and life views. More insidious are those groupings of an apostate Christendom that reject the authority of the Bible and under cover of being Christians, turn many away from the reality set out in Scripture.
The Lord Jesus Christ – Incarnate Deity, Saviour, Lord – is central to mankind's hope of deliverance from sin and death. "For God so loved the world that He gave His only begotten Son, that whoever believes in Him should not perish but have everlasting life," (John 3:16). In liberal democracies, we support the right of all to hold their preferred religious or philosophical views. The Biblical Christian position is: "Nor is there salvation in any other, for there is no other name under heaven given among men by which we must be saved." (Acts 4:12). Eventually, at the end of life and all things, everyone will know whether this is true or not. "For the grace of God that brings salvation has appeared to all men, teaching us that, denying ungodliness and worldly lusts, we should live soberly, righteously, and godly in the present age, looking for the blessed hope and glorious appearing of our great God and Saviour Jesus Christ, who gave Himself for us…" (Titus 2:11-14).
The recorded words of the Lord Jesus are very clear. In Matthew 24: 36-44, He says of His coming and the end of all things as we know them: "Of the day and hour no one knows…watch therefore, for you do not know what hour your Lord is coming…therefore you also be ready, for the Son of Man is coming at an hour you do not expect." This warning does not only apply to Christ's return (much mocked and scoffed at today) but also speaks to death, whether gradual or sudden. These days of so many motorcycle fatalities, murders by gun and cutlass, death by heart failure, cancer, suicide, Covid and other diseases prove the truth of these words.
Given the promise of security and resurrection, believers should not fear death. We should live as though today could be our last. In the face of death of loved ones, especially fellow believers, we ought not to "sorrow as others who have no hope." (1 Thessalonians 4:13). We have great assurance from the words of the Lord Jesus Himself: "Let not your heart be troubled…I go to prepare a place for you…I will come again and receive you to Myself; that where I am there you may be also." (John 14:1-4). For the believer, against the scoffing of the unbeliever, this is not "pie in the sky." The Biblical promises concerning the end of all things are a source of great comfort, especially for the dying Christian.
More than ever, as human history winds down with the falling apart of so much in our world, it is time to make thoughtful preparation for the end of this life and entry to the world to come. The Apostle Peter, an eyewitness of the life, crucifixion and resurrection of Christ, promises to believers, "an inheritance incorruptible and undefiled and that does not fade away, reserved in heaven for you, who are kept by the power of God through faith for salvation ready to be revealed in the last time." (1Peter 1:4,5).  Peter also warns believers against carelessness, complacency, self-righteousness: "the end of all things is at hand; therefore be serious and watchful in your prayers." (1 Peter 4:7). We must prepare for the end of life as we know it with all things.