The West Indies Under-19 Rising Stars and England Under-19s will face each other on Tuesday 14th September, 2021 in the 5th Royal London Youth One – Day International (YODI) at Polo Field, Canterbury from 10.30 a.m.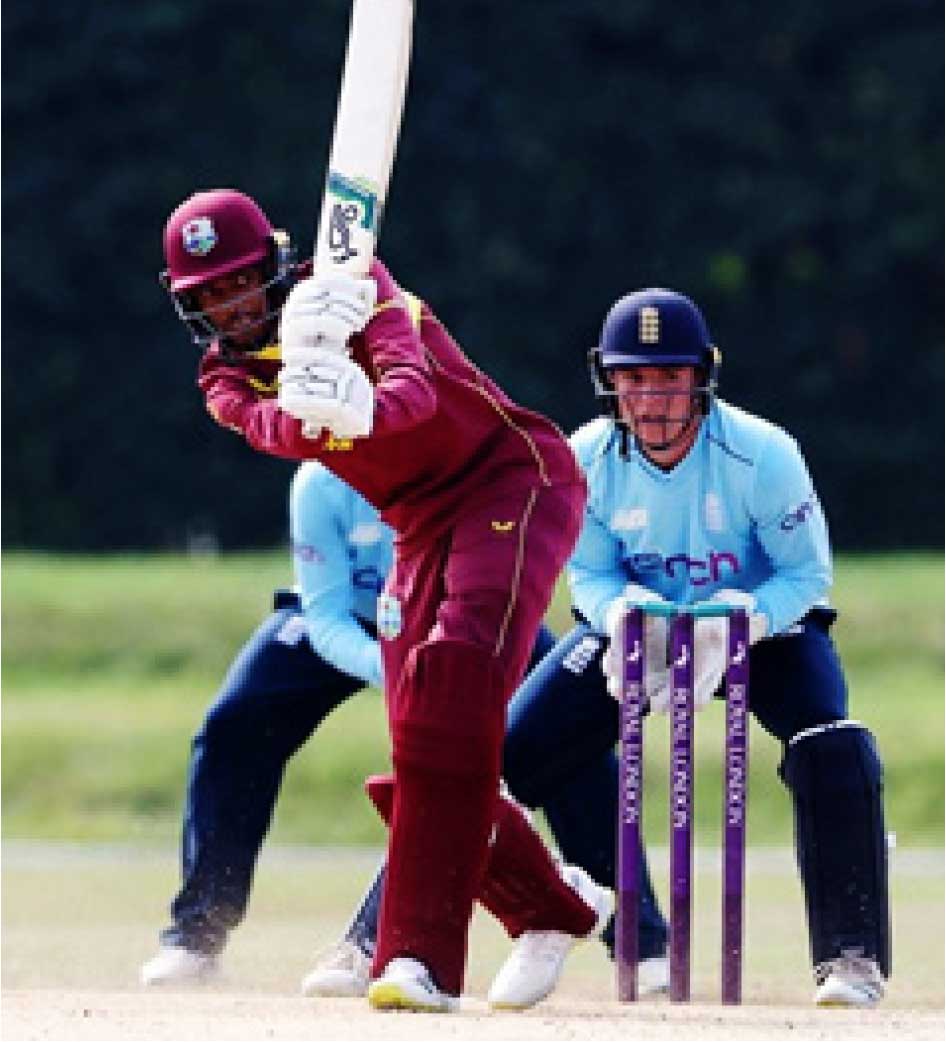 Yesterday (Friday 10th) England took a 3-1 lead in Match No. 4, when they easily overhauled the West Indies 135 to win by 9 wickets with 193 balls remaining.
Jacob Bethell top scored with 67; he was bowled by Matthew Nandu in the 15th over with the score on 117. The not out batsmen were George Thomas 59 and Tom Prest 4.
The West Indies, batting first, was bowled out for 135 in 40.5 overs with Rivaldo Clarke 37, vice captain Giovonte Depeiza 32 and Sion Hackett 28, the batsmen to reach double figures.
Bowling for England, Thomas Aspinwall 3 for 28, Sonny Baker 3 for 37, Jacob Bethell 2 for 36, Tom Prest 1 for 4 and Joshua Boyden 1 for 13.
The final YODI is schedule for Thursday 17th.
The West Indies squad: Ackeem Auguste (captain), Giovonte Depeiza (vice-captain), Anderson Amurdan, Teddy Bishop, Carlon Bowen-Tuckett, Andel Gordon, Rivaldo Clarke, Nathan Edward, Matthew Nandu, Sion Hackett, Mc Kenny Clarke, Johann Layne, Justin Jagessar, Vasant Singh, Anderson Mahase, Isai Thorne, Onaje Amory and Justin Beckford.
On Wednesday 8th, in YODI No.3 the Rising Stars defeated England by two wickets with 18 balls remaining in what can best be described as a must win situation to keep the series alive.
The host won the toss and chose to bat went on to score 239 for the loss of 9 wickets in their allotted 50 overs at a run rate of 4.77.
For England: George Bell 44, Thomas Aspinwall 41, William Luxton 27, Nathan Barnwell 25 not out, Alex Horton 21, Archie Lenham 18 and George Thomas 18, the main contributors with the bat.
Bowling for West Indies: Onaje Amory 1 for 29, Johann Layne 1 for 35, Anderson Mahase 2 for 42, Nathan Edward 2 for 46 and Mc Kenny Clarke 2 for 52.
West Indies, requiring 240 for victory, was in a spot of bother losing both openers Justin Jagessar for 4 and Anderson Amurdan for 5 with the score on 11 and 12 respectively. In at No.3 was the inform batsman Teddy Bishop, who on Monday 6th scored an unbeaten 97. Bishop scored a match-winning 133 which guided the West Indies Rising Stars U-19s victory.
Bishop showed class with the bat, his 133 came off 117 deliveries at a strike rate of 113.67 which included 20 fours, while his century came off just 85 balls and included 15 fours.
Bishop was involved in four partnerships; first he added 69 runs for the third wicket with captain Ackeem Auguste (18) before Auguste was caught by Harry Petrie off the bowling of Jacob Bethell with the score on 81 in the 15th over.
He also added a further 37 with Rivaldo Clarke (16), 73 with vice-captain Giovonte Depeiza (21) and 14 with Anderson Mahase (2) before he was the seventh batsman out for 133, bowled by James Coles with the West Indies still needing a further 13 runs for victory and 4.3 overs remaining.
Fall of wickets: 1 for 11 (Justin Jagessar 5), 2 for 12 (Anderson Amurdan 4), 3 for 81 (Ackeem Auguste 18), 4 for 118 (Rivaldo Clarke 16), 5 for 191 (Giovonte Depeiza 21), 6 for 205 (Anderson Mahase 2), 7 for 228 (Teddy Bishop 133), 8 for 233 (McKenny Clarke 1). The not out batsmen, Nathan Edward 17 and Johann Layne 8.
Bowling for England U19s, Nathan Barnwell 3 for 30, Jacob Bethell 1 for 7, Thomas Aspinwall 1 for 36, James Coles 1 for 36 and Archie Lenham 1 for 53.
In a post-match interview Bishop said, "It feels really great and most important a win for the team. This innings is really special for me, my first century for the West Indies. It's important to get a win for the team."
"The bowlers did really well for us in the morning, so the batters had to make sure we backed it up."
According to Bishop, "The plan was to keep ticking it along to hit the gaps and to keep my partners in the game and keep talking to them. We can take a lot away from this game with this win. We were two-nil down so now we got a great win, and we are back in the series."