After etching her name in Saint Lucia Aquatic Federation's (SLAF) record books by setting the historic 26.99 seconds in the women's 50 metres freestyle at the 2020 Tokyo Olympic Games, Mikaili Charlemagne, 2020 Junior Sportswoman of the Year, was accorded a hero's welcome when she returned home on Sunday evening.
"I am very happy and excited of course. Everybody congratulated me and I am thankful to the SLAF and the Saint Lucia Olympic Committee (SLOC) and everyone for supporting and encouraging me. It is an exciting day and a happy moment," Charlemagne said.
The 18-year-old clocked a personnel best time and national record of 26.99 seconds in  heat five finishing second, but placed 49th overall out of 83 swimmers after11 heats.  She was congratulated by the Ministry of Youth Development and Sports officials, newly elected Parliamentary Representative for Gros Islet, Kenson Casimir, SLAF officials headed by President, Eddie Hazel, family members and friends.
Saint Lucia's other swimmer racing in heat 3, was 28-year-old Jean Luc Zephir competing in the 100 meter Freestyle. He clocked a final time of 51.94 placing 54th overall out of 71 competitors with a reaction time of 0.68.
Hazel expressed his delight in the swimmers' achievements, noting, "As a tiny swim nation, with limited resources, the developmental and athlete support programmes that have been implemented is a testimony to the results we are seeing from our swimmers today."
Saint Lucia was represented by a total of five athletes; Hazel further congratulated the contingent on their ability to showcase their talent on the biggest sporting stage in the world.
SLAF continues to work with their swimmers with the hope of increasing the number of representatives in the qualifying standards at the 2024 Olympics in Paris, France.
Charlemagne's mother, Constance Rene, spoke about Mikaili's latest achievement in an interview with The VOICE.
"I believe she gave her best, given the challenges that she faced, one of which was reduced pool training from sixteen hours to about nine hours a week. Lack of pool training for months in 2020 and not having swam in a 50 metres pool for two years," she said.
According to Rene, "Mikaili was one of the few swimmers from the Caribbean who actually swam a best time. In the 50 metre freestyle, just three Caribbean females swam best times and she recorded the third fastest time of her Caribbean counterparts in the 50 metre freestyle event."
Richard Peterkin former president of the SLOC said, "Some of the most enjoyable experiences were greeting our athletes when they returned from the Olympics and other international games."
"I was not always on hand to greet them, and often, they did not return directly to Saint Lucia for some time after the games, but we always tried to make them feel appreciated for their participation and performances on behalf of Saint Lucia and SLOC," he stated,.
According to him, "I was therefore happy to deputize for President Fortuna Belrose, who is on her way to Tokyo, to celebrate the return of our young swimmer, Mikaili Charlemagne, who did us proud in swimming at Tokyo."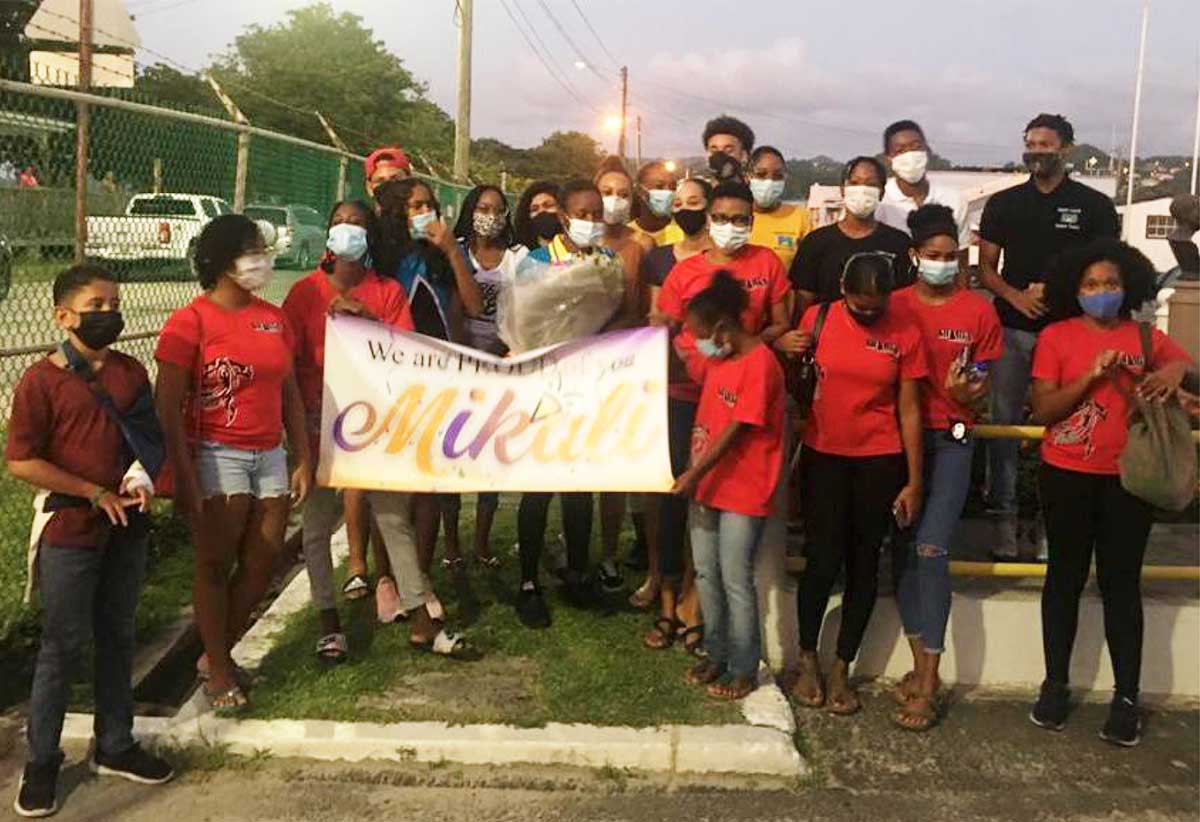 He continued: "While Mikaili did not qualify for the semi-finals, her time was a personal best, and a new national record. When we send athletes to major games, while we would like all of them to end up on the podium, we know how difficult that is and therefore expect that as a minimum, they improve on their best performances prior to the games. She did just that and we are all proud of her. We thank her for representing us in Tokyo and wish her well for her future in swimming."
"Not all the athletes will be returning to Saint Lucia directly. Our other swimmer Jean-Luc Zephir, resumed his training in Paris, but I look forward to welcoming our young sailors as well as our high jumper, Levern Spencer. These were not easy games for the athletes, due to the tight COVID protocols which restricted their movements to the Olympic Village and their sports venues," Peterkin added.
Levern Spencer, Saint Lucia's reigning Sportswoman of the Year, will compete in the women's high jump on Thursday August 5th.
Meanwhile, Saint Lucia's two other competitors at the Olympic Games, sailors Luc Chevrier and Stephanie Devaux Lovell finished 31st and 28th respectively.