Former national female opening batter and wicketkeeper Roslyn Emmanuel has given back to the sport she played for 18 years by outfitting the Northern Cluster Grassroots Cricket Programme (NCGCP) with several new and used cricket equipment.
The sporting equipment was handed over to Alton Crafton, head coach of the NCGRP this past weekend at the Daren Sammy Cricket Ground (DSCG) by Emmanuel's granddaughter, Skyy Smith. Smith is a top order batter for the Gros Islet women's cricket team which played the final of the Acynta Auguste 50 over women's tournament against South Castries recently.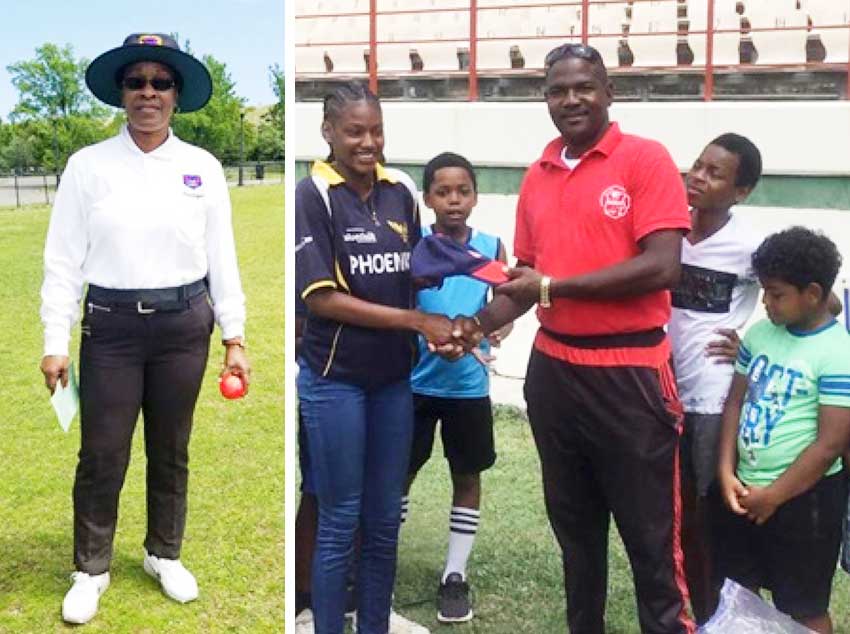 Emmanuel who now resides in the United States, and once wore the national outfit, started her cricketing career in 1985 when she represented Pavee Women's Cricket Club and Sparklite Rangers.
At the club level she has a top score of 106 not out, 98 at the national level and 56 for West Indies versus Lancashire; the former wicketkeeper also has 7 dismissals for the West Indies.
Emmanuel was inducted in the Hall of Fame in the USA in 2016; she is a USA qualified umpire and will be sitting the International Cricket Council (ICC) exams in a few weeks' time. She is very active as a coach and umpire in a number of cricket leagues in the USA, including the Metropolitan Cricket League (New York) and the Masters League in Connecticut.
Included in the sporting equipment were coloured shirts and pants, bats, pads, caps, shoes, bags, helmets, batting gloves and wicket keeping gloves.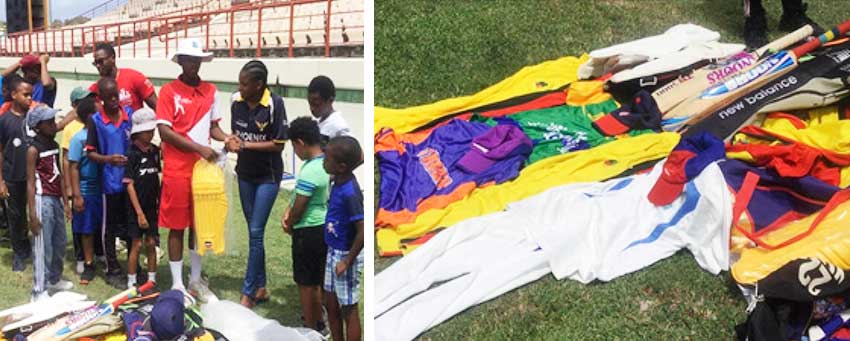 "On behalf of my grandmother Roselyn Emmanuel, who is currently residing in the USA, she has represented Saint Lucia, West Indies and also played for the USA women's cricket team, she is also a female umpire, coach and an inductee in the USA Hall of Fame. Roslyn has been aware of our team's challenges in obtaining cricket gears and have since sourced out a few new and used gears for the team. I do hope that you appreciate and make full use of her kind and thoughtful gesture," Smith said, speaking on behalf of her grandmother.
Crafton complimented Smith and grandmother for what he dubbed "a timely gesture" and assured both that the gift will go a long way in restoring confidence and pride in the young cricketers.
"Although Emmanuel is not a businesswoman, she took a bold decision to assist the young cricketers, such initiative goes a long way in getting players to have the correct mindset prior to competition," he said.
Former national Under15 and 19 opening batsman, now a student at the UWI in Barbados, Jard Goodman on behalf of the Northern Cluster Grassroots Cricket Programme gave the vote of thanks. Goodman thanked Emmanuel for the wonderful gesture of donating the much needed cricket equipment  to the programme and to everyone else for the role they played in getting the equipment into Saint Lucia.