RENOWNED cricket commentator Joseph `Reds' Perreira was celebrated by Sandals Grande St. Lucian Spa and Beach Resort for 50 years of cricket commentary, a feat achieved during the West Indies/Australia T20 International series in Saint Lucia last month.

Perreira is one of the icons of cricket commentary. He is one of the most recognized voices in the world of cricket for five decades and a long history of contributing to the development of several other sporting disciplines throughout the region, such as being Sports Director of the Organization of Eastern Caribbean States (OECS) Sports Desk and President of the Saint Lucia Boxing Association (SLBA).
Present at the Sandals celebration for Perreira were Youth Development and Sports Minister Kenson Casimir, Sandals Resorts Saint Lucia Managing Director Winston Anderson, Sandals Regional Public Relations Manager, Sunil Ramdeen, Mrs. Perreira, President of the Saint Lucia National Cricket Association Carol Henry, Staff of Sandals Grande, Cricket Statistician Roland Cox and members of the media.
"Reds has long been associated with Sandals, not just in Saint Lucia, but throughout the region. He was a key part of our long-standing cricket academy and remains instrumental in the current Under-19 Sandals Cup which we have proudly partnered with the SLNCA to the present over the past three years," Anderson said, adding that he was pleased when "Sunil suggested that we hold this function to pay homage to this icon in our midst."
According to Anderson, "Reds' career spans all the way back to the 1960s, when his talent as a commentator first came to light – and ear – during a few of the first-class cricket games. The oratory skills of the twenty-something old Perreira soon spread and captured the attention of many of the movers and shakers in the broadcasting field."
Anderson said, "At the time Reds credited his interest in broadcasting to the influence of persons such as Roy Lawrence, Tony Cozier, Tony Williams, Hugh Crosskill and Jerry Richards just to mention a few. As a youth growing up in Guyana, he would often listen to cricket on short-wave radio, where he was spellbound by the voices of Johnny Moyes, Michael Charlton and Alan Mc Gilvrey, who he later worked with."
"In fact, many of you may not know that one of the biggest challenges Reds had in his early career was that he stammered a lot. However, the young Perreira who – while working as a dishwasher in Copenhagen in 1967, would use the time alone to practice, practice and practice some more."
"That persistence, that never-give-up attitude and that pursuit of excellence has been the hallmark of Reds' career for the 50 years that he has brought the game to life as a commentator."
"It was in 1971 that Reds made his international debut during the India/West Indies match at Bourda, that famous series when Sunil Gavaskar announced himself to the Caribbean. Ironically our own Sunil is named after Gavaskar, born as he was in 1972. Reds has gone on to report from all cricket playing nations, except Bangladesh, and was even involved in the controversial, but revolutionary Kerry Packer Series."
"And that brings us to where we are today, in 2021, as we gather to mark Reds' 50th anniversary as an international commentator. And for those of you who listened to the recent South Africa and Australia home series, he is still going strong and was a key member of the commentary team for those series."
Remarks also came from President of the Saint Lucia National Cricket Association (SLNCA) Carol Henry. Henry said, "I can relate and connect your name to a number of important persons in cricket who have gone on, such as Tony Cozier, Tony Greg, John Arlott, these were the days when one would have a radio transistor to their ear listening to cricket (ball by ball) and I never for once ceased to be totally impressed and amazed with the level of commentary and professionalism and the ability to bring out to the listeners what exactly is taking place on the field. I take this opportunity to commend you."
Sports Minister, Casimir said, "Today, we are here honoring a man who has shown us that adversity can be overcome once there is determination to succeed. A serious speech impediment might have robbed us of this moment but his focus on a dream to become an outstanding sports commentator has left an indelible mark on the cricketing world".
He added, "His accomplishment of 50 years of cricket commentary has occasioned this ceremony but from a Ministry of Youth Development and Sports standpoint we take this opportunity to recognize the contribution of Joseph Perreira, known to everyone as 'Reds', had made towards the sporting landscape in Saint Lucia."
"June 10th, 2021 actually marked 50 years since he has been doing commentary on cricket including Test and Regional matches having done his debut match at Sabina Park in 1971 when the West Indies came up against India in the First Test of their series. His first stint in a first class match was in 1961 Guyana versus Trinidad at Rose Hall in his native Guyana."
According to Casimir, "Together with his late mentor, Tony Cozier, they became the voices of West Indies cricket in the region and wherever, the West Indies toured. He will be remembered for breaking the news that a team of West Indies cricketers were preparing to embark on a tour to apartheid South Africa."
Casimir said, "His greatest impact on sports in Saint Lucia and the sub- region however, started on October 1st, 1984 when he took on an appointment as Sports Co-ordinator of the OECS and was based at its headquarters on Morne Fortune. Perreira went on to serve the OECS in that capacity for 12 unbroken years. He has been credited with a umber of sub- regional tournament despite the Sports Desk not receiving the financial support for its operations."
Perreira took time to thank Sandals for their gesture.
"When I was in school, I used to stammer so badly that I dropped out, because my classmates and teachers made fun of my stammering. I used to come home and weep on my mother's lap. She would console me and made me listen to sports commentary and would ask me to repeat their pronunciation and intonations. I realized I was not stammering when I was with my mother. I was too conscious of myself. That was my problem."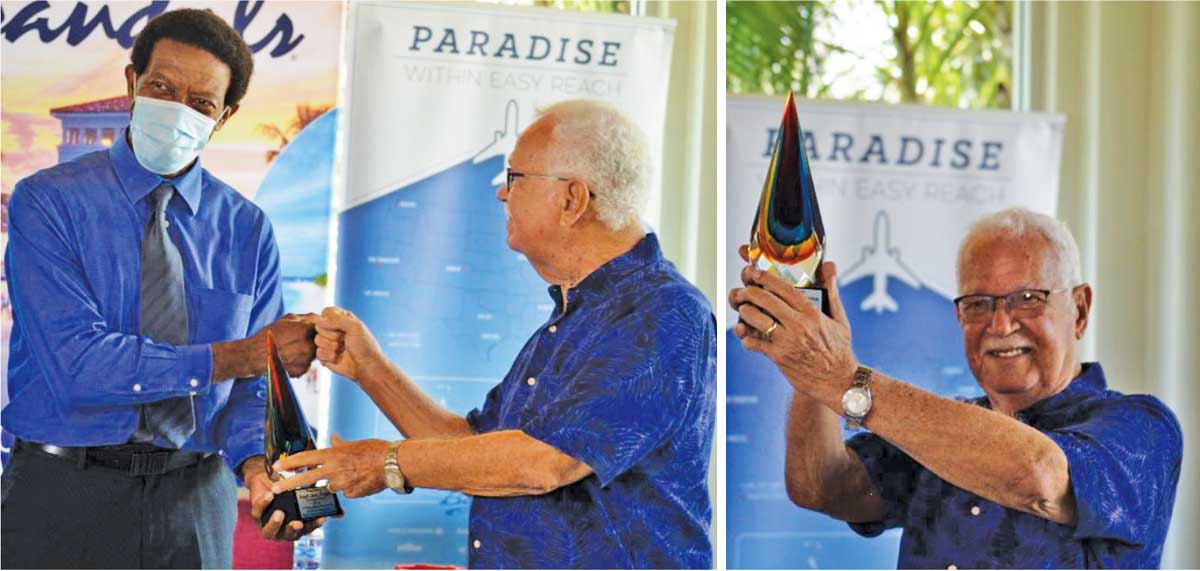 In 1996, while touring Australia, Perreira suffered a stroke. "It was not as hard as overcoming stammering. That had infused me with the confidence that I could fight any adversity in life."
In 2019, Reds Perreira was honoured for 60 years of service in media to West Indies cricket. He received this special award by Ricky Skerritt, President of Cricket West Indies (CWI).
Feel free to confirm for yourself as his life story is chronicled in his book, Living My Dream.