LEADERS of the two main political parties made a last ditch effort to win votes appearing on television hours before the country went to vote to elect a new government.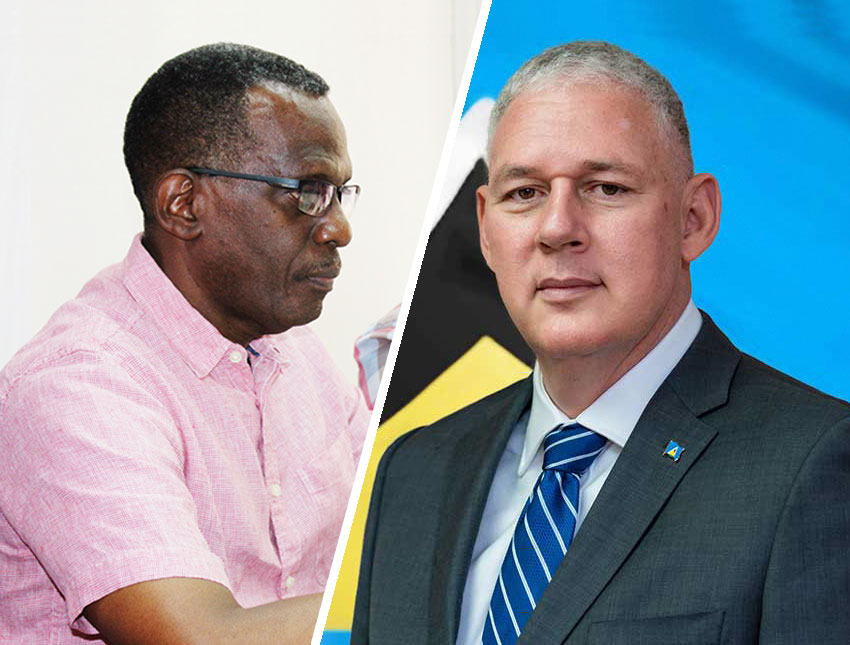 Both Allen Chastanet of the United Workers Party (UWP) and Philip J Pierre of the Saint Lucia Labour Party (SLP) urged Saint Lucians to make the "right" decision. They took the opportunity to highlight their party's accomplishments and plans for the future. Chastanet vowed that the (UWP) would "keep on working" if re-elected, but Pierre dismissed the idea and told Saint Lucians change is needed. According to him, the country is in an "atmosphere of hopelessness and despair."
"If there ever was a time our country needed us, that time is now. In recent days we have heard the voices of our people speaking against the pervasive injustice, corruption and vindictiveness of this government. Our country needs us to lift us out of this abyss," Pierre said.
"In 2016 this government inherited an economy on the rise with major capital works ready for commencement. The redevelopment of Hewanorra International Airport, the Choc to Gros Islet highway, the rehabilitation of the secondary roads, the Millennium Highway rehabilitation project and an administrative complex in Vieux Fort to name a few," Pierre added.
He stated that the SLP had improved the country's economic performance and unemployment was trending downward but the UWP trampled on a good foundation. According to him, the hard economic data from the Eastern Caribbean Central Bank is irrefutable and suggests that the Saint Lucian economy has been poorly managed.
Pierre went on to say that the island has experienced the greatest contraction among all other countries in the Eastern Caribbean and that Saint Lucia's public debt is now the highest "four billion dollars and counting".
"The question remains, why has our country which has borrowed so much performed so poorly? Where did all the borrowed money go? These are questions that need to be answered at some time. We cannot forget nor can we forgive the government's miserable performance in health care, crime and the management of the COVID-19 pandemic," Pierre asserted, telling viewers "we can vote to take our country back."
Chastanet on the other hand, believed his team remained focus throughout his tenure as Prime Minister and encouraged Saint Lucians to vote for progress. In his view, there were two options: to either move forward and continue working on building a new Saint Lucia or to go backwards to start over and "delay" the island's recovery.
"I told you five short years ago when we came into office that building Saint Lucia from the destruction we found (it) would not happen overnight. I told you to build our new Saint Lucia would take at least 10 years. Nobody ever said that it would be easy but through your hard work and our plans and policies and despite the pandemic, we are headed in the right direction," he said, adding, "there's still a lot more work to do."
"That's why we have said let's keep working. Let's keep working to deliver for our children the best opportunity from the start. Let's make available to them the best technology, the best schools, the best teachers. We want them to compete on a level playing field with every student from across the world in a globally competitive environment," Chastanet said.
He called the 2021 general elections the most important election since independence and told individuals that the only way to secure their future is by voting for the United Workers Party.
"Under my leadership we have spent more on education than any other government in the history of Saint Lucia. When we came in in 2016, the state of our healthcare was in disarray. There (were) no medicines in our hospitals and who can forget patients had to bring in their own bedsheets and pillowcases when they visited the hospital. This government, despite COVID, opened OKEU (so that) ordinary Saint Lucians can have access to better quality healthcare. We have fixed 14 health centers across the island (and) we've turned them into smart facilities," Chastanet stated.
According to him, "when we came in more than one out of every four Saint Lucians were out of work and unimaginably nearly two out of every young people were out of work and what's incredible (is) this was at the best of times. We reduced our debt to GDP to 59%, we reduced the overall unemployment by nearly 10% and we reduced our youth unemployment by more than 10%. We achieved economic growth of nearly double digits in our first three years in office. This is why we need to keep working to continue to create even more jobs so that we can raise wages (and) cut taxes on our people."
But Chastanet's impassioned pleas, almost inevitably, fell on death ears. The party's results were abysmal; voters had had enough of the UWP and they wanted them out of government. Chastanet and Bradley Felix are now the only ministers in the UWP camp—a thumbs down from individuals like Lady Janine Compton, former interim Prime Minister Michael Pilgrim, Independent Senator Dr. Adrian Augier and others didn't help the party either.
Still, the "Flambeau train" keeps on moving, albeit slowly, and this time, with only two individuals on board.
"I look forward to continuing to serve the people of Micoud South and I congratulate my brother Honourable Bradly Felix and all our candidates who put up an amazing fight. We still have to keep working," Chastanet told supporters on Monday.