ANOTHER Saint Lucian elite athlete will soon be heading to the USA to further her education.
Sixteen year old, Form 5 student of the Leon Hess Comprehensive Secondary School Jorja Mederick will be heading to Springfield College in Illinois.
This reporter spoke to Mederick about her sporting prowess and how it all happened for her to attend College in the USA.
"I started playing tennis at the age of four. It was simply to be active and to participate in a sport with my cousins," Mederick said.
What do you like about tennis?
"I think I like the fact it's an individual sport, plus it also gives me confidence," she said.
According to Mederick, apart from swimming and tennis, she also played some volleyball at the LHCSS and that was during a Physical Education session.
In terms of her tennis history, she said, "I played in multiple Coca Cola tournaments, domestic and regional. I also played in Trinidad and Tobago and Barbados. My greatest achievement was advancing into the quarterfinals in the singles and semifinals in the doubles in an Under 14 tournament in Barbados."
She added, "I have seen quite a bit of improvement, but I still need to fine tune my serve and my transition game. My backhand and my volleys have improved immensely, and what you see now has been under the watchful eyes of Coach Vernon Lewis."
In last week's inaugural VL Tournament played at the NTC, you took on Latoya Murray, how would you describe that encounter?
"I played well; I won in straight sets 4-0, 4-1, but I made a few errors that I wish I could correct, because it's been happening far too often, but I am working to improve it. Murray played really well, especially in the second set, her game has improved tremendously."
According to Mederick she has been practicing one and one with her coach, three days a week, for at least one hour, to maintain her fitness level. She said COVID-19 protocols restricted her time on the pitch.
The relationship between Mederick and her coach is at an all time high. She said, "I like him as coach, he has been my coach for 12 years and I also like his coaching style. I like the fact that I get to hit against him on court and his coaching is very interactive. During practice sessions, he tells me what I need to work on."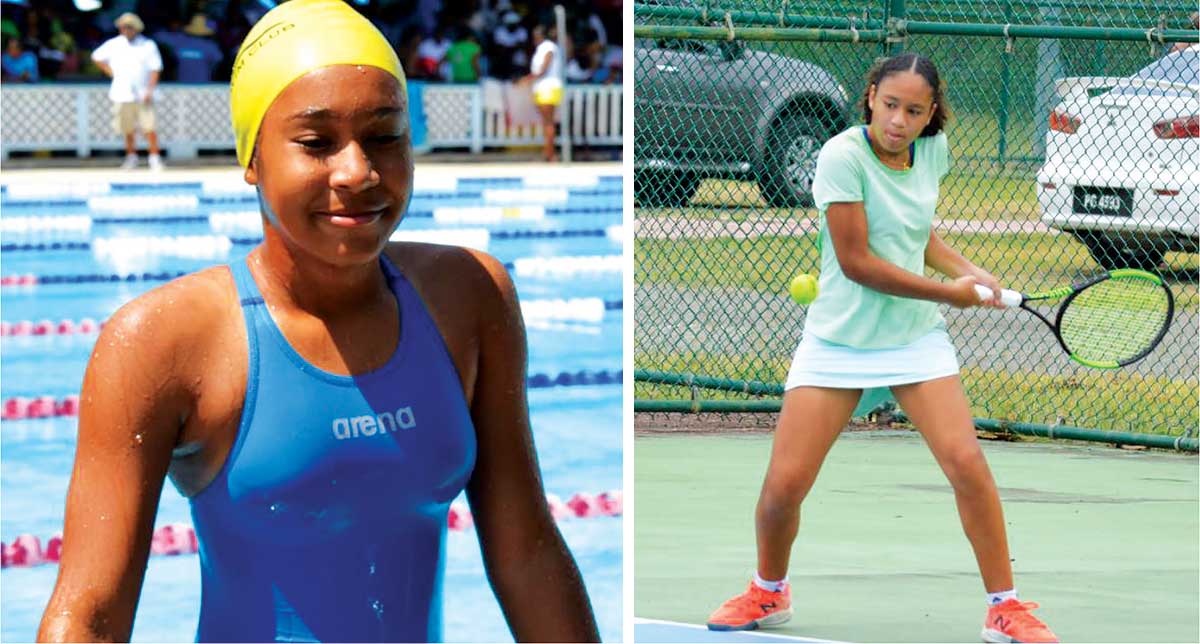 I was told earlier this week by your coach a scholarship was awaiting you in the USA. How did it all happen for you?
"I was introduced to Springfield College through a family friend who told me about it; they interviewed me to see if I would be a good fit for the college and earlier this year I applied and was accepted one month ago and was awarded with a trustee scholarship."
Mederick said that both her coach and mother wrote letters of recommendations which were part of her application.
Was Springfield College the only offer you received or were there other offers?
"Springfield College was the main one I was looking at because of the tennis programme, I also plan to major in psychology. I always had a passion for helping other people; it was brought to my attention especially when I joined care helpers at LHCSS."
You have been away quite a few times representing Saint Lucia both at swimming and tennis. What's it like for you knowing you will be out for four years?
"I think it's going to be a challenge to learn to live on my own, but overall, I think it will be a good experience."
At the Rodney Heights Aquatic Centre, you started your swimming career with the Racers Swim Club, then made a switch to Seajays Swim Club, what was the transition like?
"It was definitely a challenge. It also helped me to develop my skills."
Despite the workload that awaits her at Springfield College, Mederick is ready for the challenge to represent on court.
Jorja's mother, Jean Mederick, a Civil Engineer by profession, spoke on what it's like as a parent with a child who is involved in two sporting disciplines.
"Definitely mixed feelings, I am proud of her, she works very hard academically, she puts in the work all the time. Obviously there is concern especially when you're sending a young person away at 16 years to be on their own. I know the college that she will be going to is a small one, it does not have a large contingent, it's like 2500 at any time on campus so hopefully its not going to be overwhelming, so that suits her."
"Jorja is extremely focused in whatever she tries, tennis for sure has been like a corner stone and has given her discipline and self motivation and also helped her manage time because she always has to juggle sports with schooling," Jean said.
She added that Jorja was a national swimmer for a number of years. She made the national team at eight and has played at the OECS and Goodwill Games. The last time she was out was to Guyana. She did both swimming and tennis from age four. I knew it was going to be a struggle at some point to keep her in both. She made the decision to focus on tennis," Jean said.
"In terms of parents support, it's very important that you are there on the sidelines to cheer her. Every day is not a winning day and my philosophy with Jorja in swimming was, 'beat the clock' don't worry about the next swimmer in the next lane. Just focus on yourself," Jean said.
Mederick senior said she loves coach Vernon Lewis way of teaching. "He is extremely patience, he loves to make it fun especially when the children start out very young. He is very good at nurturing and training young ones and bringing them up to the highest of levels."
"Financial wise, it's tough and it's definitely a sacrifice. You have to buy shoes, clothes rackets especially when you're taking part in a tournament. In swimming it's the racing/ training suits, and then you have all the various training fees that go along with it, it's not an easy thing to do," Mederick mother said.
Her advice to parents is to keep their children involved in a sporting discipline as it helps them develope in both their academics and sporting abilities.