61-YEAR-OLD Whilhelmina Aug-uste is an extraordinary woman. The seamstress has made a career out of sewing and some might even say her work is unparalleled. I met Whilhelmina at her boutique earlier this week and soon after, we became bosom friends (at least in that moment). She told me all about her first love and how much it brings her joy and I was truly fascinated.
"I attended the Castries Comprehensive Secondary School (and when) I graduated I got the award for Best Secretarial Student. I started working at the same school the day before I graduated doing secretarial work (and) stayed there for three months. I got a job with the Venezuelan consulate doing the same thing. After I left there I went into the Audit department (doing) secretarial (work) and it just got boring. I decided to study accounts and after five years this got boring too," she said.
According to her, at one point her old job got so mundane she wanted to jump out of her skin.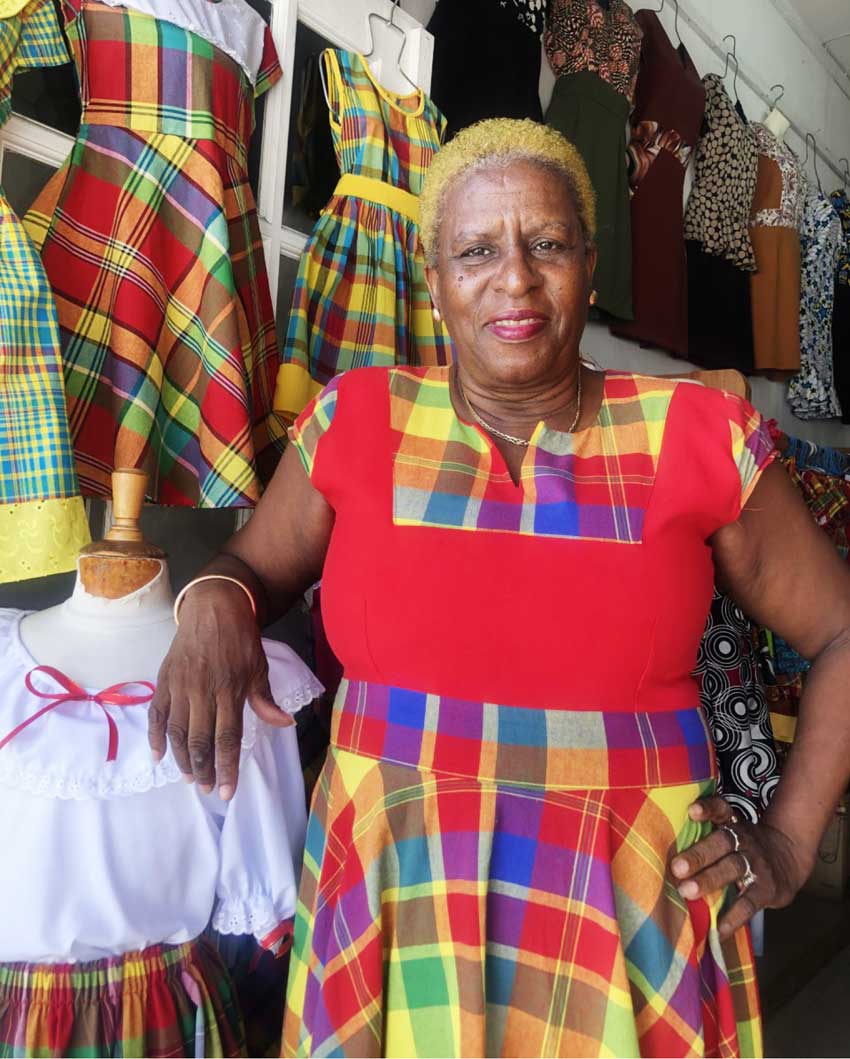 "Sewing (on the other hand), it's exciting and keeps you going. There's always something new, there's always something to figure out how to do—you never get tired of it," Whilhelmina added.
She fell in love with it at the age of 12.
"I didn't learn (how to sew), it was a gift. I was just doing (it) as if I knew it already. If there was a style that I didn't know how to do, I would buy the outfit, pull it apart and figure it out on my own. Over the years the Ministry of Commerce (brought) people from overseas to give refresher courses in sewing and they always called me. I never missed the opportunity so I turned this into a real business," the seamstress stated.
She certainly did. 'Whilhelmina's Designs' is now a household name and she worked hard for it to materialize.
"While I worked as an accounts clerk, I used to do knitting and crochet on the side and it took off so much that it was not possible to do it part time anymore. After I left (my job at) the Commonwealth Development Corporation, I travelled to England where I stayed for about three months," she said, explaining how it all begun.
She continued: "While I was there I bought a knitting machine, learnt how to use it, came back (here) and started a knitting business called Saint Lucia Knit Wear. At one time I had 16 employees and 12 machines. This business was going strong because I used to ship to Barbados apart from selling locally to JQ Charles. I used to sell to one of the biggest department stores called Cave Shepard in 1986."
After a while, the tides changed and her business started to decline.
"I was still doing the crochet but on a smaller basis; I incorporated clothing out of fabric but the knitting part of it kept declining so eventually I just went into garments out of fabric. I was on the Chausee for a couple of years and the owner of the place where I used to rent decided to renovate and raise the rent," she said.
"I figured this was too expensive so I went home and I was doing my sewing at home for a short while, (when) this friend of mine told me there is a spot on Mary Anne Street. At the time Mary Anne Street was considered back street but I didn't care; it was in town so I bought it. I put two little wooden buildings on it and then I put my business in there and from there it has been growing. I went from Mary Anne Street to Broglie Street and then I bought this property on Brazil Street and that's where I've been for the past 18 years. (I turned) the building on Mary Anne Street into a guest house (and I also) rent apartments," she added.
Whilhelmina always had a mind for business and she didn't allow anything to get in her way.
According to her, "I always believed instead of renting, if you could buy the property, buy it. I paid for the land, renovated the building and displayed my clothes (outside). I (thought) why should I go overseas and buy clothes to sell, let me just do my own thing. When people come in here they think the clothes are imported."
She grew up in a business atmosphere and that too helped.
"My father used to involve me in his business; he owned a fleet of vehicles and he used to transport hotel staff. On Saturdays I used to be a tour guide for him. The tourists (and I would tour places like) Green Parrot and Marigot Bay. I also did his typing, accounts and he also owned a night club and I used to run that for him as well," she added.
Although her business is successful, Whilhelmina almost walked away from it at one point.
"My biggest challenge was labour. It is so difficult to get somebody who could sew properly. You get people who say they can sew and you give them something to do and when they're finished it's like you have to take the whole thing apart. I was getting so much work it was overwhelming; I (wanted to) give (it) up and rent the place but then I had to talk to myself. I said you know what, God gave you a talent you cannot wrap up so early," the fashion designer shared.
She continued: "One day this young lady who's there (with me) now walked in and she said she's looking for a job. Everybody (told) her nobody stays with Whilhelmena (and that) everything you do for her is not good. I told her it wasn't that everything they did for me is not good, it's the quality; when customers come trust me they're looking for quality."
Whilhelmina believes a person's work should speak for itself.
"I know nobody is perfect but I try to do it to the best of my ability so you find it always comes out really good because I give it my all. My name speaks for itself," she said.
She stays at the top of her game and doesn't get comfortable for a minute.
"You have to keep reinventing yourself. You have to come up with new ideas or else you will just fall by the wayside. I market myself, I go to the schools—you'll find a leaflet of mine in new students' package. Sometimes from the school they come straight here. You know how many uniforms (from one school) we make every year? Hundreds," Whilhelmina added.
She believes "life is what you make it."
"If you're the type of person who likes to sit and listen to gossip, time will just pass (you by). You have to think of the future because you can have any life you want," Whilhelmina advised.
If you're looking for an amazing outfit, you can find this mom of two and former Miss Gros Islet Independence opposite the St Aloysius RC Boys School.