A FORMER employee of 'Voyager', Paula Thomas' life changed indubitably after the building went up in flames last year. She remembers it as if it happened yesterday and like many, watched in horror as flames devoured the Adjodha building which housed the business.
In an interview, Paula shared how her life changed after the fire and how God gave her beauty out of the ashes of Voyager.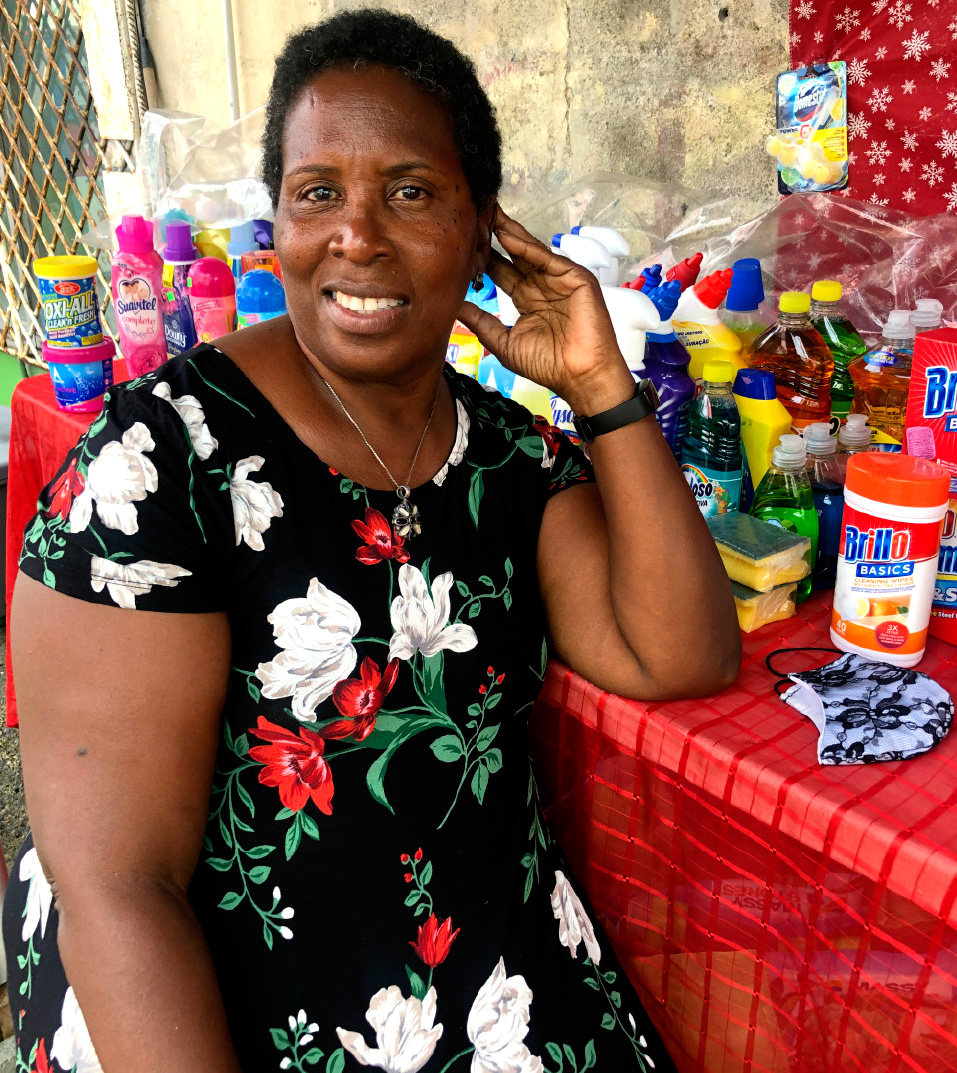 "I worked there for 30 years; I was a supervisor. I watched that fire from 1:30 p.m. to 8:00 p.m. and I witnessed (how) that fire just took away everything we had and it was heart-wrenching. To God be the glory, however; when you have a relationship with God it's different— yes you will cry, but joy comes in the morning," she said.
It truly did. Although she was heartbroken, Paula knew that still, life continued and she had to do the same; a week later (November 29, 2019) she launched P&J Variety Corner.
"When I came out I had some peanut punch, local juices and a few items which my friend gave me on consignment. The value of it was $440.00; that same Saturday I made that $440.00 so I went to pay that bill and took a new set of goods (which amounted to) $585.00. I made that $585.00 and I had to go back that same evening to purchase more; by then I doubled it and the rest is history," the entrepreneur added.
Although some individuals scoff at the thought of having a job like hers, Paula loves her job and believes that it was a gift from God.
"I don't know why some people look down on vendors, there is no need for that. I honestly don't think I would have seen the persons I come in contact with if I was in a building. A number of persons were concerned about my whereabouts but since I was out there they were able to locate me and they were so happy," she shared.
It was only then she discovered just how many lives she'd touched. 'Voyager' customers flooded her tray and many showered her with love and gifts.
"I never knew people had cared and had appreciated me like that. What is even more amazing for me is that 95% of my customers are not my friends so it has to be the hand of God. Ninety-five percent of my customers are people I met at my previous job and people I have helped at some point in time," Paula remarked.
"At 'Voyager', sometimes (when) customers were short I took my own money and made the difference. I always tried to give them discounts; I had my limit but if it was above my limit I would go to the boss to make sure that my customers were always satisfied," she stated.
She loves God wholeheartedly and according to her, life just wouldn't be the same without Him.
"God gave me a place where I can tell people about His love. In this pandemic many persons need peace and reassurance. It's an opportunity to give hope because my hope was in God and He blessed me. He can do it for anybody as long as you believe, have a relationship with Him, (and) accept Him as your Lord and Saviour," she said passionately.
Although she often wears a smile, make no mistake: Paula has been through the worst of it.
"About five years ago I fell off a vehicle and I fell on the back of my head. It was a freak accident and I ended up under the vehicle; I was unconscious for a while. I was not able to use my right hand. According to doctors I'm supposed to have neck surgery and I'm supposed to be in a wheelchair, but hallelujah to Jesus, He fixed it, because He knew that my journey would have taken me here and I would need that arm," she said brightly.
The road to recovery was tough and the pain she felt was unlike no other. Still she fought her way through it.
"I know what it is not to sleep at all; (not being able to) dress yourself, or even bathe yourself but all things work together for good for those who love the Lord and who are called according to His purpose," Paula added.
One could say that she was saved (or touched) by grace.
"You have to remain positive. I have gone through a lot of suffering (and had) a lot of bad experiences but I didn't allow it to define me, I took it and placed it at the foot of the cross and I gave it to God and I watched Him bless me. All that was part of what I had to endure to take me to where I am," she stressed.
Today life is brighter for the 55-year-old who is affectionately known as "Patricia" by most. P&J (Pat and Jacob—named after Paula and her husband) brings her sheer joy and according to her, without her partner's support "I don't think I would be so successful in the business right now."
You can find Paula on Micoud Street, Castries (she's located opposite Casa Bella). She sells the "the best local juice" and an array of items including Bath & Body Works products and laundry products.