ACTING Assistant Commissioner of Police, George Nicholas yesterday said there was collaboration between authorities in Saint Lucia and the United States in the investigation that led to the arrest of Thomas Harris Jr. of Croydon PA, USA in an arrangement to sell guns in Saint Lucia.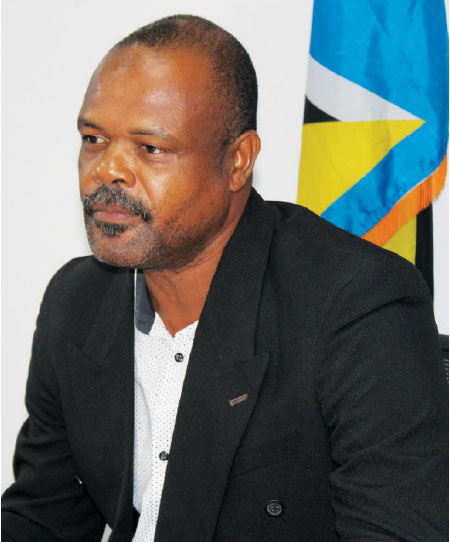 First Assistant United States Attorney Jennifer Arbittier Williams this week announced that Harris, 27, was arrested and charged by Indictment with multiple firearms trafficking offenses stemming from his scheme to sell almost 40 guns to a buyer on the island of Saint Lucia.
Harris has since been charged with making false statements to a federal firearm licensee, dealing in firearms without a license, delivery of firearms to a common carrier without written notice, and smuggling goods from the United States.
Nicholas said the case ties in with the discovery of firearms and ammunition in a barrel at the Customs and Excise Department earlier this year.
According to the US Attorney in Philadelphia the indictment alleges that Harris purchased approximately 38 firearms in 12 transactions at two Bucks County, PA, gun shops between April 20, 2019, and February 15, 2020, and provided a false address as his place of residence on the required federal forms that he completed during each transaction. It is further alleged that the defendant then illegally trafficked, and attempted to traffic, the guns to Saint Lucia, a sovereign island nation in the West Indies, despite him not having a license to deal in firearms nor a license to export them as required by law. He also allegedly failed to notify the shipping company he used that his shipments contained firearms, as required by law.
One of Harris's suspected packages to Saint Lucia was intercepted by federal agents at the warehouse of a local shipping company. Inside, concealed in household items such as packages of diapers, cat litter and laundry detergent, the agents found seven Glock semiautomatic pistols, one Ruger semiautomatic pistol, two AK-47 pattern pistols, two AK-47 pattern rifles, two AR-15 lower receivers, two AR-15 upper receivers, ten high capacity Glock ammunition magazines, seven additional assorted ammunition magazines, and 815 rounds of ammunition.
Harris allegedly used the alias "Lance Brown" when he presented this package to the shipping company for shipment to St. Lucia, and he allegedly falsely told a shipping company representative that the package contained household items. After the defendant left this package with the shippers, he travelled to Saint Lucia himself in March 2020. He remained there until returning to the United States on July 25, 2020, when he was arrested at an airport in New York.
"As alleged in the Indictment charging him with firearms trafficking offenses, Harris has a brazen disrespect for our laws meant to regulate and monitor the sale of weapons," said First Assistant U.S. Attorney Williams. "After sending his most recent shipment of guns overseas he also left the country for a few months, but all that did was postpone the inevitable. If you are charged in the Eastern District of Pennsylvania with a federal offense, there is no place to hide, here or abroad. We will not rest until we find you and hold you accountable."
The discovery of firearms in a barrel at the Customs and Excise Department is still under investigation according to Nicholas who said that after speaking with the Comptroller of Customs certain measures will be put in place to better scrutinize barrels coming into the country.
So far no one has been charged in relation to the guns found in the barrel and at a press conference yesterday Nicholas said he was not in a position to reveal more information than what he has already divulged.
Back in the United States, John Schmidt, acting Special Agent in Charge of ATF's Philadelphia Field Division said that preventing the illegal use and trafficking of firearms is a central focus of ATF's strategy to combat violent crime and protect communities.
"Illegally purchased firearms often end up in the hands of violent offenders and affect communities near and far, in this instance Saint Lucia in the Caribbean. Ensuring firearms traffickers are aggressively investigated and swiftly brought to justice is a top priority for the Philadelphia Field Division — this collaborative effort between our local, state and federal partners is a prime example of such," he said.
Harris, if convicted, faces a maximum possible sentence of 80 years in prison, three years of supervised release, a $3,750,000 fine, and a $1,500 special assessment.