It was exactly what the doctor ordered – a revival of darts in saint Lucia and on Saturday 12th September, the Saint Lucia Darts Association in collaboration with Denis Louis, the proprietor for Prio's Bar and Grill in Corinth received just that when it held its first 501 Classic Darts Tournament in years.

With Covid -19 protocols in place including testing and hand sanitizing for every individual entering the facility, the evening showpiece serve off with prayer by Melissa John followed by the national anthem (instrumental). In attendance were Denis Louis, Peter Lionel – President Saint Lucia Darts Association; former darts association president Petersen Francis, now Mayor of Castries; Dr. Thecla Lewis of Lewis Industries Limited; Tony Polius – Northern Distribution Manager for Saint Lucia Distillers, participating teams; specially invited guests and the Master of Ceremonies, Edmund Sidonie.
Former Darts Association President, Peterson Francis spoke to THE VOICE.
"A few years ago I was approached by some darters and they ask me to help, which I did, and for the first time in the history of Darts in Saint Lucia a tournament was held and it was strictly cash prizes, after the final on the same evening at the closing ceremony all prizes were paid out," he said.
Peterson added, "What is happening now, you have a few people trying to keep the sport alive, and I want to compliment Mr. Prio for championing that cause".
"In Saint Lucia when you have an association only a few individuals who are dedicated will make sure the sport stays afloat; this is a sport which is supposed to be played islandwide," he said.

In terms of the support on the opening day, Peterson said, "Yes I am pleased, but you know Saint Lucians, you have a party and everybody will come and enjoy".
Despite his busy schedule, Peterson is willing to come in and assist the Darts Association in making darts a national sports.
The VOICE also spoke to Denis Louis, whose love for the sport did not start today, as he described it, his entry into darts started over a decade ago.
To get this tournament off the ground, He said, "I spoke to some of the darters and had discussion with Chairman's, (Saint Lucia Distillers). In the past they have assisted us and they were pleased to come on board again".

"I also got in touch with a few of my friends to include Melissa and Trevor John, 'Butter Bread', who at one time was a top darter. Before this tournament (501 Classic) there was the Caribbean Kings and Queens Championship, we did not have a place to practice so I made my facility available to them".
For the love of the sport: "I did the leg work by getting the various facets including the dart boards and mats and at the end all the players came here to practice following which we selected the national team; the men didn't do too well but the women made it to the knockout round," he said.
Denis added, "After the virtual tournament three weeks ago, and to make this tournament a reality, I had discussion with a few business places and they decided to come on board to make this a huge success and I am very thankful for their kind gestures. I am just hoping it continues that way going forward".
In terms of the turnout, Denis said, "Oh yes, definitely, it shows that there are a number of individuals who are interested in the sport, there were individuals who came to the gathering and was very impressed with the setup and some of the faces that they saw including Dr. Thecla Lewis of Lewis Industries who said, she did not realise former police officer, Cyril Gerald was involved and Cyril has been playing darts for years"
According to Denis, his next task is to get the Ministry for Youth Development and Sports on board and try and see if they can introduce the sport to the different schools.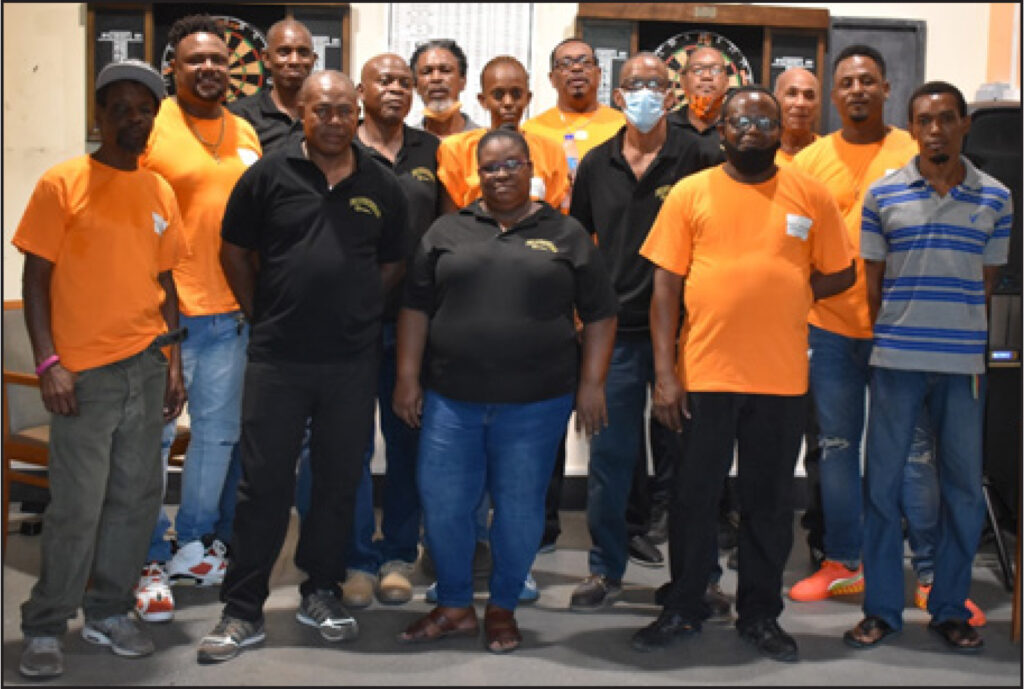 He said, "Most people believe because of the sharp metal object it's a dangerous sport, it's not. There are darts which have rubber ends and the board that we use is magnetic, so when a player throws the dart it does not go in, it sticks onto the board. I believe with the help of the Mayor, Petersen Francis coming on board and some of the stakeholders we have to speak to, we will try to introduce it to the schools in the not too distant future".
"The next tournament, it's not only going to be Vieux Fort Pointers from outside the Castries basin to compete, we are going to invite all the districts," Denis added.
Meanwhile, close to 36 players were paired up in two's throughout the tournament as they competed in a series of preliminary round matches (knockout). Two female players, Delta Lionel and Leona Augustin who were outstanding in the Caribbean Kings and Queens virtual tournament failed to qualify for the quarterfinal with their respective partners.
Results in quarterfinal action No.1 – Denis Louis and Kevin Joseph defeated Haig Louis and Jacinta Raggie 2-0; quarterfinal No. 2 -Victor Simeina and Henrickson Joseph defeated Peter Lionel and Vincent Lucas 2-0; quarter final No. 3 – Cuthbert Tony and Neville Labadie defeated William Roschild and Kurt Dickson 2-0; quarterfinal No. 4 – Trevor John and Theodosia Pierre defeated Eric Daniel and Selwyn Maitland 2-1
In the first semifinal, between Denis Louis and Kurt Dickson and based on the preliminary and quarterfinal performance, it was a difficult call to make as to which pair would have emerged winner as the quartet hadn't lost a game up to this point.
It can only best described as an intriguing matchup which could have gone either way, darts at the highest level, but the pair of Simeina and Joseph maintained their calmness to nose ahead 2 – 0.
In the second semifinal matchup, Cuthbert Tony and Neville Labadie defeated Trevor John and Theodosia Pierre 2-0; Pierre a former national female champion gave a good account on the night as she had not played any competitive darts for the last 10 years.
The grand finale was a class act as all eyes were glued on the dart board, on centre stage was the experience pair of Victor Simeina and Hendrickson Joseph they were up against Cuthbert Tony and Neville Labadie. Cuthbert and Neville did not take the opposition for granted as they were runaway winners defeating Simeina and Joseph 2-1 in a thriller.  The scores were locked at 1-1, as it was all to play for going into the third and final game.