Acting Assistant Commissioner of Police with responsibility for Crime Management within the Royal Saint Lucia Police Force, George Nicholas is not happy at the ease in which guns come into the country through legitimate ports of entry. He wants stringent measures put in place for the examination of barrels from which guns have been found.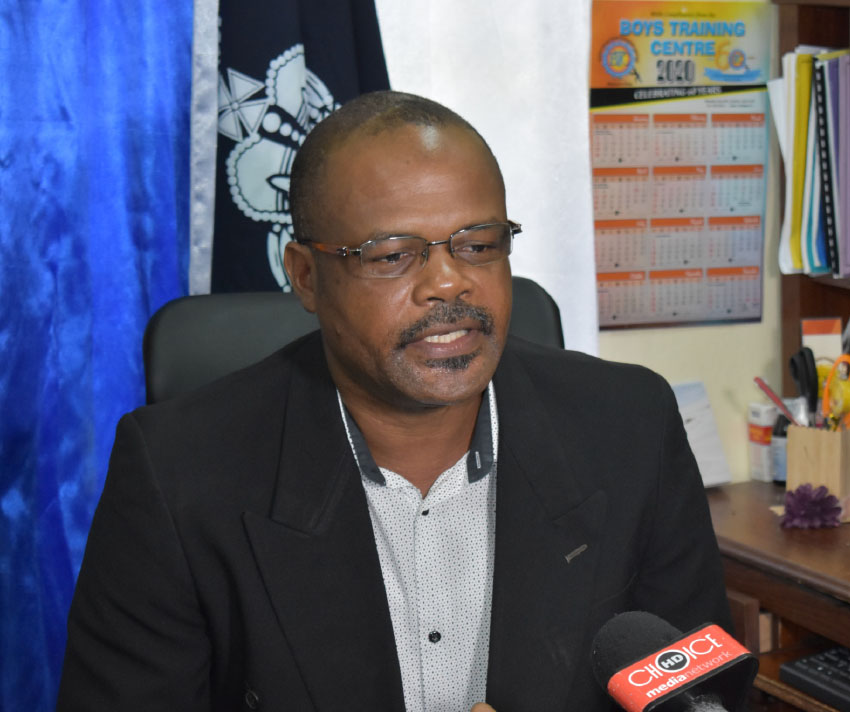 The amount of guns police have been able to take off the streets over the past years have been a cause of great concern to the police force and members of the public.
Nicholas, at a press conference this week said that police continue to recover scores of firearms on an annual basis however the police efforts could be in vain unless the influx of firearms into the country is stemmed.
He said that even if hundreds of firearms were recovered this would only create a very negligible dent on the whole firearm problem in Saint Lucia due to the influx of guns into the country.
"We know for a fact that firearms come into the country through the legitimate ports of entry. We have cases where they came in through the barrels and as far as I'm aware, I don't think that anything has been done to sort of put more stringent measures on the examination of those barrels. A simple thing like an x ray machine or a scanning machine to scan those barrels I'm sure would be able to discover some of the illegal items in those barrels, so the whole issue of the gun problem cannot be tackled by just the police responding to a report where a firearm is involved, we have to tackle this from a more holistic perspective," Nicholas said.
His comments come on the heels of firearm related incidents that have dominated news headlines in the country from the start of this year. With 34 homicides to date, most of which were gun related, police have been fighting a battle to get guns out of the reach of persons not qualified to have one.
Just this week (Wednesday 16 September), police responded to a shooting at Bel Air where they found the motionless body of 37-year old Yan Charlemagne at his residence with gunshot wounds about his body. He was pronounced dead by a medical practitioner, however prior to press time yesterday a post mortem had yet to be conducted to determine the cause of death.
This week as well saw police mounting several operations in and around Saint Lucia which resulted in a quantity of cash being seized at a residence in La Ressource, Vieux Fort.
The seized cash were € 31, 560 along with ECS 10,100). One man was taken into custody but has since been released. The monies were handed over to the Financial Investigation Authority.
Police, Wednesday, 16 September 2020, about 10:00 a.m. responded to information that led them to search in and around a particular vehicle. That search resulted in the discovery of a .380 pistol and 30 rounds of ammunition. No one was taken into custody in relation to that matter , however investigations are continuing.
Last weekend alone police had to deal with a number of gun related incidents including that of a dead body perforated by bullet holes. The body turned out to be that of Kareem McPhee of Caye Mange Gros Islet. Police say his body was discovered in his vehicle along the Pigeon Island Causeway at about 6:00am Sunday. He was pronounced dead by a medical practitioner. There has been no arrests in this matter thus far but the police are pursuing some leads. Nicholas said McPhee, at the time of his death, was on bail for possession of a firearm and ammunition, he was charged for those matters sometime in 2018. He added that it was too early in the investigation to characterize the nature of McPhee's death as a targeted killing or assassination but police are carrying out investigations to try and establish a motive for the killing. Nicholas was unable to reveal the calibre of weapon used against McPhee.
Police that same weekend along the Union road stopped and searched an omnibus in which a 9 millimeter pistol with four rounds of ammunition were found. One man has been taken into custody in relation to the firearm and the ammunition. He is 25-year-old Stephen Vidal of Grand Riviere Gros Islet who now has been charged for the unlicensed possession of a firearm and also ammunition. He's now awaiting a bail hearing.
Just a few hours before the above incident, Gros Islet police conducted a search on the premises of someone in the Bois d' Orange area during which they found an AK-47 assault rifle along with seven rounds of ammunition. No one has been arrested in relation to that matter thus far, neither has police been able to connect the rifle to anyone.
Nicholas was questioned about the state of emergency the country is presently under and whether or not it had served  to decrease gun violence. He responded saying, "the state of emergency was in relation to the COVID-19 pandemic (however) outside of that we have had homicides."
"As to determine whether there's a correlation, I don't think any analysis or any study has been done to decide whether there is any correlation between the state of emergency and the rate of homicide," Nicholas said, adding that during the shutdown period there was a slight decrease in matters such as burglaries. He added that with reference to gun violence police have not done an analysis per say to determine whether there was or is a correlation between COVID-19 and gun violence.
Over the weekend as well, The Royal Saint Lucia Police Force utilized its official Facebook page to circulate a notice of a man wanted by them. According to Corporal Ann Joseph, Press Relations Officer of the RSLPF, the wanted man is a person of interest in a matter under investigation.
"That individual has been identified as Kent Teddy Gilbert. He's a 33-year-old with several known addresses to the police including Entrepot, Bois d' Orange and Trouya Gros Islet. We're asking anyone with information to contact the nearest police station, we're advising persons also, if you do come into contact with Mr. Gilbert do not confront him as we've not provided any information to the public that this individual has committed any offense. As I said, the person is a person of interest and remember the difference between a person of interest and a suspect. A person of interest is someone that the police want information from during the conduct of an investigation," Corporal Joseph said.
She admitted that the manner in which police went about seeking the public's help in locating Gilbert was not the police regular way of doing such things but in consultation with legal authorities (Office of the Director for Public Prosecution, Attorney General) police do make certain decisions as it relates to the importance of locating a person for certain reasons.
"Perhaps at times it is for the safety of that individual, we put that out. We sometimes put out information on missing persons so we have consultation as it relates to that particular matter and this is the way that we have decided as an organization to proceed," Joseph said.
"I would like to categorically state that in no way are we saying that this individual is a suspect. To deem somebody a suspect there are certain prerequisites you need to meet; at this point, we're not doing that, we're simply saying he's a person of interest during the conduct of an investigation," Joseph reiterated.
Also this past weekend there was an incident, somewhere on the west coast, in which a brother shot his sister. Nicholas said the matter was reported to police, however, the sister has indicated that she doesn't want to pursue court action.
"Police did respond to a report of that nature," Nicholas said, adding that while the victim was not interested in pursuing the matter in court, police are pursuing issues surrounding the matter that led to the incident.