THE Saint Lucia Olympic Committee (SLOC) Incorporated has recognized 24 additional participants of the Caribbean Coaching Certification Program (CCCP). The participants in this group represented nearly one-third of the primary school institutions across the nation.
This remote course held in July was the third block of CCCP courses that the Saint Lucia Olympic Committee Incorporated has hosted since it revamped its Coaching Development Programme in November 2019. With the completion of this course, the number of certified coaches under this programme has reached 100, in total.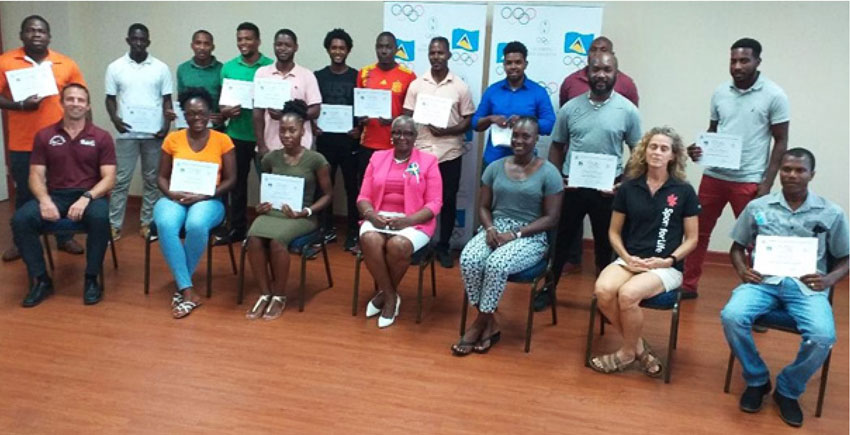 Leading the course in July were Coordinators Lily Bergasse, Sabbatus Hunte and Nigel Francis, along with Trainers Makeba Alcide, Glen Guiste, Rosen Daniel, Erasmus Wayne Benti, Jonathan Bruce and Tariq Edward. Course oversight was provided by SLOC Inc Project Development Officer, Andy Behl.
The course content introduced the fundamentals of coaching including: Understanding their roles as coaches and leaders; Developing sports skills in athletes of various ages; How to develop fitness in athletes; Nutrition and safety; Anti-doping and sport; Working with athletes with disabilities and Event management.
The Saint Lucia Olympic Committee Inc and its members have recognised the critical impact that leaders at the primary school level play in the early development of our nation's youth in sports and continue to strive to raise the standard of training and education of these leaders.
Details for future CCCP courses for aspiring, young coaches will be released soon. Clubs and local sports organisations are encouraged to reach out to their respective member federations if they would like to nominate an active coach for a future course.
July 2020 course participants recognised on Tuesday 4th August, 2020, included:
Tamara James – Ave Maria Girls' Infant; Devon Stanley – Derniere Riviere Combined; Jefferson Stanislas – Soufriere Infant; Johann Williams – Riviere Doree Anglican Combined; Solomon Alexander – Fond Assau Combined; Vaughn Felicien – Ave Maria Girls' Primary; Dalius Monrose – Fond St. Jacques Primary; Delon John – La' Bayee SDA Primary; Dyke Francis – Carmen Rene Memorial; Zachary Edwin – Canon Laurie Anglican Primary; Jean-Claude Xavier – Odsan Combined; Theophilus Stephen – Camille Henry.
Roy Nestor – Soufriere Primary; Lynch Isidore – Dame Pearlette Louisy Primary; Nehemiah Wilfred – Babonneau Primary; Sashima Harry – Vieux Fort Infant; Klen Jules – Millet Primary; Micah Alexander – Morne Du Don Combined; Kirby Joseph – Bexon Primary; Kinetus Francis – Saltibus Combined; Vienessia Herman – Dunnottar School & Vocational Center; Ron Narcisse – Carmen Rene Memorial; Jacob Dupre – Bishop Charles Gachet RC Infant and Ethan James – Roseau RC Combined.