The curtains came down on the final week of golf at the Sandals Golf and Country Club, Cap Estate, for twenty young aspiring junior golfers who took part in the Grow Well Junior Programme in collaboration with Sandals.  On Tuesday with all eyes on a potential tropical disturbance approaching the island chain, the golfers exuberantly greeted the day with a forecast for showers.
Grow Well Co-founder/Director Colleen Newman spoke to the VOICE at the end of the programme, and noted, "Just holding the camp has been a tremendous accomplishment.  Grow Well coaches and monitors crammed a lot of golf and a lot of fun into six mornings, instead of the usual 10-day camp. How we overcame the Great Shutdown of 2020 to coach more than 20 junior golfers at the partially opened Sandals Golf Course while complying with so many health protocols, will be a story for the Grow Well history books".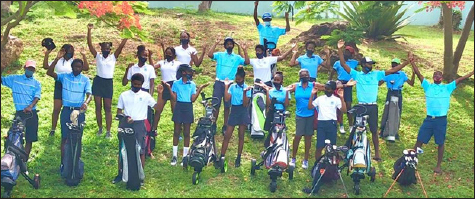 From the coach's eyes, here were the achievements: For seniors there was strong focus on the mental game, as well as short game strategy and club selection. Adrian Richelieu likely benefitted the most. On Tuesday, he put it all together and shot 40, four over par for nine holes playing much of the time in the rain. Celina John, too, shot her best 9-hole score ever, two over par, for 38, her concentration throughout much improved.
According to Colleen, Coach Henix worked the intermediates the hardest, but they enjoyed the best results.  They bettered their ball striking dramatically, both boys and girls, and they stepped up to the challenges of constant concentration. For the girls it was a celebration as the team of Hope, Gia Gittens and Lea Noelien squeaked past the boys in a scramble tournament held on Monday. Their excitement for the game bounced even higher.

Coach Henix found the beginners the most competitive of all. They enthusiastically goaded one another when putting on the green, and following shot-making directions on the range. At the end of two weeks, they walked with the confidence of golfers and pledged to practice at home.
Collen said, "As for our young assistant coaches, this camp possibly provided the best self-revelation experience. They took to their expanded duties, like ducks to water, honing their leadership skills and focus and grabbing the attention and respect of their former peers".
Coach Henix expressed his appreciation particularly for Rayshorn for his ability to absorb and apply coaching instructions as he worked with the beginners. Coach Victor Charles saw a completely new dimension to Lisa Daniel and her leadership skills. Grow Well monitors Paula St Luce and Mary Sidoine were in total awe of Samuel Richelieu's ability to marshall the golfers on and off the transport and his insistence on their observing health protocols. It seemed a transformation of Samuel's usually laidback character.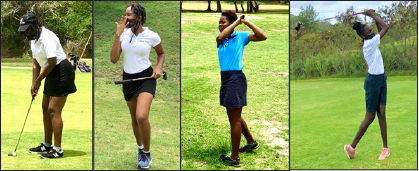 Colleen remarked that this was a camp like no other.
"Usually our camps contain a mixture of instruction and play on the course as well as seminars on and off the course. This year there was no interaction with anyone other than the coaches and the three Grow Well monitors. We had an ultra-closed camp as a result of COVID Protocols. There were no outside speakers, no seminars by Ames Amos on etiquette and deportment on and off the course; by Joan Paul on golf rules and regulations; by Ben Gillmor on the interpretation and application of rules in different situations, etc. We even had to decline the offers of assistance by our usual crop of volunteers. We missed them a lot as they add spice and enjoyment to the camp."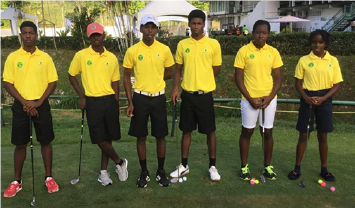 Regardless, all involved had been determined to make the most of the camp, and it has turned out to be the most memorable one ever.
Colleen said, "During this whole Covid shut down, Grow Well volunteers have continued to work, often remotely, to assist our youth economically and educationally and we have developed our programmes in these difficult times under the general umbrella Grow Well 2020 Together. And that's what this camp was all about".
Phenomenal: The sponsors, they too have been phenomenal, Clair Nardoni, Sandals Foundation, Sandals Golf and Country Club, The Saint Lucia Golf Association, The Golfing Flamingos and wonderfully caring companies and individuals here and abroad.  Grow Well Junior Golfers say, Thank You.
Meanwhile, a number of individuals who over the years worked with the junior golfers had some inspiring words as Grow Well celebrates its 10th year anniversary.
Henix Joseph, Chief Coach during the camp said, "The one whose development impressed me most is Lisa Daniel. I have seen her around the course for three years as a Grow Well Junior and she seemed all to herself, extremely remote. Now in these last two weeks that I have been a coach with Grow Well, I see a different Lisa— one who is a leader who is much more open, who speaks up and commands the attention of the younger players. What an eye-opener.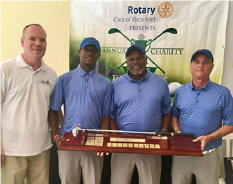 "Lisa Daniel, in form, in 2017 Caribbean Junior Open Golf Championships in Trinidad and Tobago – she won the longest drive for girls".
"This is my first camp as Coach for the Grow Well Junior Programme, and I have been excited about it; I see the progress they have made in just these two weeks and I am excited to continue as part of this programme. I love how they nurture and promote young golfers."
Claire Nardoni, Camp Sponsor, Grow Well golf monitor and chief booster said, "For me its how the young golfers have developed into adulthood. With each passing year I see so much progress that it makes me proud and happy to be associated with this programme.
"It's heartwarming to see the changes. Take Adrian Richelieu, for example. At 11 years old he was the youngest player ever to make a hole-in-one at the Cap Estate Golf Club. During early secondary school years, he seemed to have lost his way. He found he desperately missed golf and asked to return. He did, with a much more serious attitude, great focus and a winning determination. He doesn't know this… I call him Awesome Adrian".
Paul Lorde, charter member and former President of Grow Well chimed in: "When Grow Well Junior Golf started about 10 years ago, we started small with rank beginners mostly from the nearby primary school who were members of the Grow Well library.  But within a few years, wow! These youngsters became stars".
Crowning Glory: "The breakthrough came in 2016 when the Rotary Club of Gros Islet decided to invite three Grow Well junior players as the youth team in their prestigious annual golf tournament. To their delight, Quain Jones, Keymanie Thomas, and Samuel Richelieu stunned us all by placing second in a field containing more than 90 golfers. I was there at the presentation and felt an enormous pride to hear the tremendous applause – that is the moment golf arrived for most of us in the Gros Islet community".
International Pro, Regis Gustave, based in Germany, who coaches Grow Well golfers during his winter break said, "I have been working with the Grow Well team for quite a while. What first impressed me coming from Germany was how well disciplined and well behaved these golfers were and how well organized this programme was. There's nothing like this in Germany. Everyone I speak to in Germany is impressed when I show them the photos of Celina's swing, for example. Her drive is just so exciting to see. How effortless it looks and how much she has developed. I am convinced that she will be Saint Lucia's ladies golf champion for many years. In fact, so many of the Grow Well golfers have gotten so good at this game. What an effort Colleen Newman and her team have put into this. The president of my club in Germany comes to Saint Lucia very often and he is very impressed by their progress, especially Celina. He enjoys playing with them.
"I had the pleasure of playing with Adrian in this year's Rotary major tournament and I was thrilled to see how he played, with such skill and such maturity. With partner Peter Devaux, we won the tournament and we are proud to acknowledge that Adrian played a significant part in that win. This Grow Well programme is the best thing that has been done for golf in recent years. I firmly believe these young champions, and the great ones who are coming after them, are the future of golf in Saint Lucia. And that is a tribute to the nurturing that the Grow Well team puts into this programme. It's not just about golf, it's about support and confidence and a firm footing in life. Nothing like this in Germany. I can't wait to see them again".
Paul Cooper, coach for several years, very naturing and beloved by the golfers said, "Apart from simply getting bigger so quickly, seeing a huge improvement in the golf of the children, obviously some more than others – that's what has given me the greatest satisfaction. Their growth from shy, unsure children into confident self-assured young people.
"Once afraid to look you in the eye, they communicate with not just confidence but also respect. They at first had difficulty speaking up in answer to a simple question, now some answer difficult questions with authority and substance. They have developed into wonderful personalities with strong characters. We should be so proud of them and they should be proud of themselves".
Coach, Terry Verdant added, "For the past few years I have been working with the Grow Well Golf Group, I have perceived many talented young boys and girls. It was an honour to recognize abilities and talents from the like of Lisa, Celina, Rayshorn, Keymanie, Samuel, Adrian and many more upcoming golfers playing in tournaments both here and overseas… not just playing but winning. Many have obtained golf handicaps, which makes me proud of such talent from those boys and girls."
Saint Lucia Golf Association, Secretary, Joan Paul, said, "My association with the Grow Well Junior Golf camps dates back quite a few years. Fairly early on in the Program (probably around 2013) I was asked by Colleen Newman, the Chief Organiser of the Camps, if I would be willing to run Seminars during the two week duration of the Camps to give the Junior Golfers pointers as to the Rules and Etiquette of Golf.  This was something which I hoped the young golfers would look forward to as a change from actually playing and practicing on the Course. WE started with two groups of about eight young golfers, boys and girls sitting round a table in the Club House with me and learning what to do if they hit balls out of bounds, or landed in bunkers or lost balls or played the wrong ball.  And equally important they were given tips on how long they could look for a lost ball, what they should do if they were playing too slowly, where to stand when their partners were about to hit a ball and, most importantly, not to chat with their friends when their partners were about to hit their balls.  Each Seminar ended with a Quiz and, of course, a Prize for the most correct answers.
For years several of the same Juniors turned up for these Seminars but every year there would be a few new faces and, as time progressed, it was such a delight for me to go out on the course and find that I was going to be playing with some of these youngsters who had been 11 or 12 when we started out. This year it is with even more pleasure that I see that some of the original young golfers have progressed to assisting with the 2020 Summer Camp".
Special mention: "Colleen Newman has done an incredible job with providing these young people with the starting blocks to help them lay down a solid foundation for the rest of their lives".