On August 11,2010 Saint Lucia's Queen of Folk, and cultural icon, Dame Marie Selipha Descartes, DBE, BEM, best known as Sessenne, parted this earth having lived a life, dedicated to contributing richly to the island's cultural landscape. On this tenth anniversary of the passing of this icon, the Monsignor Patrick Anthony Folk Research Centre (FRC) commemorates this occasion, by highlighting and encouraging the Saint Lucian community to reflect on the values Sessenne represented, and their role in helping us become more culturally sensitive and astute citizens.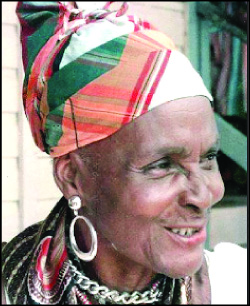 In observance of this anniversary the FRC is sharing information and thoughts of Sessenne's contribution through many media platforms and programmes and inviting other organizations to do the same.
Sessenne's birthplace of Mon Repos/Patience was where FRC held the first mass "Jounen Kwéyòl" event, during which she was hailed as Saint Lucia's "Queen of Culture in Saint Lucia" in 1984. The institution went on further to naming one of its premier events for Creole Heritage Month in her honour, the 'Dame Marie Selipha Descartes La Wenn Kwéyòl. Dame Marie Selipha Descartes was more than just a giant of culture and folk tradition. She represented spiritual devotion, community identity, community cohesion, timeless fashion, and family. Sessenne was a unifying force. She connected generations and created unique access for St. Lucia's children to gain knowledge of their history and culture. Until her passing, Sessenne remained a pillar in the work of the FRC. One decade later, FRC continues to work assiduously to convert Sessenne's home into a Folk museum in her honour.
In 2000, Marie Selipha "Sessenne" Descartes was awarded the honour of Dame Commander of the Order of the British Empire (D.B.E) for folk culture and community service. Sessenne was described as a "doyenne of folk culture",  "a treasurer of Saint Lucian folk music and folk traditions" and "joyous spirit" who always excited people with the performance of her classic "Manmay la di way".
Chairman of the FRC Board of Directors Embert Charles reflects on the impact of Sessenne's work remarking, "icons like Sessenne and many other bearers of our folk traditions in numerous communities embodied culturally rich sustainable living, seizing every opportunity to share the cultural richness of Saint Lucia with people of all ages particularly the younger generation" .
Sessenne's influence transcends generations and her work is undoubtedly etched in defining the Saint Lucian identity. In the context of global and national discourse on the importance of safeguarding one's patrimony, FRC implores Saint Lucians to evaluate more deeply the role legends like Sessenne play, on our journey of reshaping our narrative as a country.