IN collaboration with RISE St Lucia and Dr Venus Cherry, the British High Commission has donated 75 tablets to a local initiative that supplies the devices to primary and secondary school students. The brainchild of Dr Cherry, working with schools across the island, the target is to reach 670 households in Saint Lucia. The handover took place on Tuesday, August 19 at The Cell at Baywalk, who along with Digicel, are partners in the initiative.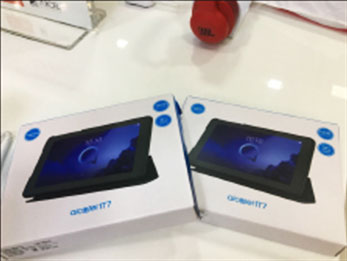 Resident British Commissioner, Steve McCready, said that the High Commission was privileged to be a part of the project, and congratulated Dr Cherry on his vision and drive in tackling what an International Labour Organization report calls 'sharp digital divides' for students unable to access IT equipment and internet connectivity. Mr McCready said the High Commission's aim is "more than working in Saint Lucia, we want to work with Saint Lucia". Mr McCready highlighted that the British Government adopts a similar approach to addressing the effects of COVID-19 on a regional basis, for example. through supporting the Pan American Health Organization in the Caribbean.
Dr Cherry thanked the wide range of partners, which has led to the distribution of over 400 tablets so far. The latest batch will reach students next week just ahead of the start of the new academic year. Encouraged by this support, Dr Cherry highlighted there is still a way to go to reach the target and expressed his hope that even more partners will come on board.