This week St Lucia stepped up its plan to fully reopen for business with the first scheduled arrivals by sea and air in more than three months while we fought off the Corona virus pandemic to keep it from taking a foothold here.
From all indications, we have done very well fighting off the threat although officials continue to remind us, and rightly so, that the danger is not completely gone. Any mistake or act of sloppiness on our part can trigger a new crisis and that we cannot afford.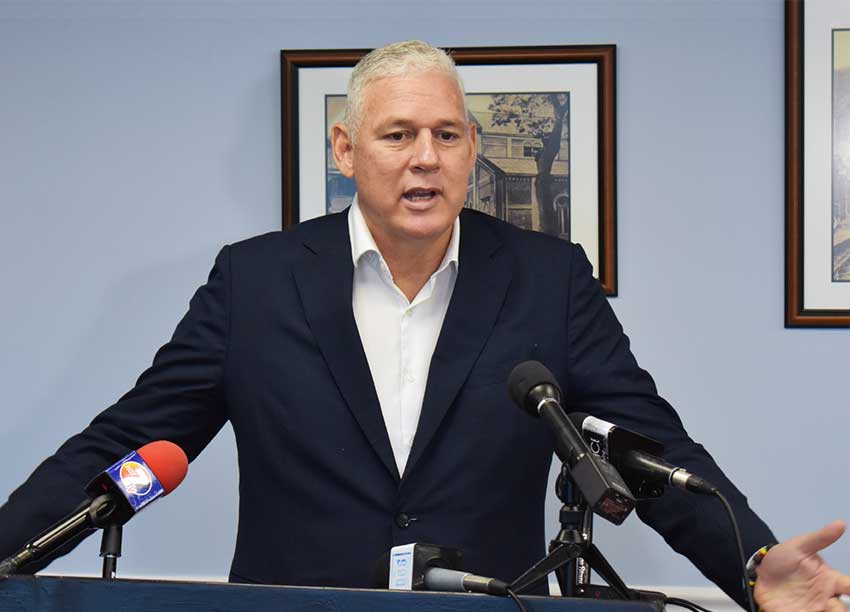 So collectively, we as a country, we can take a bow for the manner in which we have handled Covid 19. It was a first time we have had to deal with something like this. It was also a major test for the leadership of our country, and gave us the opportunity to discover the true mettle of Prime Minister Allen Chastanet, at the controls of the ship of state as it sailed the stormy waters.
The Prime Minister deserves credit for the decisiveness and maturity with which he led this country over the past three months beginning in February when he took the bold step for a voluntary test for the virus after complaining of not feeling well. Having now seen the importance that has been attached to testing in most countries of the world  as an important tool in the fight against the virus, Chastanet's decision to be tested was a practical demonstration of the type of leadership that can inspire a country and its people and mobilize them in confronting the odds. More on that later.
I must also salute the frontline health workers in the Ministry of Health and Wellness led by Chief Medical Officer Dr. Sharon Belmar-George for the outstanding service to their country on this occasion. Considering that we were dealing here with a virus that has so far claimed nearly 400,000 lives worldwide, it was a tremendous sacrifice that these health and emergency personnel rendered in putting their own lives on the line in the cause of their fellowmen. They could have feigned one reason or another for not taking their positions on the front lines of this battle—like fear of contracting the virus and getting sick or dying as a result–and we would have understood but there is no evidence that any one did that.
St Lucia owes these people a tremendous debt of gratitude and at some point, it would be fitting if in some way their role in the fight against Covid 19 would be formally and appropriately recognized and even immortalized.
But I set out to talk about our Prime Minister. Now, one of the truly great talents of the St Lucia Labour Party, has been its ability to stir up confusion in the country with a combination of downright of mischief and falsehoods. Part of this agenda has always been a spirited and sustained campaign targeting the leader of the opposing party. The late Sir John Compton had to contend with Labour's ongoing tirade for all the years he led the government. The Labour Party's modus operandi     seems to be that in order to defeat the opponent it was first necessary to destroy the head. Of course, they have up to now very little to show by way of success for this strategy.
Allen Chastanet was given the same treatment from the day he first contested the leadership of the United Workers Party. The campaign of denigration and personal vilification continued right up to the elections of June 2016 and included a threat of "war" by no less a person than the SLP leader. But more damning was the personal attacks on Chastanet, his race, his education, claims about his lack of ability etc. etc. Labour never really understood that this man had won three consecutive leadership challenges in the UWP in as many years emerging victorious by very wide margins on each occasion.
But given Labour's penchant for mischief a lot of the mud they were slinging stuck, and to this day, there are those who believe the SLP's warped stories. But let's be honest here. How many times during Labour's five-year term (2011-16) did they give we the people relief of any kind on anything? Where were the "jobs, jobs, jobs" that they promised or the "better days" for that matter. Labour left office leaving behind a string of problems and failures: highest unemployment levels ever, highest debt level, no growth for three years in a row, major institutions like the police and justice system in shambles, education and health plant in dilapidated condition. They had a full term of five years to build and open two hospitals and left both hanging in limbo.
Labour's only achievement was the infamous STEP programme that provided temporary employment for their supporters at specific times every year. It seems that the only jobs Labour created were those demeaning STEP jobs.
It will take some time to chronicle the full litany of Labour's last rule. Suffice it to say that it was their dismal report card that cost then the election of 2016. Stepping into the breach was the same man they had failed to bring down with their venom. Allen Chastanset took over the reins of government and immediately brought relief to St Lucians by lowering the VAT rate, increasing school feeding and transportation subsidies, cutting vehicle licences and suspending property taxes. Remember too that months earlier a public protest march led by the same Chastanet had forced the government's hand in cutting fuel prices. In less than a year therefore, Chastanet had brought significant relief to St Lucians in all walks of life who had been suffering under the yoke of Labour's misrule. But more was to come.
If you had to ask Labour about its achievements in 15 years in office (1997 to 2006 and 2011 to 2016), it would likely point to Bordelais Correctional Facility, the Daren Sammy Grounds and a host of projects that incurred massive cost overruns like the famous Soufriere to Vieux Fort road that cost nearly three times its original budget, as a Commission of Inquiry was later told. It would probably point to the National Conservation Authority (NCA) which was rocked by a corruption scandal where it was discovered that for three years (or was it four), there was no accountability for  millions of dollars budgeted by the government for that organization .
It is no secret that since coming to office four years ago, Chastanet and his govern- ment have presided over the slashing of the unemployment rate from 25 percent in 2016 to 16.8 percent. Neither is it a secret that that same government has had three consecutive years of economic growth where Labour had taken us through three consecutive years of decline.  In essence, our economy collapsed under the St Lucia Labour Party and they had no answer to reviving it. Before Covid struck, St Lucia had brought down its debt to GDP ratio to below the 60 percent target set by the Eastern Caribbean Central Bank for OECS States to attain by 2030.
Regrettably, the government's signature projects especially in the tourism sector were slow in jump starting but for the Hewanorra International Airport restoration, St Jude Hospital and the massive road construction programme. What we missed out in tourism we have partly made up for in the manufacturing and industrial sector where projects have started or were about to start in February. Throughout St Lucia employment opportunities were being created while generating economic activity at the same time. But it would take more than four years to bring about the turnaround that would benefit everyone, because while it is easy to destroy, it is always difficult to build.
But then the virus came on and with it, a derailment of the government's development agenda. Chastanet has so far led St Lucia through this crisis with confidence, purpose, vision and maturity. It was most pleasing to see our Prime Minister publicly leading prayers at the start of his addresses to the nation seeking God's guidance and wisdom in confronting the task ahead of him.  This, to my mind, is an example of outstanding leadership, never seen in our country before. When all this is put together it blows completely the myth that Labour has tried to sell about his ability, as it continues with another episode in its failed campaign trying to tarnish his image. The latest effort started with the lie by the Leader of the Opposition that Chastanet had failed to attend a regional meeting in Barbados to discuss the Covid threat—a claim that was intended to make  Chastanet out to be a most irresponsible leader— and is continuing even now with the decision by Labour's proxies  in the trade union  movement not to help the government's efforts to rebuild the economy when everyone is aware of the devastation and dislocation that Covid has caused everywhere.
The next election looms. Will St Lucians reject a leader who is producing results or will it choose the incoherent ramblings of the Labour Party's failed bungling leadership that features most of the main characters of its recent disastrous rule which brought us all so much pain and despair?