Martina James -Charlery's life revolves around sports – track and field to be exact. Martina is the proud mother of two children; a son and daughter.
Martina's son Miguel Charlery is a national track and field athlete, and for the purposes of our exclusive Mother's Day interview, she shared that her son had "started running quite young".
"His doctor recommended that he be given every opportunity to exert the energy that he has," she said. "He was "overactive". I like to say, "full of energy". Hence, we got him registered in swimming sessions with his pre- school, Aunty Pinky's Montessori, and later with the Rodney Heights Aquatic Center. As his muscle groups developed, we allowed him to participate in the training sessions with Rockets Athletics."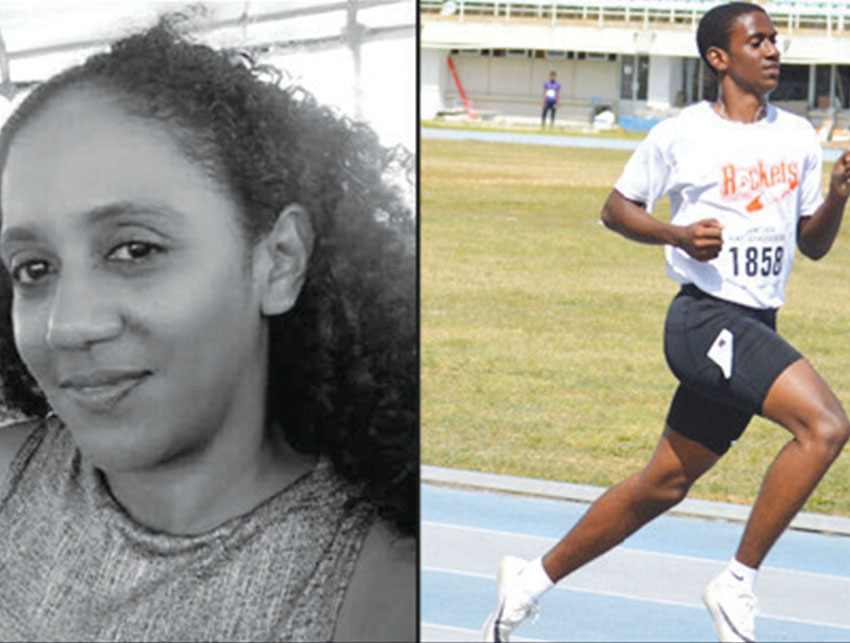 Coach Cuthbert Popo and his dad Martial Charlery would engage him in coordinative, balance and mobility exercises – "nothing strenuous or taxing," according to his mom.
"All he wanted to do at the time was run," she added. "On some occasions the coaches would give him a head start and Miguel would say, "coach that is cheating". Miguel would want a fair start. He wanted to start at the same point as everyone else."
Miguel has been competing from age three and according to his mom, his first competition was at the Western Springfield Juvenile Games in Tobago. There he won his first Bronze. He was excited about the idea of competing and even more thrilled that he got a trophy for his participation. That, according to his mother, was the start of Miguel's track and field experience.
The following year (2008) he participated in the American Amateur Athletic Union Club Championships in Orlando Florida at age four and was part of the relay team that won a bronze medal. He ran the second leg in that event (8 and under 4×100 metres). In the end, he earned his first international medal.
Speaking on what her son loved most, his mother noted: "Miguel enjoys competition. He loves track and field. There are times he gets nervous, but we have taught him some techniques to help calm the nerves and to relax before any event. He zones out before a competition. He has his inspirational music that he listens to. He follows a strict regimen – and we have learnt to just accept that this is his way of preparing himself mentally. For leisure he enjoys playing video games, chess, listening to music (all genres) and debating."
Touching on her son's relationship with his father Martina said, "Miguel prefers when his dad who also coaches him is with him at competitions (local, regional and international events) – he says that his dad understands and knows him inside out. He feels that when his dad is around, he is able to follow his regime without disturbance and believes his performance at the Carifta Games 2019 had a lot to do with the fact that his personal needs were met. He was able to get the food he likes to eat before a meet, the advice regarding his event, techniques, and the assistance with his warmup and stretches."
Pertaining to the cost of her son's passion, Martina noted: "Athletics is an expensive sport – you need to source things like track and field shoes, equipment and the attire which is not cheap. The diet for an athlete must also be considered as well as the physiotherapy sessions, doctor's visits, and the trips to various championships."
Even still, to parents who wanted to get involved with their kids in sports, she said one of the most important things was providing support. Emotional support was even more important than financial support.
"It requires great sacrifice and dedication," she said. "For any parent who has a child who is serious about any sport, my suggestion to them is be prepared to make the sacrifices. Sports generally demands of your time. You have to make the time."
She continued, "For me as a parent, I am at every local meet and training session and have thankfully been able to be present at two of the Championships that he has represented Saint Lucia at.  I enjoy being there for my children as well as providing the support to all the children of the Rockets Athletics Club. There are a few other athletes I have taken particular interest in and provide some sort of support to them as well."
To round up, Martina noted: "Track moms are passionate about their children's participation in sport, and kudos to us all!"