THE Saint Lucia Olympic Committee (SLOC) Inc. has issued cheques totalling EC$ 60,834.63 to four athletes who are preparing to qualify for the Tokyo Olympic Games 2020.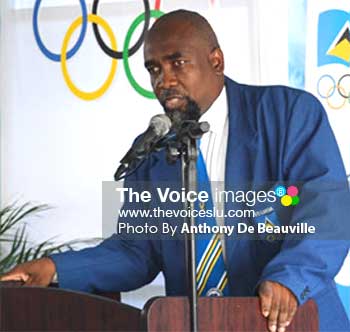 The recipients are Levern Spencer (High Jump), Jeannelle Scheper (High Jump), Albert Reynolds (Javelin) and Luc Chevrier (Sailing).
Spencer who received EC$ 57,619.64 during the calendar year 2019 will receive EC$ 18,416.29. This amount represents assistance for the period January to April 2020.
Broken down as follow, this consists of a monthly allowance of EC$4,075.35 and EC$ 2114.89 which was the cost associated with a training camp in Spain earlier this month.
Scheper in 2019 received EC$ 49,174.20 and the amount of EC$ 17,966.94 paid out in 2020 so far will be for a four month period as follows: monthly allowance of EC$ 4,075.35 and EC$1665.54 which is the cost of airfare from the Netherland to South Africa to facilitate her participation in a training camp in March.
Albert Reynolds will receive EC$ 8150.70 which corresponds to a monthly allowance of EC$4057.35 for February and March 2020. Albert is expected to travel to Grenada shortly where he will undergo training in an attempt to qualify for Tokyo 2020. In 2019 he received EC$ 13,959.20.
Luc Chevrier's EC$16,301.40 will be for January to April 2020. In 2019 he received EC $49,219.20.
Sandisha Antoine who is currently in Jamaica preparing to qualify for Tokyo was the recipient of EC $74,016.08 in 2019 covering the period up to June 2020.
Stephanie Lovell who earlier this month attended the final Sailing qualifier in Miami was the recipient of EC$48,904.20 in 2019. Lovell failed to qualify for Tokyo.
The SLOC Inc. notes that these payments are direct payments to athletes to assist them with preparation. They also noted that the Committee had "spent large amounts on these athletes along with others in their quest to qualify for earlier Games."
Shortly, the SLOC Inc. will be making funding available to the Boxing and Karate Associations to assist their athletes in attending Olympic qualifiers in Argentina and France respectively.