THE Gros Islet Human Resource Centre was a hive of track and field activity on Sunday evening, this time in the form of a celebration, when the Elite Track and Field Club paid homage to its outstanding athletes at its annual awards ceremony. The theme for the event was "Success through Perseverance".
In attendance were members of the club's executive, including President Donna Emmanuel; Parliamentary Representative for Gros Islet, Lenard Montoute and wife, Barbara Montoute; President of the Saint Lucia Athletics Association (SLAA), Cornelius Breen; nominees; specially invited guests, the Silver Shadow dancers, and members of the media.
Taking home the top honours in the senior male and female Athlete of the Year category were: Albert Reynolds and Jola Felix. In the junior category for Athlete of the Year male and female Armani Modeste and Shanice Kirton captured the top spots.
Guest speaker for the evening was Saint Lucia's Senior Sportsman of the Year for 2019 and Pan American Games bronze medallist, Albert Reynolds, who detailed his journey of success for 2019. Reynolds said, "I will start off boldly and with a quote by Pele which says, "Success is no accident." Chapter 2019 was planned in 2018. Not during my off season but during my preparation for the 2018 Commonwealth Games in Australia. Why? The answer is simple, I needed short term goals, targets, distances and a vision that kept me focused beyond 2018."
"Every day that I was blessed with health, strength and when I stepped out the house, I would say to myself "let's keep building 2019". I used my mind to prepare my body for this entire year, in spite of having the Commonwealth Games during that season."
He said, "The Road to Success and the Road to Failure are almost exactly the same; to every athlete present this evening, these words we don't seem to adequately understand, but they are vital for our continued growth in the sport. Every day that we step out to prepare, whether it is at school, home, on the field or at the gym, there is an extremely fine line between success and failure. We don't train to fail or prepare for the "worst season ever." But the truth is, it borders the line of failure! I trained rigorously into 2019, twice daily, 3 hours each session except Sundays when I ignored my coach's call".
He continued, "At the start of the season, I was faster, stronger and more explosive, all the attributes we as athletes would love to start and end the season with. But being this way also made me "destructive" at the independence games, although a national record was obtained, my body suffered the unfortunate price for a 2 hour training session prior to competing; I suffered a partial dislocation in my elbow. You see, although I had all the attributes, every time I stepped out there, it was a test of my limits, and usually, when we test the limit of things, it's until it gives out or breaks under maximum pressure".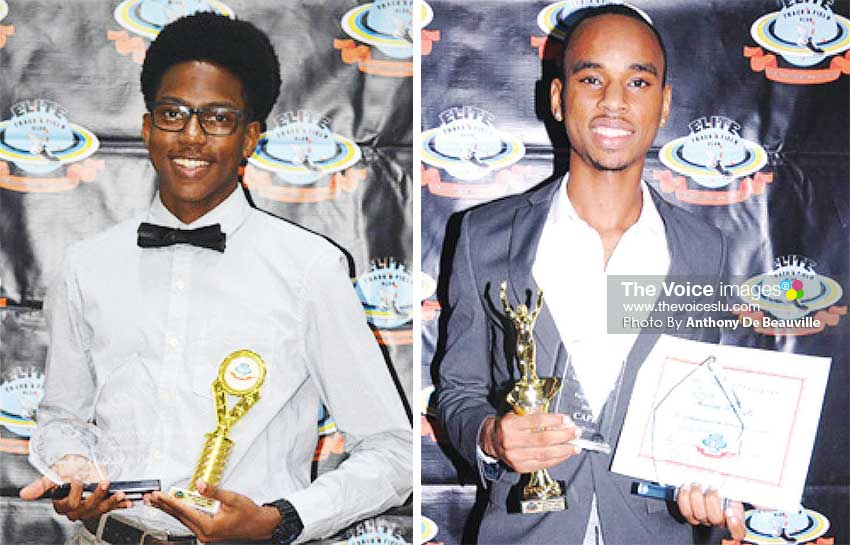 "I qualified for the Pan American games in Peru, but my season seemed to have come to an end. "It couldn't be!" "Not now!" "Why now!" "Why me?" Those were the words that haunted me after the results of my injury".
"I refused to give up. I thought to myself, I will not sit this season out because my arm hurts. I will recover in time for Pan American Games and prove my doctor wrong. Three months I endured the recovery process. All the time, I was patient, all the time I believed, and every time I was thankful. My perseverance paid off. Not only was I given the okay to throw again but also, a long overdue proposal for a training stint in Grenada finally came through and I was again confronted with an opportunity to better prepare myself for the Pan Am Games," he said
"Grenada wasn't a bed of sunshine and roses; it was five weeks of hard work on the field and 16 painful and sometimes unbearable therapy sessions. I endured with one motive; that it was all worth it."
He continued, "I persevered through all the self-doubt, I could have easily given up and maybe everyone would have understood why but I just couldn't. This was a test of my willpower, mental strength and my belief that God would see me through if I proved worthy."
"Success is not final, and failure is not fatal. It is the courage to continue that counts," Reynolds said. "Indeed my success wasn't final. I was now ranked 34th in the world in the men's javelin. Thirty spots higher than my previous year and two spots away from competing at the IAAF World Championships in Doha. Three weeks I tried to compete at any "last chance" meet to possibly attain that spot, but all attempts failed and I had no other choice but to call my season to an end. Three days later, I received an email from my association informing me of an invitation request to participate at the World Championships. The reality was beyond me, it was really happening; the season of a lifetime sprouted out of my will to succeed, to persevere through every obstacle, and to not give up on what could have been."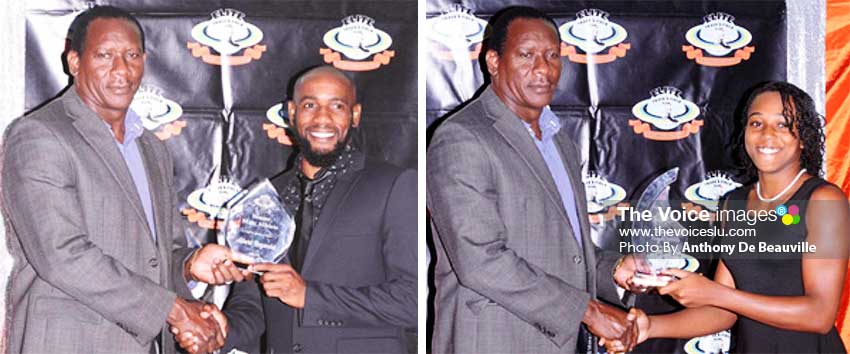 "I represented myself with pride; for I knew I could have given up. I created history for my country, its people and all of you seated here this evening for we are too often underestimated and overlooked for such a talented nation. I proved again, that timing and plans may not always be in your favour, but perseverance will never let you down".
In closing Reynold reminded the young athletes present, "If four things are followed – having a great aim, acquiring knowledge, working hard, and persevering, anything can be achieved".
Awards presented on the evening included certificates of participation and membership to all athletes who competed during the last season or are current active members.
The National Representation Award, an award which recognizes athletes who made a national team during the season was given to a deserving Albert Reynolds.
The Commitment Award went to Zaine James; James faced several obstacles to his training but had persevered through them all. The athlete lives in Soufriere, but never lets distance hinder his training.
This year's Special Recognition Award was captured by Tesley Lesporis who achieved a three peat in winning her school's road race for the third consecutive year.
'Records Broken' awards went to members who set new records during the season. The awardees in this category included Armani Modeste for setting a new Elite Games record of 50.24 seconds in the 400 metres; Albert Reynolds for smashing the national record in the javelin and setting a new record of 82.19 metres and four young men who set a new 4 x 300 metres relay record of 2 minutes 30.06 seconds at the Elite Games; Ethan James, Rowell St Omer, Joshua Gabriel and Zaine James.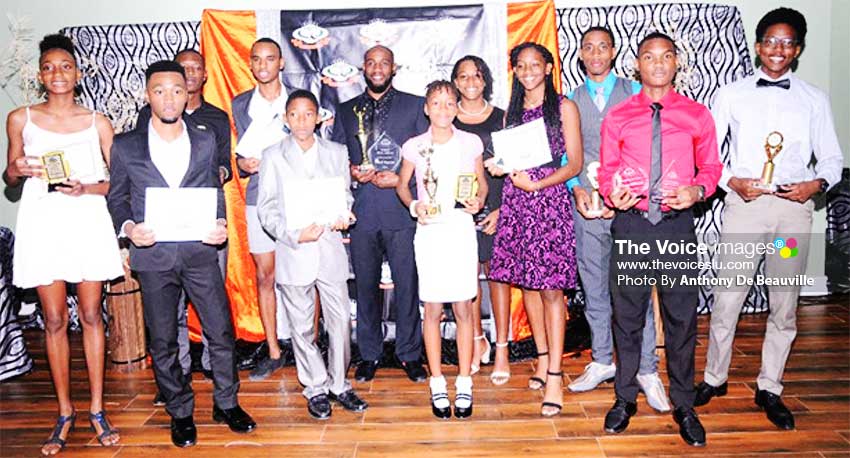 The Outstanding Work Ethic award went to Vincent Mitchell who according to the presenter, had shown tremendous maturity over the last two years. He was always at practice and always gave an honest effort. He was also very concerned about his progress and was always communicating with the coaches about strategies to improve his performance.
The Leadership Award went to Vincent Mitchell and Rowell St Omer. These two young individuals lead warm up and cool down activities on a regular basis and were noted to have taken charge in their coaches' absence. They were also regular and punctual for practice.
In addition to the athletic awards, the club also recognized its athletes for their academic achievements at the primary, secondary and tertiary level.
The Primary School Academic Award went to Tesley Lesporis who earned an average of 89.45, while the Secondary School Academic Award went to Anya Lubin who earned an average of 82.6. The Tertiary Award was captured by Armani Modeste who earned 3 grade 1s and one grade 3.
Most Improved Athlete of the Year was Rowell St Omer who had personal best times in both of his events and was consistent through the year. His best improvement came with an almost 2 second improvement in the 400 metres from 54 seconds to 52 seconds and almost 1 second improvement in the 200 metres (legal time). He was also a member of the record breaking 4 x 300 metres relay team at Elite Games.
The Under 14 Female Athlete of the Year was Shanice Kirton who had a very good 2019 season. She was runner up in 400 metres at her school's inter house meet and competed in several relays. She was the 300 metres champion at Elite Games, runner up in the pentathlon at the 14 and Under Games Northern Qualifiers and Finals. She was also the 14 and Under long jump champion at the Independence Games. Shanice showed tremendous improvement throughout the season achieving personal best performances several times during the year.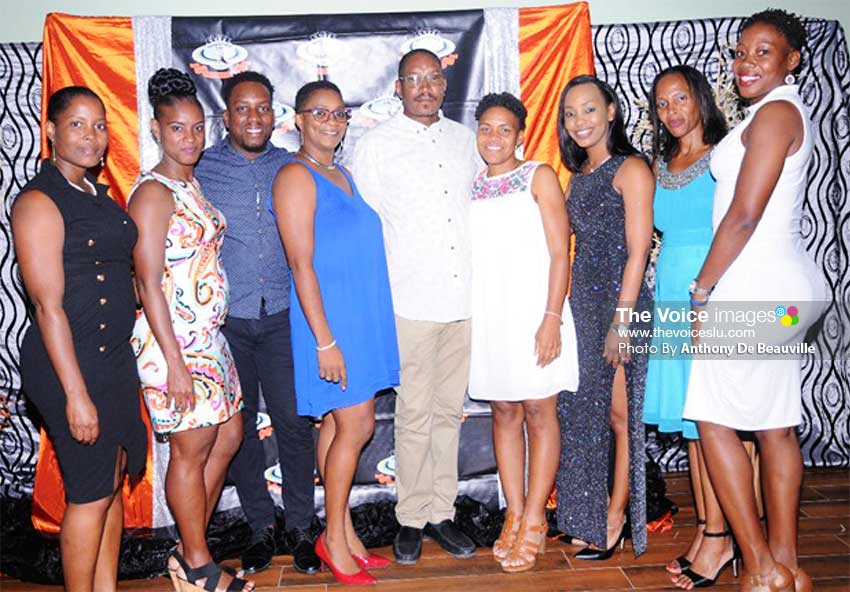 Under 14 Male Athlete of the Year: D' Andre Isidore, had a very successful season, he won the 80 metres, 150 metres and 300 metres at his school's inter house meet. He was the 9-10 year champion in the 80 metres and 150 metres at Elite Games. He was runner up in the 150 metres at the 14 and Under Games and champion in the 300 metres.
The Junior Male Athlete of the Year was Armani Modeste. Modeste was the Elite Invitational Games Champion in the 400 metres setting a new record of 50.24 seconds. He placed third in the 200 metres at the Elite Games and was runner up in the 400 metres at the National Championships.
Senior Female Athlete of the Year was Jola Felix. Felix was the winner of the 100 and 200 metres at her inter house sports meet. She was champion in the 100 metres at Elite Games and runner up in the 200 m. She was also the runner up in the 100 and 200 metres at the Inter School athletics championships. At the National Championships, she was runner up in the 200 metres and placed fourth in the 100 metres setting personal records several times during the season.
Senior Male Athlete of the Year was Albert Reynolds; Reynolds set a national record in his event on his way to winning a bronze medal at the Pan American (Pan Am) Games and competing at the World Championships. He coaches the young athletes in his club and serves as a role model to them.