SAINT Lucians and visitors alike can look forward to a host of promising performances and intriguing action this coming Friday, 13th December, National Day. That's the word coming from the Saint Lucia Turf Club during the Official Barrier Draw for the USD$150, 000.00 DSH Caribbean Star Limited Pitons Cup 1800 metres which took place last Saturday at the horse track in Vieux Fort.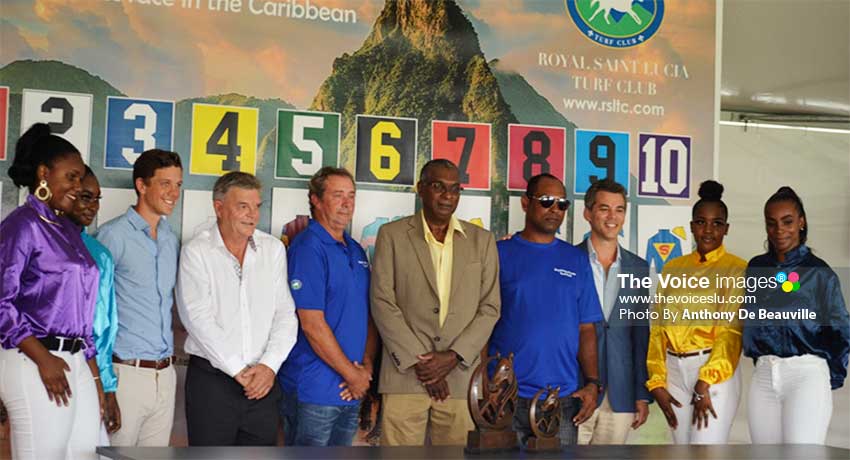 Gates will be open from 11.00 a.m. but the action will commence from 1.30 p.m. with the first race being the USD $20,000 Coolmore Helen of the West Indies Stakes 1400 metres; at 2.15 p.m. race No. 2 USD$20,000 Keeneland National Day Sprint 1400 metres; at 3.00 p.m. race No.3 USD$40,000 UK Tote Winston Trim Memorial Trophy 1400 metres and the Big One at 4.00 p.m. race No.4 USD$150,000 The Piton Cup 1800 metres.
Here are 10 interesting contenders to keep in mind following Saturday Barrier Draw for USD$150,000. No.1 Oriental Crown; No.2 Minegold No.3 Run; No.4 Candrasa; No. 5 Casting Crowns; No.6 K Kash; No.7 Donna's True Bling; No.8 Trading Cash; No.9 Colonel's Pride and No.10 Rock Creek.
Michael Smith, Racing Manager for the Royal Saint Lucia Turf Club, who drew Barrier numbers for trainers Andrew Newnan's and Robert Pierce said, "I am pretty happy with the draw; the horses are all coming into the race in great form. They have nearly 1000 metres to find their spot before they hit the turn so there is plenty of space for the jockeys to get themselves organized and ready to go that first turn".
Also in the barrier draw was Deon Visser representing three different owners. This is what he had to say. "I have three runners in the race for different owners; Colonel's Pride; Candrasa and Casting Crowns. All three are running well, they will be very competitive".

"I am not really worried about the draw, it's depends how the race is going to pan out, whether they going to go very fast up front; my horses can also come from behind. It's going to be a very exciting race for the whole of the Saint Lucian public and the world to see," he added.
Said Visser: "It's an open race, and any of the 10 horses can win. It is going to be really exciting. We will love to win this race and take the prestigious trophy home. I been involved with all these horses since they arrive and with the lucky draw they all went to different owners".
Robby picked up horse No.8 Trading Cash and this is what he told the VOICE following the draw. "I watched him work earlier this morning, he look terrific, he is really good on the cape which is a very good sign, he pulled out very well after a gallop, didn't blow at all, it's very healthy and should run pretty well on Friday".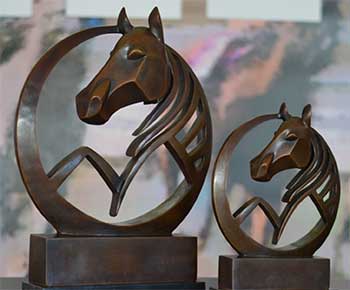 Representing Anthony Eunice Racing Stable was Marvin Campbell who picked up horse No.1 Oriental Crown, No. 2 Minegold and No.10 Rock Creek. This is what he had to day. "All three of them going very good so far, it's a wide open race; it's just the luck on the day and we hoping to be the successful one on Friday".
Speaking about the trophy created by Saint Lucia sculpture Jallim Eudovic, Trinidadian born David Loregnard, Director of Integrity and Regulations who supervised the draw said; "This is the very best, the design is unique, it contain everything pertinent to Saint Lucia and everything pertinent to horse racing, it's a very unique and realistic design and I would be happy to have it on my mantle"
In terms of the event, Loregnard said, "This is global, we have some of the most well-known names in racing from around the world in Saint Lucia; we are happy to see them and we are happy to have them continuing with us for the next 20 years to see this thing grow, it can only grow when you start at this level there is no other direction to go, but up".
Following the showpiece, patrons will be treated to a free for all after race National Day Concert featuring, Meshach, Jah Cure, Patrice Roberts and Teddyson John Project, Ezra d Fun Machine and Ricky T.
Meanwhile, the event has attracted local and international support from partners and sponsors including DSH Caribbean Star Limited, Saint Lucia Tourism Authority, UK Tote, Keeneland, Coolmore, International Racehorse Transportation (IRT), Digicel, Inglis, Magic Millions, OBS Sales, Muirfield Insurance, Bluewater Sales, Goffs, Arqana, Fasig Tipton, Caribbean Awnings, Crystal Clear Water (Official Drinking Water) and Peters and Company (Sponsor of the Miss Elegance Award).