ON Saturday December 14th, The Dame Pearlette Louisy Primary School served as host venue to the 1st National Bank Kick It Destiny! Girls Grassroots Football Festival – Part 2. Over 140 girls seven years old and over were expected to attend this sequel which by all indications should have exceeded the successes of the launch festival in May earlier this year. For the past seven months the participants have been following a training curriculum specifically designed for and tailored to girls, keeping as priority the mental, psychological and emotional differences between girls and boys and the way they learn, play and develop. Kick It Destiny! is being delivered by Coach Trevor Daniel of the Flow-Trevor Daniel Football Development Programme (Flow – TDFDP) and it exposes over 130 girls from 13 primary schools to arguably the very best technique specific training available for young girls.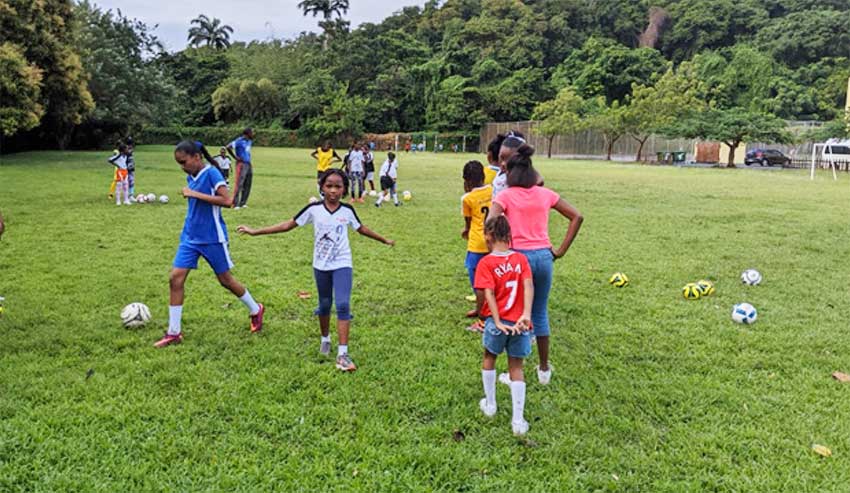 The festival was set up in a seven station circuit format, seven coaches each had a 30 x 50 yard mini field to manage and all of 20 minutes to instruct, demonstrate and execute one football specific game/drill. The girls rotated in groups of 8-12 to indulge in the advanced technique training disguised as fun games, namely, Pirate Hunt, Sleepy Cone Race, Foot Golf, Foot Bowling, Rapid Fire, Dance Off, and Toss, Clap, Knee, Kick, Catch.
While the rains, strong winds and waterlogged field severely affected the numbers in attendance, the girls' enthusiasm and the quality of the drills were not compromised. It was another awesome event for the 70+ participants on both a fun and technical level. Coach Trevor remarked that there was a noticeable difference in the ball control of the girls who had been training consistently and the others. He was happy to see the impact of his training methods on the girls and expects a larger number of participants to show significant technique improvement as the school outreach training component will be implemented from January 2020. Coach Trevor and his staff will be going into the schools for "lunch time & extracurricular hour" training with the Kick It Destiny! participants, hence providing them with more training opportunities. In addition to the weekend (Saturday & Sunday) sessions that they currently attend at the Sab, the girls will also be able to train at their schools midweek. The intention is to highlight the overall improvements of the participants at the end of the first year of the training with a grand festival… Kick It Destiny! – Part 3 on Friday March 27, 2020.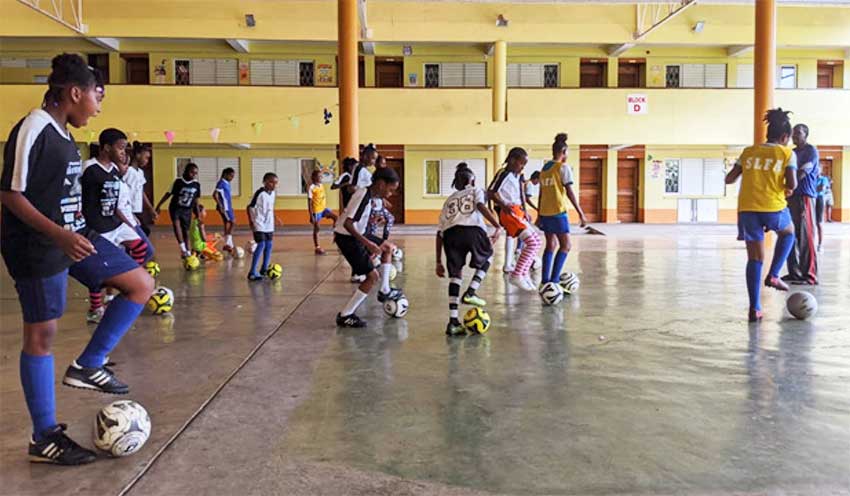 Themed "Barbie dolls to boots & footballs #Opening doors", the programme takes a holistic approach to youth development, with the hope that as the girls grow with the programme that more opportunities for education & employment will be made available to them. Organizers believe that as they become more confident with the "football at their feet, they will increase in self-confidence and they will be more aware that they can accomplish anything if they work hard."
The aim of this project is to see that girls enjoy and love the game of football as they grow; improve technically as they grow; increase in self-confidence on and off the field as they grow; make lasting friendships with girls in their communities, districts, locally and in other countries; have "doors opened"- opportunities to study and work through football; adopt healthy life choices and healthy life practices from now through to older age; have an awareness of the spiritual/moral component of their existence. It also aims to encourage and empower them to dream big, to work hard to go after their dreams; be good examples for younger girls coming up, and above all, organizers hope that every participant will have a positive life changing experience through the festival.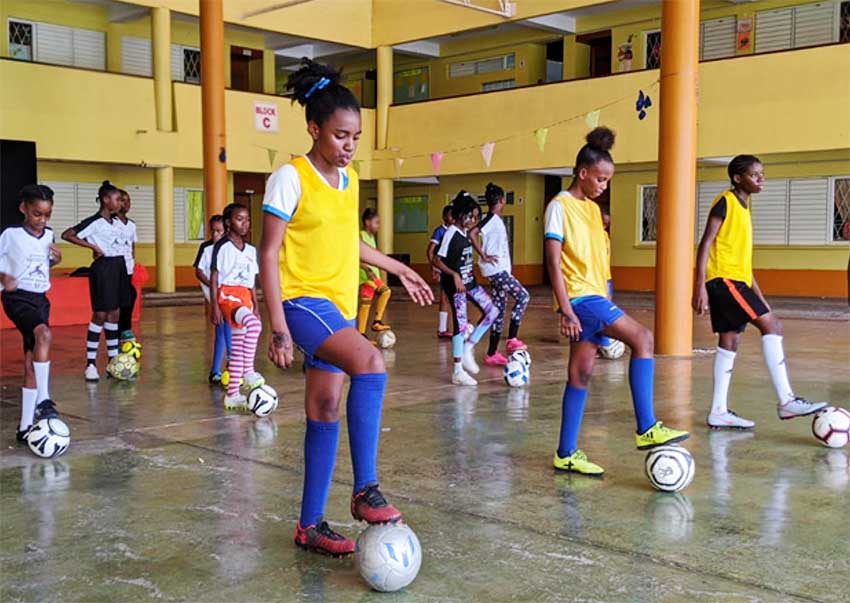 Title sponsors for the event include 1st National Bank. Major sponsors/partners – Synergy Sport, KFC, LUCELEC, Digicel, Sandals Resorts, Ministry of Youth Development & Sports, Ministry of Education, Innovation, Gender Relations & Sustainable Development, WLBL Super Malt & Crystal Clear, Castries City Council and Flow. Other sponsors/partners – Hobie Int., Michel's Customs Brokerage, Paints Plus, Baywalk Mall and Joseph's Shipping Agency.