HOW many Saint Lucians can remember the 38th edition of the CARIFTA Games held at the George Odlum Stadium (GOS) in Vieux Fort in April of 2009? In the first completed event of the Games, a surprise winner emerged in the men's open Pole Vault and never before had Saint Lucia entered an athlete in that event, but with only four competitors registered, Saint Lucia was bound to medal.
Bahamian, Verual McIntosh concluded his participation at 3.20 metres, whilst Saint Lucians Rick Valcin and Shem Edwards, with crowd support behind them, stopped on 3.50 metres and 3.60 metres respectively. More surprisingly was defending champion and Games record holder K'Don Samuels who started his competition at 4.20 metres, but failed in all three attempts leaving 16-year-old Shem Edwards, vaulting for less than a year as the gold medallist.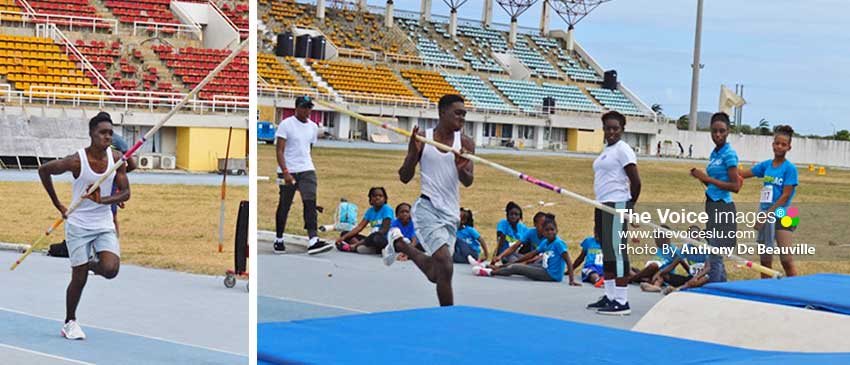 The VOICE spoke to the Director of Mon Repos Athletics Academy/ Director of Jump Centre and Pole Vault Saint Lucia, Andy Behl recently at a training session at the George Odlum Stadium (GOS) in Vieux Fort.
With the 2020 CARIFTA Games scheduled for Bermuda over the Easter Holidays, which is a mere five months away, I asked Behl about the current programme for pole vaulting, and whether Saint Lucia will have any pole vaulter at the 2020 CARIFTA Games.
"We have quite a few athletes in the Pole Vault, some in training for a few weeks; it's a fifteen month rebuilding plan towards CARIFTA Games 2020 and the building up towards a boys and girls schools championship event in Pole Vault. We will be working with the different stakeholders to make it a reality.
The whole idea is to allow the athletes to get the experience on the track, so come 2020 we expect to have a pool of athletes, all above the 4 metre range, who will not be fighting for a spot on the national team, but will be at a level where we expect medals when they come back to Saint Lucia."
This programme has started to shape up nicely – when we opened the Jump Centre we had coach Nicky Ferdinand who went up on a scholarship last year and came back in the fall. I didn't want to rush things, I wanted to rebuild on all levels and put together a 15 month plan."
Everyone is quick to say we had something and it just dropped; we have to be realistic as humans in the context of living in Saint Lucia. My perspective is, a lot of people have one foot in, one foot out; even from a local perspective, they are here for a couple of years, but have plans to go and work overseas. I came in as a Peace Corp Volunteer; I had 27 months and I was able to get an extension, but my current role and time as a professional didn't allow me to be here full time. Another Peace Corp volunteer, Aria Grabowski, was able to learn the event very quickly; she became a very capable coach and guided the athletes along."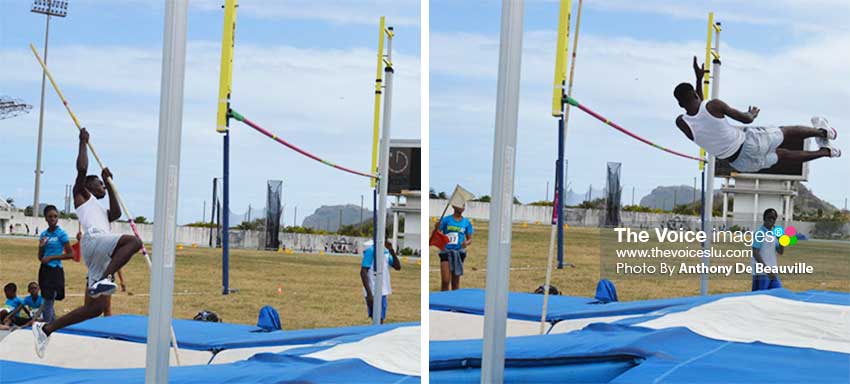 Behl said, "At the time we had Saint Lucia CARIFTA Games medalist for 2009 Rick Valcin, but by 2010 he received a scholarship at a junior college in the USA; he progressed from the 4 meter range earned at the Street Vaulting (Castries) in December 2009, then he went up to 4 and a half metres at junior college. We also had Shem Edward who continued for a couple of years. He was within CARIFTA Games eligibility, and went on to win two more CARIFTA medals. Behind that, we had Nicky Ferdinand who stayed in the sport, even with the lack of coaches on the ground. He then made the transition into high jump. In 2014 he won a pole vault medal at the CARIFTA Games in Martinique and subsequently became our top high jumper locally in 2017."
We had assistance from two track and field coaches, Rodney and Jules; they were full time professionals and you know when you are a school teacher you have more than one responsibility. When we had the chance to develop athletes and coaches, I took advantage of the athletes and coaches who were giving the most towards the programme at that point."
According to Behl, "This is a huge task to run any programme technically like this especially when you have other professionals with family responsibilities. We have to look at this in a more holistic sense and not slam people for what they have or haven't done leading to our expectations, but look at the reality as professionals; they did what they could, they came in and supported the Pole Vault as best as they could".
Behl continued, "If we fast forward ten years later, we are now reaping the benefits of everything that we did back then; Jules and Rodney both helped us as our main assistant coaches at the clinics. We had 45 athletes at the Jump Centre; I did not do it alone there were also Jules, Rodney and Shem Edward. We cannot look at this as a black and white thing. Maybe the presence on the ground from a coaching perspective stopped, but we still had national athletes who continued to progress in the USA, we also had athletes who continued to represent Saint Lucia. If you are more than a coach, you are a director. I charge anybody to take up that mantle, it's a life commitment, and I don't blame anybody for not doing it."
"Look at the people around me," he said. "They have an interest in what we are doing and figure out how they can help out. A number of coaches in Saint Lucia want to support us with one day clinics. We are working on Street Vault for December; there is a crew of individuals that is willing to help us to move the mats from point A safely to point B, these are former athletes I know I can trust. There is a huge picture behind it and for people to say the Pole Vault suddenly dropped, they are obviously not seeing everything behind the scenes. In the entire time frame I was not in Saint Lucia, Rick Valcin went up from junior college, got a scholarship at the University of Dubuque, became a Division 3 NCAA champion and went on to represent Saint Lucia at the Commonwealth and Pan Am Games. I also knew I had a calling to get back down here and that is why I went to school in Oregon, USA and Singapore to learn Sports Science and Business Administration. I knew I was coming back, I knew God had a plan for me," noted Behl.
He concluded, "What we are starting to see is a culmination of the efforts put in 10 years ago, the mats we had came just in time, the coaches we had then, we cannot expect as administrators to turn around right away and give back, we have to recognize the human side of things and take people for what they are and what they can contribute and not put them down when they don't meet our expectations. We have to acknowledge and appreciate them for what they can do and look at it objectively."
At present we have athletes we are keeping a close eye on from various schools on the island. It's a long journey we have to go through in search of talent. It is also important to recognize the role of the various teachers in connecting with clubs and finding opportunities to up their game."