A RECENT judgement handed down by the High Court (Civil) has cleared Assistant Commissioner of Police George Nicholas and two constables of charges brought against them by two young men three years ago.
The men, Rashaad Joseph and Dexter Phillips, sought in court general and aggravated damages for assault, battery, false imprisonment, unlawful arrest, and unlawful search allegedly committed by Nicholas, Woman Police Constable No. 152 Burtly Ferdinand and Police Constable No. 343 Kensley Joseph.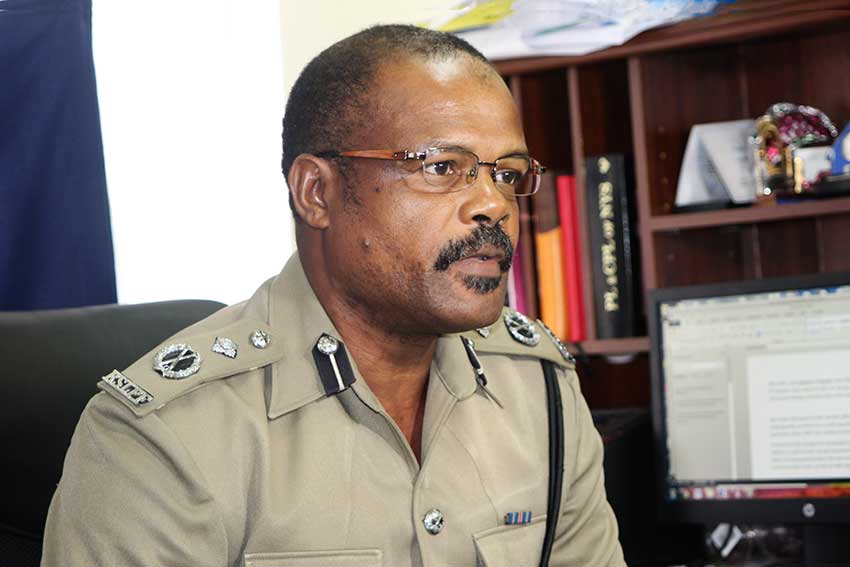 Court documents revealed that the men claimed that on 22nd September 2016 at about midday, they were seated at a table with three male friends at the food court of the Blue Coral Mall, Bridge Street, Castries, when they were approached by a woman and two men dressed in plain clothes. The woman introduced herself as WPC Ferdinand, a police officer, displayed her ID card, and informed them that she would be conducting a routine search. She then directed them to place their hands on the table in front of them.
The men alleged that they repeatedly asked why they were being searched, to which WPC Ferdinand repeated she was conducting a routine search. They also asked several times for the identification of the two men accompanying her, but this was not forthcoming. It was at this time, the men alleged that ACP Nicholas gave Rashaad, whose hands were not on the table, a hard blow with his open hand to the back of Rashaad's head, causing his cap to fly off his head, stunning him. The men also said ACP Nicholas forcefully placed Rashaad's hands on the table. The men and their friends were ordered to stand up away from the table and their belongings, and the officers proceeded to search their person and all their belongings. They said they did not consent to the search; they were never told why they were being searched or what the officers were looking for; and nothing of interest to the officers was found on them.
Court documents further stated that WPC Ferdinand thanked the men for their cooperation and the officers walked away. The men said they walked over to the officers as they were leaving and continued to ask them for their names and identification cards but were given no response. WPC Ferdinand only told them to stop following them. The men said they complied, but Rashaad took out his cell phone to photograph the officers. On seeing this, WPC Ferdinand announced she was arresting Rashaad as well as Dexter who had also persisted in requesting identification.
The men said they did not resist arrest yet were handcuffed together and made to walk some two blocks along Bridge Street to the Police Headquarters escorted by the officers. Both Rashaad and Dexter said that from the moment they were approached by the officers at the food court, they felt that they were not at liberty to leave of their own free will; they never consented to searches of their person or property and they were humiliated by the whole incident.
The officers' case was that on that day, ACP Nicholas had received a report that a group of boys, seated on the balcony of the food court at the Blue Coral Mall were planning a robbery and appeared to be drawing an escape route. On his way to investigate the report, ACP Nicholas saw WPC Ferdinand and PC Joseph and enlisted their assistance. They proceeded to the food court where they saw the men and their friends, who fit the description received. The officers said that ACP Nicholas first cleared the floor of the few persons present, before joining WPC Ferdinand and PC Joseph who had approached the group.
According to court documents the officers said the incident began at about 1:00 p.m. They stated that on approaching the men and their friends, WPC Ferdinand introduced not only herself, but PC Joseph and ACP Nicholas as police officers as well. PC Joseph had given his own name and displayed his ID card to them also. The officers said that WPC Ferdinand informed the claimants and their friends that information was received that a group of boys fitting their description were preparing to commit a robbery and that she would like to conduct a search on them. The officers said that ACP Nicholas instructed the boys to remain seated and place their hands on the table. They also denied that ACP Nicholas struck Rashaad to the back of his head. ACP Nicholas explained that after he asked the claimants and their friends to place their hands on the table, Rashaad kept his hands under the table and appeared to have an object in his hand. Rashaad was sitting with his back to him. As a result, ACP Nicholas touched him on the shoulder to alert him to the fact that the instruction to put his hands on the table was directed at him.
ACP Nicholas said that Rashaad then put his hands on the table and he was able to see that he had been holding a cell phone. Each boy was then asked to stand in turn, and searched by either WPC Ferdinand or PC Joseph. After each was searched, he was asked to identify his belongings which were also searched, and which each was instructed to observe. They said that during the search, the boys were quarrelling about why they were being searched, and some were slamming the table. They denied that the search was conducted in the presence of patrons of the Mall, as ACP Nicholas had cleared the area for safety prior to approaching the boys. A drawing of what seemed like the layout of a building was found, but nothing illegal, so WPC Ferdinand thanked them for their cooperation, and they walked away.
The court documents stated that the young men followed the officers, continuing to quarrel, using expletives, questioning why they were searched, demanding the officers' names and identifications, which they had already been given, and threatened to make complaints and/or report them. The claimants ran past the officers and stood in front of them, recording them with their cell phones. Their attention was directed particularly at ACP Nicholas. ACP Nicholas cautioned them, but they persisted in their behaviour despite instructions from all three officers to calm down and go about their business. At one point, when PC Joseph held onto Dexter and told him to calm down, Dexter told PC Joseph not to touch him. As a result, WPC Ferdinand informed them that it was an offence to behave in a disorderly manner in a public place and that she was arresting them for the offences of disorderly behaviour and harassment of ACP Nicholas.
She cautioned them and held onto Dexter to escort him to the Major Crime Unit however he started wrestling from her, holding onto the railing of the stairs and kicking. She was assisted in restraining him by PC Joseph, while ACP Nicholas restrained Rashaad, who was trying to free himself also. When they got to the ground floor of the Mall, another police officer passing by provided handcuffs, which were placed on them.
Judge Kimberly Cenac-Phulgence, after hearing both sides and analysing the evidence before her ordered that ACP Nicholas and the two constables were not liable to Rashaad and Dexter for the torts of assault, battery, false imprisonment, unlawful search or unlawful arrest.
She dismissed both men's claims and said they were not entitled to general damages or aggravated damages. The two were ordered to pay prescribed costs in accordance with CPR (Civil Procedure Rules) 65.5 in the sum of $7,500.00.