THE man responsible for Territorial Policing has issued a warning to Saint Lucians to expect more of the type of operation launched by police last Sunday that netted guns, drugs, ammunition, seizure of vehicles and several arrests.
Sunday's operation – one of the largest by police in a single day in recent memory, spanned Canaries, Dennery all the way to Gros Islet and involved the inspection of over 400 vehicles by the 71 officers involved in the operation.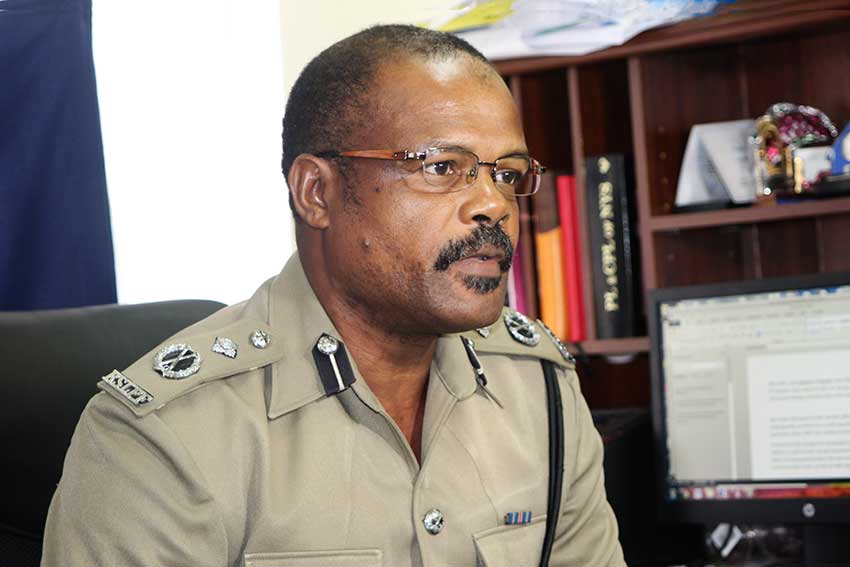 "We want to thank members of the public for showing tolerance, understanding and patience during the conduct of those operations and we are asking them to continue supporting the police when we are having those operations as they are something that will continue throughout the length and breadth of Saint Lucia," said Assistant Commissioner of Police George Nicholas.
Sunday's operation resulted in 18 vehicles being impounded for reasons ranging from incorrect documentation about the vehicles to illegal contraband being found in them, such as guns, ammunition and cannabis.
Fifty-eight tickets were issued by police officers and seven persons were arrested for offences ranging from illegal possession of ammunition, firearms and marijuana.
For instance, in Dennery, a green Suzuki motorcar was stopped and a search was conducted on that vehicle where a Glock .40 calibre pistol with eight rounds of ammunition was recovered as well as a 12- gauge shotgun with two rounds of ammunition.
Also, on that vehicle was a quantity of drugs that Nicholas said police suspected to be cannabis. All this resulted in the arrest of 21-year-old Collin Callendar of Marc, Bexon, 43-year-old Elvis Dupry of Bexon, 23-year-old Martel Hamilton of Richfond, Dennery and 23-year-old Neville Eugene of Marc, Bexon. They were charged with possession of a firearm without a valid license, possession of controlled drugs and ammunition.
Arrested and charged as well during the operation was 35-year-old BernandDupry of Bexon. He was charged with the same offences as the others all of whom are presently in police custody.
That same Sunday, two off-duty police officers intervened in an altercation between two male individuals one of whom fled the scene on the arrival of the police officers two of whom gave chase arresting Kim Justine of Reduit, Gros Islet.
Justine was found to have a Smith and Wesson .40 caliber semi-automatic pistol with four rounds of ammunition. He was subsequently charged with possession of an unlawful firearm and ammunition and taken before the First District Court where bail was set in the sum of $5000 cash or suitable surety on each count. He is currently awaiting trial on these matters.
Nicholas said Sunday's operation was a success on account of the number of vehicles that were impounded and guns and drugs taken off the streets.
"It is not unusual that we have operations of that magnitude and this would require some logistical planning," Nicholas, who is in charge of the 15 police stations on the island stated. When asked whether each police station is equipped to adequately handle criminal activities within their respective communities, Nicholas responded: "As an organization we always lobby for more equipment, more resources. There is never enough resources for one to adequately carry out (his/her) duties but at the end of the day you have to make the best use of what you have and that's what we have been doing, but we can always do with more. I'm sure we can produce more if we have more but at the same time, we cannot throw our hands in the air and say we do not have enough. We have to try and manage with what we have."