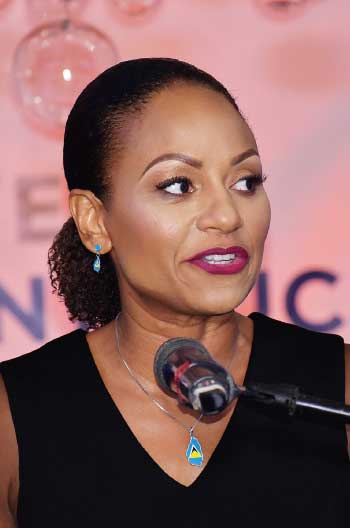 INVEST Saint Lucia hosted its official rebranding press launch at the Harbor Club in Rodney Bay on Monday September 30th, 2019. Invest Saint Lucia is the official investment promotion agency of Saint Lucia. Before the rebranding of the agency, the official tagline was "Invest Saint Lucia… Let her inspire you". The new tagline is "Invest Saint Lucia… Make it your own". The rebranding of Invest Saint Lucia consists not only of a cosmetic change, but also a cultural change in the way Saint Lucia interacts with its national and international audiences.
Present at the launch were Pinkley Francis, Chairman of the Board of Directors of Invest Saint Lucia; Roderick Cherry, Chief Executive Officer of Invest Saint Lucia; Shirlyn Elliodore, Marketing Officer at Invest Saint Lucia; Bradly Felix, Minister for Commerce, International Trade and Consumer Affairs; and Prime Minister Allen Chastanet.
In the process of its rebranding, Invest Saint Lucia undertook intensive brand metamorphosis management which included a brand audit, personality testing and new brand archetype embodiment which consisted of visual materials, organisational culture, salesmanship, communication, and public relations and inter-agency stakeholder relations.
Roderick said that the agency was interested in attracting a different calibre of investor to the island. He exclaimed, "An investor who comes here does so not just to do well financially; but to do good socially and environmentally –why? Because they love this island like it was their own."
Cherry expressed that Invest Saint Lucia was on a mission to advance Saint Lucia's socio-economic development by promoting, stimulating and facilitating direct investment while making a reasonable return on assets. He stated, "The time has come to be more assertive, more proactive, and more innovative. Invest Saint Lucia must be on the path to being a creator brand personality. Creator brands solve problems; they invent new ways of doing things. We have a lot of transformation to do before we can embody the corporate personality of a creator brand." Cherry said Invest Saint Lucia needed to work within a framework which gave the agency more autonomy and one which gave the agency a more integral role in shaping national development policy.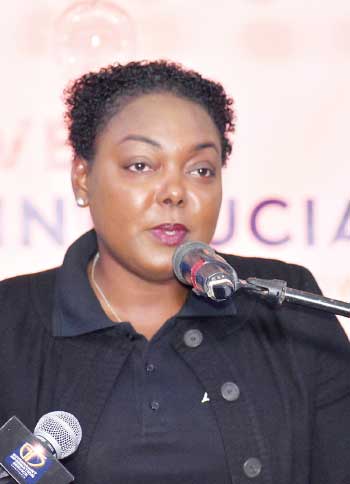 Shirlyn Elliodore in her presentation declared, "We have something precious to offer investors, we are looking for investors who treat our island like it was their own precious home, hence our new tagline, 'Make it Your Own'." She said that Invest Saint Lucia wanted investors who were not only coming to Saint Lucia to profit off of the island's natural resources, but rather, investors who were coming to make Saint Lucia their home. She shared that a number of strategies, including professional sales training of Invest Saint Lucia staff, will be implemented to ensure that the agency is better able to manage Saint Lucia's reputation. She said the new measure of excellence will be spread to other agencies including the Ministry of Trade, Export Saint Lucia, Saint Lucia Bureau of Standards and many more.
Shirlyn further announced, "One of the most important changes Invest Saint Lucia will be making is in its engagement with the saint Lucian people. A huge part of our rebranding is our public relations and corporate social responsibility." She said a new campaign called 'Invested in you' will be launched in order to enhance the ways Invest Saint Lucia can support Saint Lucian entrepreneurs. She said Saint Lucians will also be encouraged to make a part of Saint Lucia their own by acquiring land.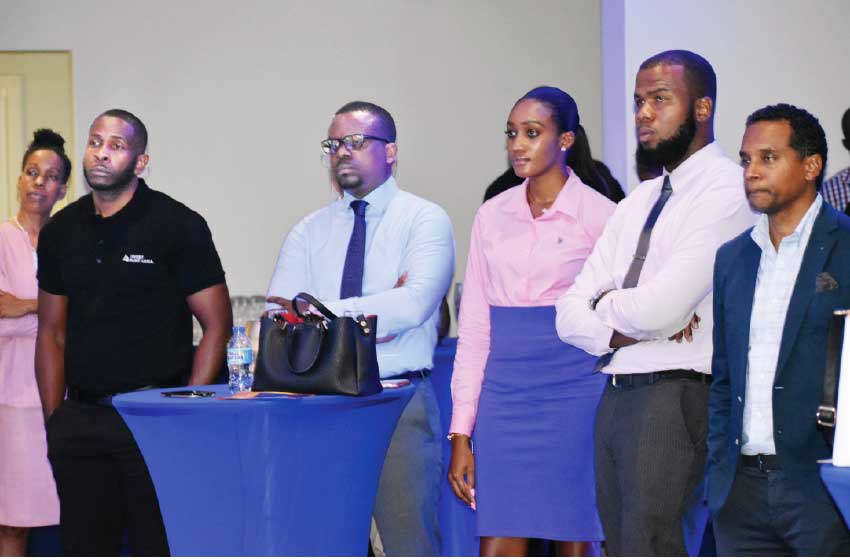 In his address, the Chairman of the Board of Directors exclaimed, "We will become the Singapore of this hemisphere in terms of efficiently-run public services and infrastructure. We will become the Romania of the Caribbean in terms of 95 % of our citizenry owning land and property and having economic security for generations to come." He said one of the strategic initiatives of Invest Saint Lucia is to ensure every Saint Lucian has the opportunity to own a house. He also indicated that Invest Saint Lucia was in the process of undertaking three property development projects in Saint Lucia. They will be situated in Dennery, Micoud and Choiseul.