THE eliminated pair of Cuba and Saint Lucia played on Tuesday 8th September in the final preliminary round of matches in the CONCACAF Women's Olympic Caribbean Qualifiers at the Jamaica National Stadium; Cuba had the better of Saint Lucia 6 -1.
The Cubans started off with a penalty, and soon fired another goal leaving the halftime score 2-0 in their favour. On resumption, Cuba quickly doubled their advantage by scoring two more penalties making it 4-0.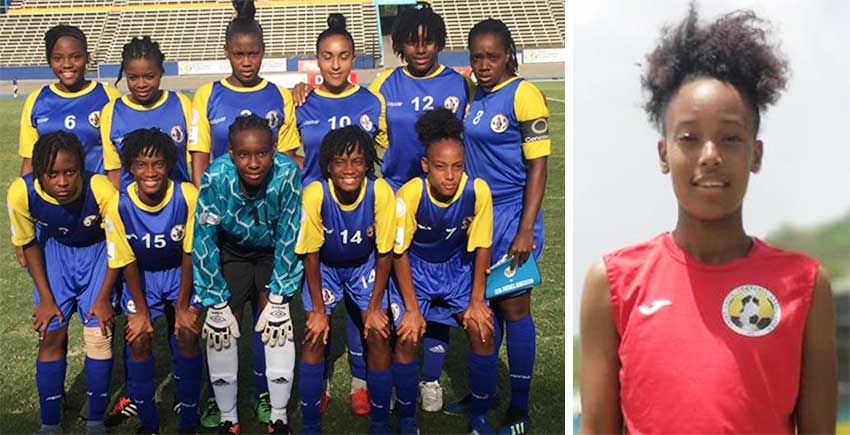 Saint Lucia's consolation goal came from the boots of Krysan St Louis. This was St Louis's third goal in four matches.
Both teams were previously trounced by Jamaica 12 – 1 (Cuba) and 11 – 0 (Saint Lucia).
Assistant coach for the Saint Lucia team Emmanuel Belase spoke to the VOICE about Saint Liucia's performance. This is what he said.
"I think the tournament was a good eye opener for a lot of these players especially those in the Under 17 and Under 20 age group," said Assistant Coach for the Saint Lucia team Emmanuel Belase speaking to the VOICE about team Saint Lucia's performance. "I believe they would have a bigger appreciation for the amount of hard work that they put in to compete at that level and if ever they were taking what was being said for granted, they understand it now."
"I don't think we played to the best of our ability in the last two games," he added. "Although I don't want to single out players, there were some standouts players among the team. Moving forward I think we need to go through a transition where we start molding our younger players. This is not to say that we need to get rid of the senior players altogether, but the level of physical preparation that the team has to undergo in the future may well be taxing on some of them."
In terms of injuries to members of the team, he said, "Both goalkeepers were taken to hospital on Sunday in the Jamaica encounter and we ended up with an on-field player in goal (Lana Vitalis). We had to do the same versus the USVI when Kenna Lionel had to be taken off, only this time it was not serious. Again, Lana Vitalis had to do the honour".
The Saint Team reads: Ellaisa Marquis (Captain), Namaly Flood, Kenna Lionel, Emma Clovis, Britanya St Prix, Racquelle John, Tiffany Allain, Tamara Edward, Steffany Allain, Ayana Vitalis, Illana Lashley, Tangi Lansiquot, Carlyn Williams, Cassandra Shepherd, Meurrisia Prince, Andrianna Dmuchalsky, Krysan St Louis, Verlisha Kishelle and Nianka Remy.
The team was accompanied by Trevor Anderson (Head Coach) and Emmanuel Belase (Assistant Coach). Other officials included Mary Liz Campbell (Team Manager), Jeff Emmanuel (Goalkeeping Coach), Wade Clovis (Trainer) and Rebertha Wilfred (Physiotherapist).
Cuba: Katherine Hidalgo, Yarisleidy Mena Novo, Elaine Hernandez Perez, Yusnelvis Pervals. Zailin Rodriguez Perez, Braisy Goya, Lizandra Gonzalez Moya, Analia Espinosa, Lilian Sandoval, Maristania Perez, Kathryn Valdez, LeidaCalderin, Maria Isabel Torres, Yoana Gonzalez, Alianne Reyes, Claudia Sanchez, Yelena Hernandez, Amanda Rodriguez, and Yosmeli Perez.
The Jamaican Girlz ended at the top of the Group with a maximum 12 points from their four matches with an aggregate of 37 goals for and 1 goal against. They had scores of 12 – 1 versus Cuba, 7 – 0 over Barbados, 11 – 0 against Saint Lucia and 7 – 0 over the United States Virgin Islands (USVI).
By virtue of topping Group B, Jamaica joins Caribbean neighbours Haiti, as well as the United States of America, Canada, and Mexico in the final round with two Central American and one more Caribbean team to be confirmed.
Meanwhile, on Sunday, Jamaica's senior Reggae Girlz trounced Team Saint Lucia 11 – 0 to confirm Group B honours.
For Jamaica, Khadija Shaw scored a hat-trick in the 3rd, 16th and 34th minute; defender Deneisha Blackwood (28th, 68th, and 78th) also had a hat-trick; while there was one apiece for Cheyna Matthews (5th), Dominique Bond-Flasza (32nd), Tiffany Cameron (37th), Trudi Carter (55th) and substitute Tarania Clarke (89th).