THE Cultural Development Foundation (CDF) will this month pay special recognition to master sculptor, Vincent Joseph Eudovic, who is the CDF's honouree in the 2019 Cultural Icon Series.
Vincent Joseph Eudovic was born in Babonneau, Saint Lucia, on April 15, 1942. He began carving at a very early age and won his first exhibition contest at age 12; it was from this time Eudovic knew what his life's work would be.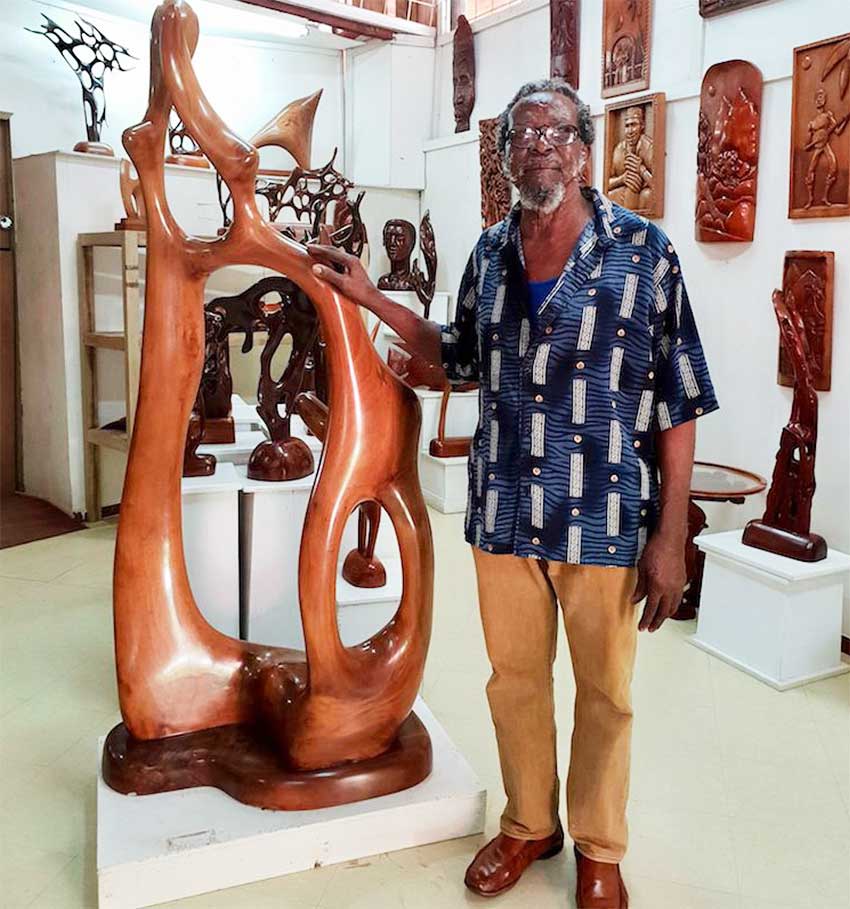 Upon completing his public schooling, he went to Trinidad and Tobago to continue his studies and carving. After a very successful ten years in Trinidad and Tobago, Eudovic returned to Saint Lucia to teach art. Still wishing to improve his craft, he then applied for a United Nations scholarship and ventured off to Nigeria, where his studies brought, in his view, maturity to his art form.
Eudovic later returned to Saint Lucia and resumed teaching but, after a few years, left to concentrate on his art waork as well as open his own gallery and workshop at Goodlands, Castries, which is still in operation.
Eudovic has participated in many competitions over the years, including the Caribbean's first wood carving exhibition held in Guadeloupe in 1975, where he won the Golden Medal Award for Best Caribbean Wood Sculptor. He has held exhibitions and has work has been displayed in nearly every island in the region, as well as in Europe, and has work in museums and private collections worldwide.
He is the father of Jallim Eudovic, another outstanding Saint Lucian sculptor, whose "All In" bronze monument was unveiled near the Castries Waterfront earlier this month.
The recognition of Vincent Eudovic, arguably Saint Lucia's most acclaimed sculptor, will be in the form of a Sculpture Exhibition that officially opened on the second floor of Baywalk Shopping Mall, Rodney Bay, on Friday, October 25, 2019 and runs until Tuesday, October 29, 2019.
The Sculpture Exhibition, curated by Milton Branford Jr., will feature a new collection of original small and large sculpture pieces by Eudovic that capture moments of life: a current time and place, his thoughts and sentiments through artistic representation.
Eudovic, who began experimenting with sculptural works in the early to mid-1950s, is among the great Saint Lucian artists and a cultural icon with global acclaim who has been inspiring audiences for nearly seven decades.
The CDF invites visitors to experience Eudovic's work in an immersive and interactive environment. Admission is free and the exhibition is open daily from 9:00 a.m. to 6:00 p.m.
Since 2015, the CDF has presented the life works of Saint Lucia's Cultural Icons, including Charles Cadet, Joseph "Rameau" Poleon, Garth St Omer, and Virginia Alexander. The Cultural Icon Series aims to make connections and provoke conversations within and across disciplines. The programme is a major initiative of the CDF and works with artists across art forms — from dance and theatre to literature, music and the visual arts.
The Sculpture Exhibition is being sponsored and organized by the Cultural Development Foundation (CDF), Baywalk Shopping Mall, the Monsignor Patrick Anthony Folk Research Centre (FRC) and Events Saint Lucia.