THE Phillip Marcellin Grounds (PMG) in Vieux Fort was expected to be a hive of football entertainment last evening when Blackheart Production and the Saint Lucia Football Association (SLFA) Inc. hosted what was perhaps the most talked about semifinal round in the 17th edition of the knockout tournament.
In game 1, from 6.00 p.m. Mabouya Valley was to take on Micoud.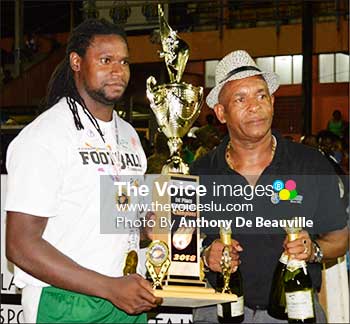 The two teams have won the championship five times between them; Mabouya Valley (3), Micoud (2).
The support for both teams was expected to be massive as sports enthusiasts from the east coast are known to come out in large numbers wherever and whenever their team is playing.
Based on past performances, Mabouya Valley and Micoud have brought quite a lot of flare, determination and kaleidoscope to the championship.
By all indications the match was anticipated to be tense and nail biting as supporters in the stands would be sitting at the edge of their seats and for those standing on the outer perimeter, they would be looking for the best spot to take in the showpiece.
The squads
Mabouya Valley: PessiusPolius, Kurdley Alexander, Fleming James, Aaron Hippolyte, GervanJanvur, Marco Daniel, Leans Alphonse, Sherwin Simon, Denis David, Julius Louisy, Peter Alfred, Zanibar Reynolds, Cassie Octalien, Earl Stanley, Shervius Alexander, Nick Mondesir, Judinelle Louisy, Canice Sandiford. Team Coach/ Assistant Coach: Uranus Jn Baptiste, Ishmael Jelani.
Micoud: Crispin Gaspard, Lenard Casimee, Andre Joseph, Travis Thomas, Christus Flavin, Kyran Marcellin, Nathan Alien, Jason Augustin, Molice Harry, Levi Altidore, Raii Gaspard, Noah Didier, Vianne George, Cannii Nervais, Kerlan Malcolm, Sherquain Matty, Ridge Griffith, D' Andre Promesse: Team Coach: Andreaus Willie.
In the second encounter, scheduled to kick off at 8.00 p.m. one time semifinalist, Marchand and three time defending champion Vieux Fort South (VFS) would have been vying for their fourth consecutive championship thus expecting to turn on the heat.
Both teams made it to the semifinal round by a similar scoreline via the penalty shootout. Marchand 5 – 4 over Dennery and VFS 5 – 4 over Desruisseaux.
Playing on home turf and with their crowd support behind them the defending champions VFS will be going all out to book a final spot, but one cannot take the 2018 SLFA Island Cup defending champions Marchand lightly as they too have a point to prove.
For Marchand, they will have to take their chances and at the same time make the best of the scoring opportunities offered to them in front of the goal as they always seem to squander when it matters most.
Squads
Vieux Fort South: Vino Barclette, Justin Joseph, SarnSavery, Gregson President, Jervic Mc Farlane, Antonio Joseph, Kurt Joseph, Rimlan Mason, Alec Joseph, Jamil Joseph, Nakim Jones, Trent Alexander, Saviola Elva, Paulsen Joseph, Jardhell Harrow, Noah Nicholas, Bernard Edward, Moses Henry. Team Coach: Uriah Samuel.
Marchand: Shem Donnerly, Ferguson St Claire, Mc Claude Polius, Ricardo Paul, Jarvis Joseph, Tasimba Joseph, Valdez Maximin, Percius Narcisse, Iaman George, Elijah Christophe, Kimani Monrose, Lincoln Phillip, Jnai Lesmond, Richard Annius, Shaquille Gaston, Cletus James. Team Coach: Andre Antoine.