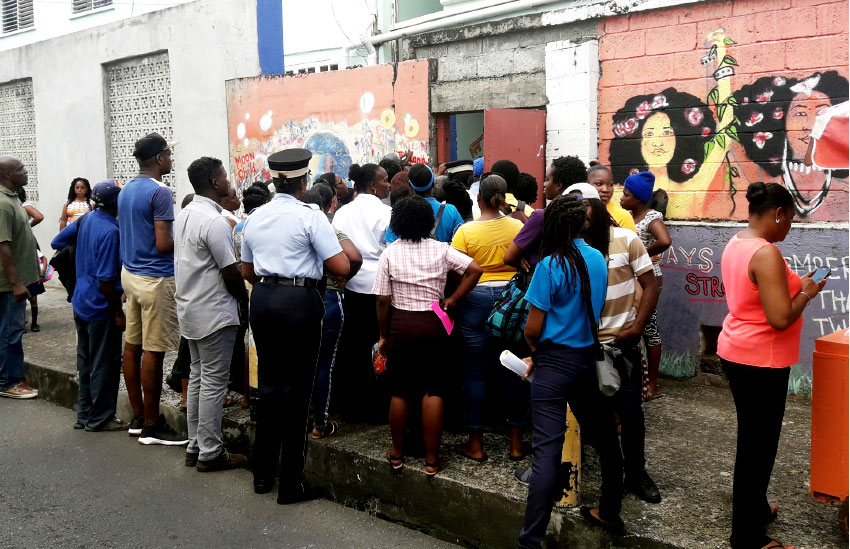 A FLOCK of parents were gathered on the sidewalk of Coral Street, outside the Ave Marie Girls' Infant School on the afternoon of Monday October 28th, after school was dismissed. A number of those parents openly expressed their frustration for not being allowed to enter the school compound as they were told to wait at the gate, where their children would be escorted to them by teachers. Police officers and City Police were present at the gate to maintain the peace and ensure that parents followed the directives which were given.
Parents have been disallowed from entering the school premises as of Thursday October 24th due to a series of threats which were directed at teachers of the Ave Maria Girls' Infant School. According to Claudia Edward, Principal of the Ave Maria Girls' Infant School, "This is a measure that we are taking for safety and security purposes. There has been an incident at the school where teachers' lives have been threatened and consequently the students as well by extension." Edward further stated that a number of threats had been made to teachers on the same day last week.
Due to this unpleasant situation, the Principal said that certain measures had to be taken in order to minimise the traffic in the school yard. "This is just an initial measure which we hope to explain to the parents and get their opinion on Thursday," she explained. She said that a meeting will be held for parents at the school on the afternoon of Thursday October 31st where an explanation of the situation will be presented. Edward emphasised that safety within the environment of children must never be jeopardised, and that threats of any kind would be taken seriously. Proceedings at the Ave Maria Girls' Primary School were reported to be unaffected by the threat-related situation at the Ave Maria Girls' Infant School. A statement on this matter from the Ministry of Education could not be obtained at the time of this report.