PLANS are well underway for the 2019 Mango Bowl Regatta, Saint Lucia's biggest home-grown sailing spectacle. This year the event is slated for November 29th to December 1st. For the past 8 years sailors from across the region have gathered at the Saint Lucia Yacht Club in Rodney Bay to compete in various classes of keel boat racing.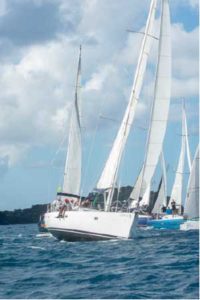 The course will be set out in the picturesque Rodney Bay and around Pigeon Island to Cariblue Beach. Close to 30 boats from neighbouring islands Martinique, Barbados, Saint Vincent and the Grenadines, Grenada and even Trinidad are expected for this year's event.
Among the various classes, J24/ Surprise, Racing and Cruising, the total number of sailors and supporters can reach well over 200.
For the third year, the Mango Bowl Regatta will participate in the Clean Regatta programme in cooperation with Sailors for the Sea. Since 2017, Clean Regatta has been involved in the Mango Bowl Regatta, raising the bar for sustainability with the help of Greening the Caribbean.
This year's Mango Bowl Regatta has something for everyone. Not only will spectators be able to view the races from the Saint Lucia Yacht Club, food and cold drinks will be available as well as entertainment and prizing giving socials on Saturday and Sunday which will allow participants and spectators to 'mix-n-mingle'.
The organizing committee is anticipating support from the Saint Lucia Tourism Authority and Events Saint Lucia.
Last year, 'Attitude' skippered by Fredrick Sweeney emerged champion of the 7th edition of the Regatta.