IT was all about ongoing and future projects, as well as initiatives to spur more economic activity in the south, when Prime Minister Allen M. Chastanet met with the Southern Business Association on Monday evening at the NSDC conference room.
Members of the association had the opportunity to express some of their concerns and what they viewed as constraints to growth in the south. The group opened up about the lack of development in the south, especially in the town center, and ways the private sector could partner with the Government to encourage growth in entrepreneurship and business development as a whole.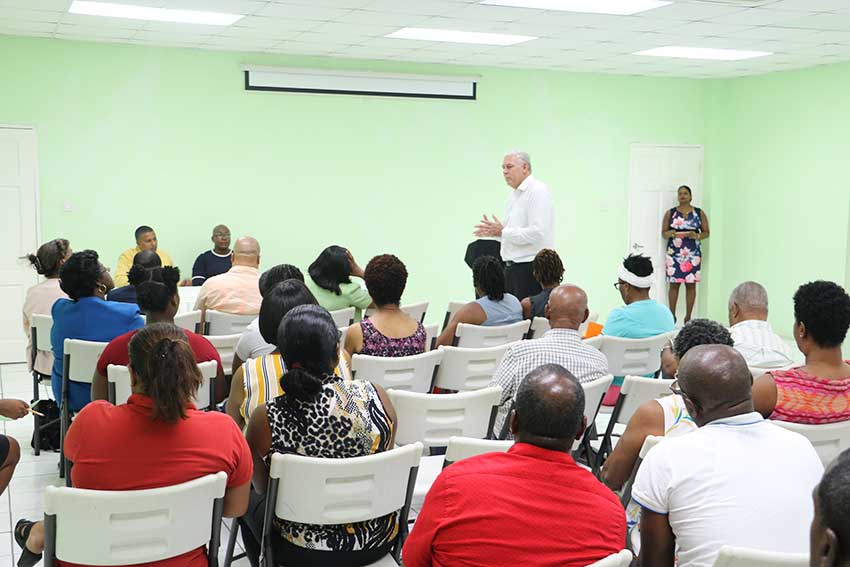 Also present at the meeting was Minister for Education, Innovation, Gender Relations and Sustainable Development Dr. Gale TC Rigobert, Minister for Economic Development Guy Joseph, Tourism Minister Dominic Fedee, Minister responsible for Planning Herod Stanislas, Health Minister Mary Isaac and Minister responsible for External Affairs Sarah Flood Beaubrun.
The meeting began with the Prime Minister summarizing the development plans for the south and how it fits into the overall plan of building a new Saint Lucia. Specific projects highlighted by the Prime Minister included the Hewanorra International Airport (HIA) redevelopment, OJO labs which employs hundreds of young people from the south, Invest Saint Lucia's development of a master plan for Anse de Sables and the Southern Cruise Port. The Prime Minister also provided an update on the St Jude Hospital reconstruction.
Dr Rigobert, Parliamentary Representative for Micoud North, similarly addressed the gathering about the vision of the Government, touching specifically on schools and taking questions on solid waste management.
Following the spirited and productive meeting where the Prime Minister took several questions, Chastanet and the other Ministers present pledged continued engagement with the Southern Business Association on a more regular basis.
Earlier in the day, the Cabinet of Ministers held the first Cabinet Meeting in Vieux Fort at the NSDC Building, following which the ministers visited several sites in Vieux Fort including Hewannorra International Airport, the St Jude Hospital Reconstruction site and the DSH Horse Racing site.
In the month of December, Vieux Fort is expected to hold major activities including Saint Lucia's first international horse race on National Day.