THE Taiwan Technical Mission in collaboration with the Ministry of Agriculture, Fisheries, Physical Planning, Natural Resources and Co-operatives hosted its second Farmer's Market on September 4th, 2019. The Farmer's Market was part of a project aimed at enhancing the efficiency of the production-distribution supply chain in the fruit and vegetable sector of Saint Lucia. The Farmer's Market began at 9:00a.m. at the Old Micoud Playing Field and ended at around 3:00p.m.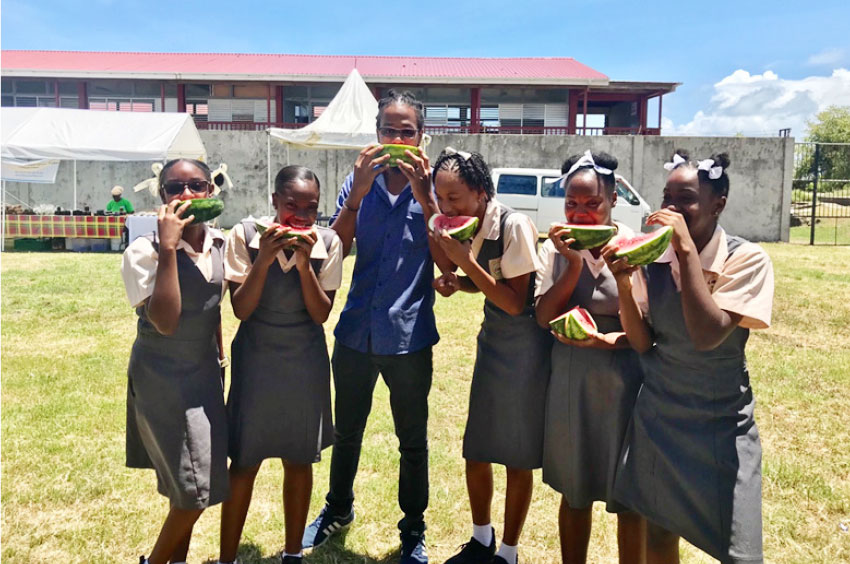 With over 250 participants present at the event the Taiwan Technical Mission Team was able to bring about awareness of the project which was the main goal of the day. Patrons were educated on ways to produce unique products made from 100% locally grown fruits and vegetables. They were also able to sample local artisan products at the event which underscored the importance of supporting local farmers, and by extension, the local economy. There were unique and creative products on sale and for display. Farmers brought locally grown bunches of grapes and grape plants which could be purchased. In the hot weather, the locally made frozen sorbets were a great option. Schools came out to visit the Farmer's Market and students had the opportunity to win prizes, even taking home seedlings to grow and nurture. The watermelon competition piqued the interest of some students of the Micoud Secondary School and one of the brave students entered the competition and won first place.
The project will also deal with various aspects of production and marketing. On the marketing side, one goal is to host monthly farmers markets, on the other side, production also will be made to be more efficient. The Taiwan Technical Mission will work closely with the Extension officers throughout this project and have already hosted two stakeholder staff meetings with the officers. The goals of these meetings are to increase the efficiency of the officers while constantly gaining progress on production. To gain an idea of what is currently in production; extension officers will be doing surveys together with site visits to capture what the farmers are growing and the quantities.
The next Farmer's Market will be held at the Vigie Playing Field on Sunday, October 13th. Saint Lucians are encouraged to come out and support local farmers and receive free samples of their value-added goods.