AFTER a celebration last week at the Financial Administrative Centre in Pointe Seraphine for team Saint Lucia in honour of them winning the 2019 Windward Islands Schools Games in Dominica, there was more celebration for Saint Lucian athletes in two sporting disciplines. This time around the congratulatory event took place at the Prime Minister's Official residence in Vigie.
The celebration was more than fitting as over the past two weeks Saint Lucia's sportsmen and women have been front runners at a number of regional and international events, the latest being the National Under 20 Girls Qualifiers for the second round of competition in the CONCACAF Women's Football Tournament in Guyana.
For the first time in its history, the National Under 14 Girls team finished in second place by virtue of goal difference in the CONCACAF Under 14 tournament.
The National Under 15 Boys team emerged champions of Division 2 in Miami, Florida as they continued their unbeaten run from 2018 in the CONCACAF tournament.
Levern Spencer made Saint Lucia proud once again as she successfully defended her Pan American high jump title by winning gold at a height of 1.87 meters, and Albert Reynolds took home the bronze in the men's javelin with a throw of 82.19 meters. Both athletes are Saint Lucia's reigning sports personalities of the year.
Present at this all important celebration were Saint Lucia's Prime Minister Allen Chastanet and his wife Raquel Du Boulay Chastanet. Also in attendance were Sports Minister Edmund Estephane; Minister of Agriculture Ezekiel Joseph; Saint Lucia Olympic Committee (SLOC) President and Minister in the Ministry of Tourism, Information and Broadcasting, Culture and Creative Industries, Senator Fortuna Belrose; Deputy Permanent Secretary in the Ministry of Youth Development and Sports Liota Charlemange-Mason; representatives of the Saint Lucia Football Association and the Saint Lucia Athletics Association; coaches of the various teams as well as athletes, parents, special invited guests and members of the media.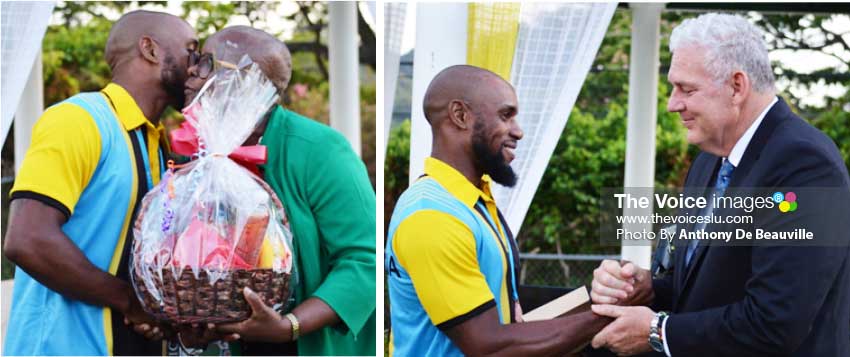 Addressing the gathering was Deputy Permanent Secretary in the Ministry of Youth Development and Sports, Liota Charlemange-Mason. In her welcoming the athletes Charlemange-Mason expressed, "To our honoured sportsmen and women, you have made us so proud over the last week, and I want to extend a special welcome to you our football boys and girls. Our Pan American bronze medalist Albert Reynolds, coaches, managers, parents and team officials who worked tirelessly behind the scenes to ensure the successes of our athletes, we are indeed happy to share this occasion with you."
"It is the Ministry of Youth Development and Sports' mandate to celebrate the achievement of Saint Lucian athletes and I am indeed very happy that the Prime Minister sees this as an important aspect in the development of Saint Lucian athletes," she continued.
Addressing the young athletes in attendance Charlemange-Mason added: "It is my hope that you will continue to excel in your respective sporting disciplines. We hope we can welcome you on every occasion that you go out to represent Saint Lucia, and that means every time you go out you will bring back home the victory."
Coach of the National Under 20 Women's Football Team, Emmanuel Belasse, in his brief stay at the lectern said, "I am just wishing that somewhere along the line July and August 2019 could come again. These two months have been really good for Saint Lucia in terms of sports".
He encouraged the victorious teams present, including Albert Reynolds and the Windward Islands School teams to use what had been established from July/August 2019 as a stepping stone for Saint Lucia to emulate and to push forward.
"There is a lot of work still to be done and having qualified for 2020 Olympics which is expected sometime in February, we need the support, because the Under 20 girls along with the technical staff alone will not be able to make it," he said. "To get through we need the support of every Saint Lucian."
Assistant Coach of the Under 14 Girls team Vance Vitalis spoke highly about the team stating, "These young ladies had a lot of heart and spirit in the competition. They have never played any international games and to go out and show that kind of Saint Lucian fighting spirit was great."
Coach of the victorious Under -15 Boys team, Albert St Croix, thanked the technical staff and parents who had made sure the players always attended training on time. St Croix also thanked the players who had represented Saint Lucia proudly.
"Thanks for making Saint Lucia so special," he said. "This National Under 15 team is not just a national team, no matter where the skill level is, what school they went to, what district they came from, their aim was to have fun, make friends and enjoy playing football. This team is special and will take Saint Lucia to higher heights. Our objective is to qualify for the Under 17 World Cup; the sky is the limit."
Saint Lucia Football Association Inc. Vice President for the Northern Region, Charde Desir who addressed the gathering in the absence of the SLFA President Lyndon Cooper echoed similar congratulatory messages to the Under 14 Girls, Under 15 Boys and Under 20 Girls for their outstanding achievements.
He said, "Between the two female teams the SLFA has a mixture of players which comprise the current National Under 17 team that will be travelling to Honduras to compete in the Under 17 World Cup qualifiers".
The intention for the SLFA is to qualify for a World Cup. Desir said, "We have a dream and its happening. The current Under 15 boys are the 2026 World Cup squad. I believe Saint Lucia has what it takes with the number of World Cup teams increasing. We have a chance to qualify, but we cannot do it alone. We expect the parents, the Government of Saint Lucia, sponsors (business houses) and well-wishers to be behind the boys and girls so one day Saint Lucia can qualify for a World Cup".