Basketball action continued last evening at the Beausejour Indoor Practice Facility (BIPF) in the 2019 Saint Lucia Basketball Federation National League with one game on the cards. In a must win situation, Basketball for the Future (BFTF) took on Dennery Dolphins at 6.30 p.m.
Both teams needed a win to advance to the semifinal round which is scheduled for Friday August 23rd, while the final will be played on Wednesday August 28th.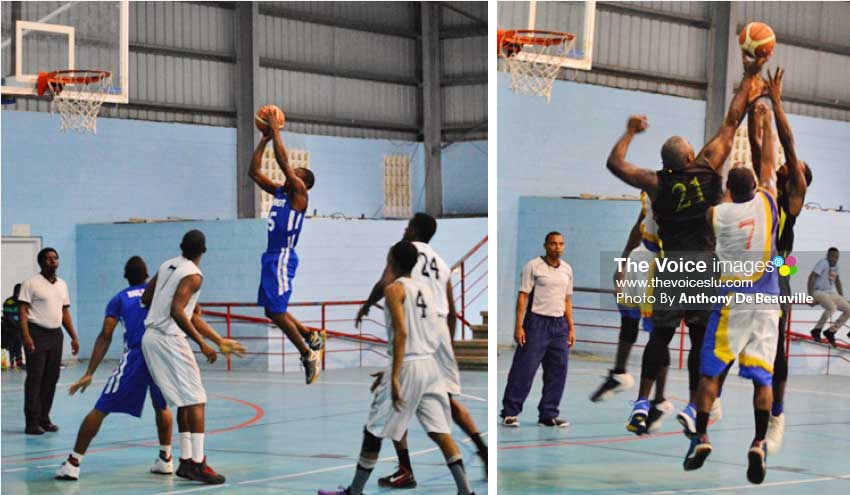 This year's championship is sponsored by Blue Waters, FLOW and KFC.
Meanwhile, on Friday August 16th, in an intense matchup, the Windward Island Schools team defeated Basketball for the Future (BFTF) 74 – 68.
For the Windward Island Schools team, Chiec Alphonse's top score consisting of 22 points, 4 rebounds and 2 steals, and Keon Allen's 20 points, 4 rebounds, 4 assists were enough to stave off any attempt by BFTF top scorer JervaisNorbal (20 points, 14 rebounds, 4 steals) to claim a win on the night.
In the second encounter, the battle of the two undefeated teams, Morne Fortune Gladiators and Bonne Terre Blazers, gave a near sold out indoor facility a feisty offering.
From the onset Morne Fortune Gladiators' SharmoirJn Baptiste had 21 points, 3 rebounds, 3 steals and Lance Prospere 16 points, 4 rebounds, 3 steals. Both were in predator mode making the most of lapse defending on the arc where they drained consecutive three pointers to command a double digit lead for their team throughout the majority of the game.
Andre Louison who severed ties with longtime club Courts Jets had 27 points, 6 rebounds, and 4 steals which weren't enough to threaten the Gladiators as they remained undefeated in the league with a 3-0 record.
The final score: Blazers 79, Gladiators 87.
On Saturday 17th, in Game 1, Dennery Dolphins took on V.B.C.C. Warlords in a nail biter from tip off.  V.B.C.C benefitted from some sloppy defending and poor offensive possessions by the Dolphins to pull away 54-50.  The victory gave V.B.C.C its first win of the tournament.
Game two saw Courts Jets battle the Royal Saint Lucia Police Force.  That game gave fans a glimpse of the Jets championship nature blowing out Police in the first quarter 20-9. More of the same continued throughout the game and the one sided affair ended with Courts Jets registering their first victory in the tournament.
Final score: Courts Jets 64, Police 43.