FOOTBALL action continued in the Saint Lucia Football Association (SLFA) Inc. National Lotteries Authority sponsored Island Cup last evening (Wednesday 21st August 2019).
At the Marchand Grounds Central Castries played Babonneau at 6.00 p.m. and Micoud took on Gros Islet at 8.00 p.m.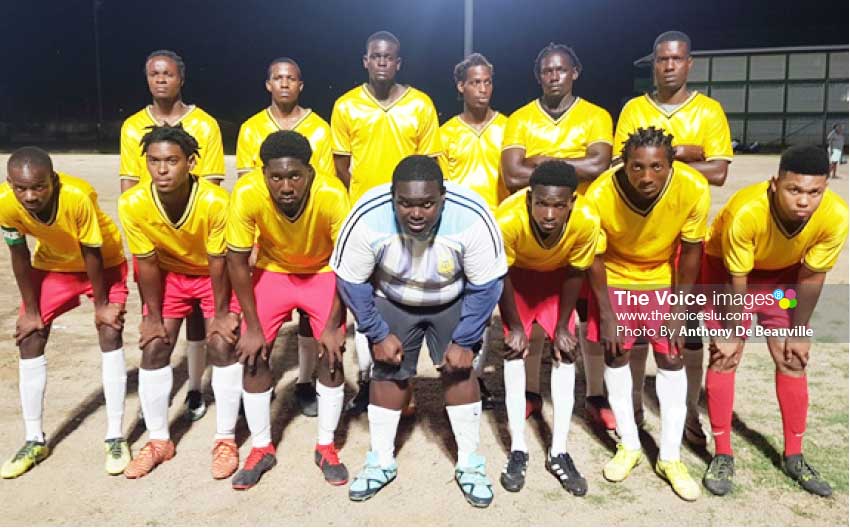 At the Fond Assau Playing Field, defending champions Marchand played Mabouya Valley from 6.00 p.m. while Laborie came up against Roseau Valley at 8.00 p.m.
In sub regional action, the Gros Islet Under 17 Football team currently participating in the Regional Lashley Charity Youth Cup in Grenada had a much more productive outing on Tuesday 20th August.
In their first game of the day which kicked off just after 9.00 a.m., they made amends by defeating Volcanoes of Saint Vincent and the Grenadines 3 – 0.
Their goals were scored by Jeremiah Justin, Sherman Augustin and Jahlil Evans.
A few hours later in their second game of the Day they drew 1 – 1 with Morvant Academy of Trinidad and Tobago.
This time their goal scorer was Ajani Lansiquot.
With one more game left to play the team has managed to attain four out of a maximum nine points.
The squad in Grenada reads: Simeon Francis, Liam Bonaire, Ziggy Hinkson, Jordan Faucher, Dequan Huggins, Sherman Augustin, Darren Donaie, Ajani Lansiquot, Rickelme Lionel, Baggio Edward, Kawine Francis, Jahlil Evans, KervalCenac, Jeremiah Justin and Noah Lynch.
The Technical Team: Shayne Paul – Head of Delegation, Charde Desir – Manager, Chris Dermot Monrose – Head Coach and Criscentia James Fannis – Head Chef.
Meanwhile, back home matches resumed in the SLFA Inc. Western Zone Under 17 Football competition with CT Foundation defeating Bays FC 6 – 2 on Tuesday 20th August 2019 at the Anse La Raye Playing Field.
The half time score was 3 – 0.
Scoring for CT Foundation were Donnel Joseph in the 12th and 46th minute, Quin Louis in the 35th and 44th minute, Stephon Valty in the 27th minute and Ozem Thomas in the 63th minute.
Odelle Antoine and Nyel Joseph were the goal scorers for Bays FC.
One match is scheduled today (Thursday 22nd August) at the same venue with OBLA FC coming up against 1987 All Stars at 4.00 p.m.
In the Dennery Home and Away Football Competition, Hill Top Ballers and DCYO played to an exciting 1 – 1 draw on Tuesday 20th August 2019.
However, Hill Top Ballers will advance to the semifinals.
Last evening, On the Rock Strikers took on White House at 6.30 p.m. More on that match in a subsequent edition of the VOICE.