Saint Lucia's National Under 15 Football Team continued their impressive run in the CONCACAF Under 15 Football Qualifiers with yet another impressive display against French Guyana.
Not for the first time, it was a clinical performance which is not reflected by the scoreline as the margin of victory could have been much wider.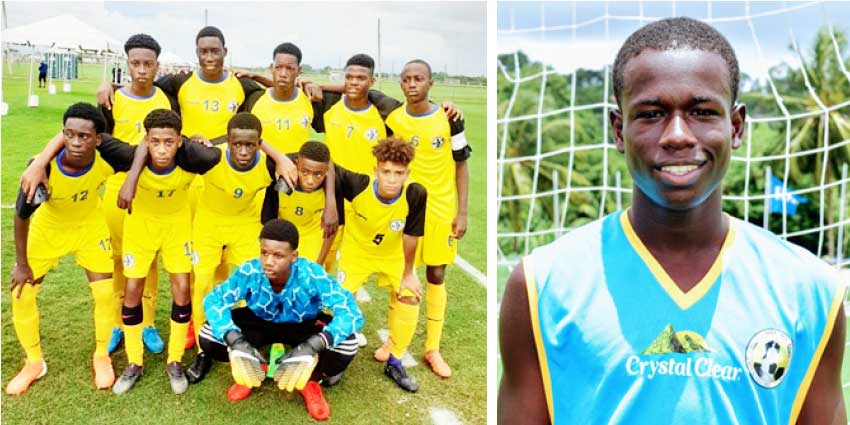 Saint Lucia opened the scoring with an orchestrated build up on the left flank which involved the ever attacking play of Jahlil Evans resulting in an exquisite finish by Keegan Caul in the 5th minute of play.
Saint Lucia continued pressing forward relentlessly and was at times thwarted by overzealous and poor finishing as well as dogged defending. The half ended 1 – 0 in favour of Saint Lucia.
Following the resumption Saint Lucia continued in their attacking vein and still encountered difficulty in finding the back of the net.
However, their perseverance prevailed with captain Shaquan Nelson sealing the initiative with a strike in the 66th minute of play to give Team Saint Lucia a commanding 2 – 0 victory.
The resultant win sets them on course to top the Group.
The starting lineup for Saint Lucia was as follows: Miller Alcee (Goal Keeper), Keanu Felicien, Joaquim Johnson, Donnell Braville, Dante Fitz, Gilles Aurelien, Shaquan Nelson (Captain), Claude St Ange, Keegan Caul, Jahlil Evans and Steven Octave.
Saint Lucia made four changes in the second half. In the 48th minute, Hosea Mathurin and Dahmanii Berthier came in for Donnell Braville and Gilles Aurelien respectively; Donavan Phillip replaced Claude St Ange in the 55th minute, while Donavan Perpie saw two minutes of added on time at the expense of Steven Octave.
Saint Lucia striker, Keegan Caul has now taken his tally of goals to three in two matches.
By all indications Team Saint Lucia had a much more impressive outing in comparison to their first game. In addition, they are yet to receive neither a caution nor yellow or red card.
Meanwhile, in the CFU Under 14 Girls competition taking place in the Cayman Islands, at press time yesterday, Saint Lucia was scheduled to play Barbados. Results of that fixture will be featured in the weekend edition of the VOICE.
On Tuesday 5th August, Saint Lucia was able regroup and hold Curacao to a 1 – 1 draw in their opening fixture.
Raengelly Keller opened the scoring for Curacao in the 13th minute of play and despite the creation of numerous opportunities by Team Saint Lucia the half ended 1 – 0.
In the second half, Saint Lucia were rewarded for their persistence as No.9 Arnicka Louis got the equalizer in the 74th minute, to give them a hard earned but deserving share of the points.